Forest Camp Story APK 1.2.8
Do you love camping? In Forest Camp Story, you can create the best campground site! Expand your land and earn money from campers here. Enjoy the game now.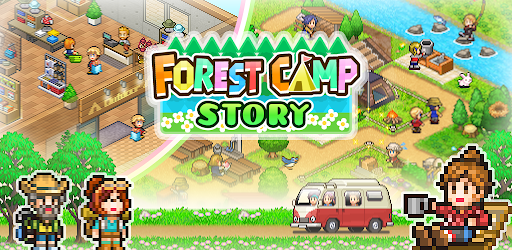 Camping is something we do and enjoy when we're outdoors. Some people love to camp every so often to experience the nature with all the trees and the fresh air. Because of this, we tend to camp at forests, open ground, beaches and all sorts of places in search for a relaxing time. But did you know that there are many camp sites businesses around the world today? If you want to establish one yourself, download Forest Camp Story and manage your own campground.
Camping is something a lot of people love to do since it allows them to experience the outdoors once in a while. In this game, your job is to set up the perfect camping ground for people to set up their tents in. You can earn money the more people set up here and from shops you establish too! Here, you can attract more people the more you set up facilities and you can even set up guided tours! Enjoy the best camping business today.
Camping Business
A lot of people enjoy camping because it allows them to be one with nature and to bond with people they love. With camping, you can leave all your problems at once and get away from the hustle and bustle of the city. There are so many things to enjoy with nature such as the fresh air, trees, animals and the view! This is why it's also a lucrative business if you're setting up in a nice camping ground.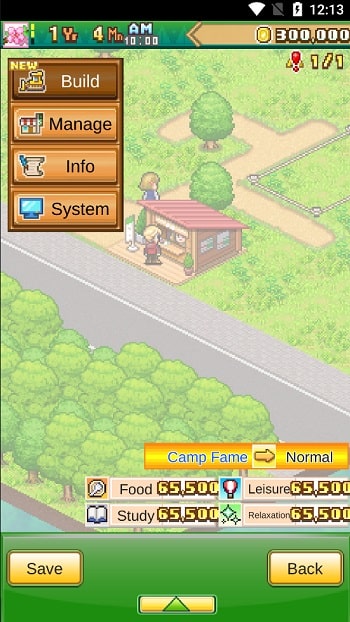 In the game Forest Camp Story, you'll manage a campground yourself as you enjoy camping! Here, your goal is to make your campground as attractive as possible to people so that they set up camps and you make money. Here, you can prepare the ultimate campsite by placing trees, fences, tents, fireplaces and all sorts of decorations. Enjoy getting all sorts of campers so you can earn money by doing tours!
There are various lands you can unlock so you can grow your business today! You can also set up stores to earn extra cash in this game. Enjoy the best business game today!
Features of Forest Camp Story
If you love camping, why not make money while doing it? In Forest Camp Story, you can be in charge of a camping business!
Create the ultimate campground – We all love to see nature since we can get fresh air and enjoy the view. There are so many things we can enjoy with nature as you can enjoy the trees and fresh air without pollution. You can also gaze at the stars at night, go fishing and do everything you want without worries. This is why this is the perfect business you can do at Forest Camp Story! Here, you can create the ultimate campground today.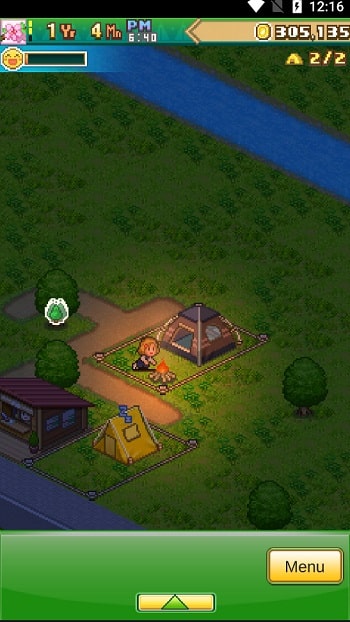 You can create the ultimate campground business in this game today. All you need to do is set up the best campground to attract visitors that will stay at your campsites. Here, you can set up tents, maps, trees, ice cream shops, clocks and many more! You can also set up activities for your customers such as fly fishing, horse riding, bird watching and many more. There are no shortages of things you can set up here!
Set up tents and structures – When we camp, we usually set up tents on different places which allows us to sleep on the wilderness. Here in this game, you'll also need to set up various tents but for your potential customers! You can unlock as many land areas as you need in order for your customers to set up their tents here. The only thing you'll need to do is to attract customers by designing your campground well. You can also set up various structures like a lounge area, a campfire, and many more.
Decorate your campground – One of the best things you can enjoy in this game is decorating your campground! Here, you can set up all sorts of things such as vending machines, flowers, trees, lanes, and many more. You can plant all sorts of seeds and also set up a cooking area, tables, trash cans and many more. You can also place a bulletin board, tree stump and many more as you can upgrade them.
Set up stores – To earn money here, you can also set up various stores such as camping goods. You can also set up vending machines, and earn a lot of money from them! But your primary way of earning money here is by setting up campsites for people to set up their tents.
Earn money by doing guides – For extra money, you can offer guided tours to your visitors!
Download Forest Camp Story APK – Latest version
With Forest Camp Story, you can enjoy a game where you can enjoy a camping business! Earn lots of money and decorate your campground now.