Cafeland APK 2.4.4
Download Cafeland APK – latest version – Free for Android if you've always wanted to run your own café! Write your own restaurant story now and change the world!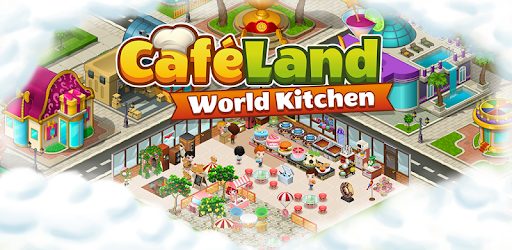 Cooking and restaurant games have always been popular among players especially women and children. These games always seem to be popular because they're easy to play, enjoyable and challenging at the same time. A lot of people dream of owning a restaurant that they can design and manage on their own. If you're one of those people, then this game is for you!
Cafeland is a game developed by GAMEGOS which has over 10 million downloads in Google Play Store. In this game, you'll get the ultimate restaurant game! You can serve tons of dishes from different cuisines worldwide. You can also use different kitchen utensils and equipment to make the best food. Aside from that, you can design your own restaurant to your tastes! More on that if you read on below!
What is Cafeland?
Cooking has been around longer than we think. But it has evolved considerably as technology became advanced. Now, cooking is an art in itself and many people learn the skill of cooking to relieve stress. There are so many dishes you can cook in the world and so many different cooking styles. If you love cooking, this game is for you!
Cafeland is a popular restaurant simulation game with over 10 million downloads in Google Play Store! This popular game allows you to do whatever you want to do. You can cook hundreds of different dishes from different cuisines, design your dream café, invite celebrities, open many restaurants, complete tasks, and more! But the core goal is to serve food and get money! Can you survive in this industry and thrive as the ultimate master chef? Read on to learn more.
Features of Cafeland world kitchen
Cafeland is an awesome cooking simulation game that allows you to run a café and get tons of profits. Aside from that, the game has tons of features that you'll love! Here are they:
Tons of dishes – In Cafeland, there are literally tons of dishes you can cook for customers! There are dishes from different cuisines around the world and you can cook them on multiple stoves. You can grow your menu by unlocking these dishes. You can make burgers, seafood, pizzas, cakes, stew, and many more! You can cater to any customer order as you expand your restaurant across the city! Can you cook all the dishes and prove you're the best chef around?
Design – The joy of owning a restaurant also lies in designing it yourself. It feels fulfilling having your design be appreciated by your customers. And in Cafeland, you can choose from hundreds of fancy decorations to beautify your café! Cover your walls and the floor with one tap! If you're aiming or a luxury experience, you can design your restaurants like that. But whatever you do, it will cost money so you need to bring in tons of customers to cover up for the costs.
Complete tasks – Cafeland also allows you to complete tasks to make more money! In this game, you need to race against time to prepare catering orders. You'll need to fill catering boxes with different categories of food quickly. But you're not alone! You'll employ the help of different chefs and waiters to help you run your café successfully!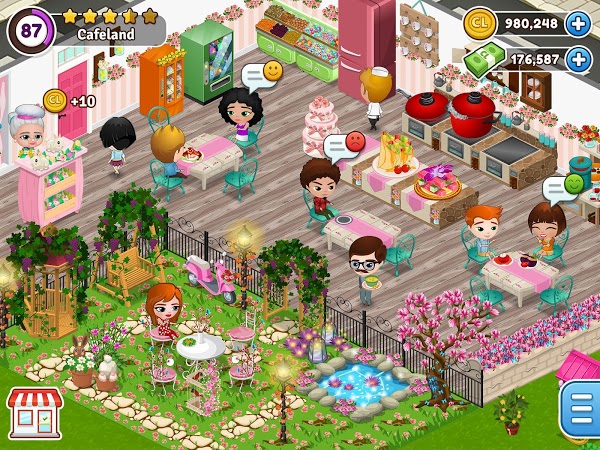 Friends – In Cafeland, you can also play with your friends! Visit the café of your friends and help them out. You can even send mystery gifts to each other and ask for help! Meet new chefs in the community and expand your circle! In this game, the more you help, the more you'll get help!
Epic graphics – Cafeland utilizes 3D graphics but with a top view. Since this is a simulation game, the graphics are absolutely gorgeous! Running a café has never been this fun thanks to Cafeland!
Cafeland APK
Cafeland is an epic cooking simulation game that allows you to run your own café! Download the unlimited money now!