Idle Egg Factory APK 2.4.7
Download Idle Egg Factory APK gems latest version and produce as many eggs as you can. You will then sell them at a profit and expand your business.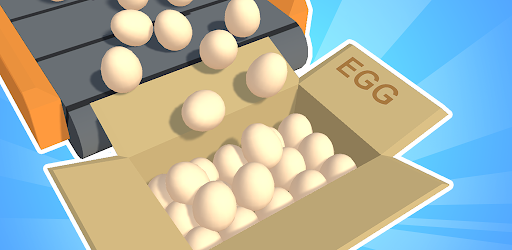 Detailed Description of Egg Factory APK
Egg factory APK is a simulation game with a refreshing touch of business. It challenges you to trade in eggs, make a profit, and expand your business empire.
The game has amazing game physics that guarantees a realistic gaming experience. All the challenges offer an unmatched sense of satisfaction as you earn rewards for completing missions.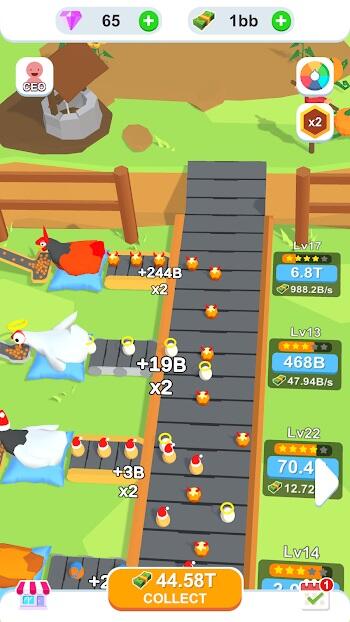 Even better, this game incorporates 3D graphics and highly immersive sound systems. These features make it super entertaining.
Why Download Egg Factory APK
Egg Factory APK provides you with an opportunity to become a successful business person. This game allows you to expand your business territory, make profits, and become the egg tycoon.
Its amazing gameplay, fun missions, and realistic graphics are just some of the many reasons you should download this game.
As you progress with the gameplay, the levels become more complicated. However, higher levels will offer better earnings. The egg production will increase as you rise through the levels!
An Irresistible Gameplay
Egg Factory APK offers you an opportunity to make money from your farming skills. It provides you with refreshing challenges in the form of missions and business strategies.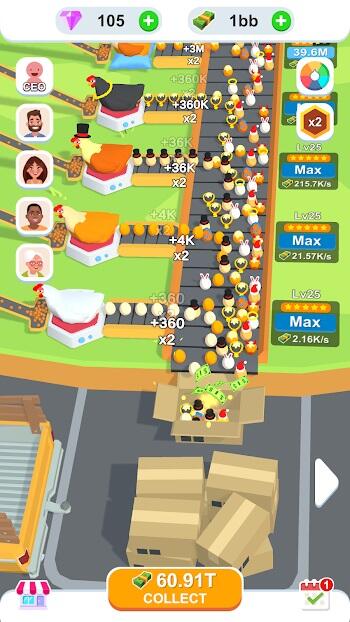 Your primary mission will be to produce eggs and sell them at a profit.
As you set out to play this game, you need to:
Produce eggs by tapping on your chicken farm
Sell your produce in the market
Upgrade your production facilities for better egg output
To earn bonuses and earn more profits, you need to expand your business. To do this, you should unlock new production units and upgrade existing ones.
Become a Tycoon!
Whenever you make profits, you will be rewarded with experience points. You can use these points to unlock new production units and upgrade existing ones as well as your chicken farm.
Earn as much money as you can, expand your business empire and enjoy the best moments of Egg factory APK.
Unique Features of Egg Factory APK
Simple Game Controls. The game has simple controls. This means that you do not need any special skills to play this game, even if you are a newbie in gaming or have never played casual games before.
Many Gaming Levels. Egg Factory APK has many gaming levels. This guarantees that you will never get bored playing the game since it offers infinite fun.
Alliance Functionality. You can also team up with your friends to play this game together. This means that you do not have to go at it alone or struggle to complete difficult challenges by yourself.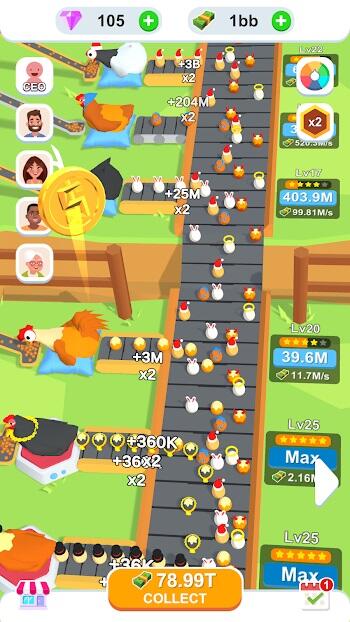 Unique Background Music. If you are looking for a game with amazing music, Egg Factory APK is the right choice for you. The game has original soundtracks that will take your gaming experience to another level.
Realistic Game Physics. The game physics is also unique. For instance, whenever you tap on your farm to produce eggs, the chickens will run towards their respective slots. They will then lay their eggs and go back to their initial positions.
Stunning Visuals with 3D Graphics. The game has amazing visuals that will blow your mind away with its high-quality graphics and animations. You can also enjoy the sound effects in Full HD 3D quality, which guarantees a lively experience for gamers.
Intuitive Game Interface. What makes Egg Factory APK the best-rated game in production is its simple, intuitive, and responsive interface. The gameplay screen has just a few buttons that are easy to learn.
How to Download Egg Factory APK?
If you wish to download Egg Factory APK, follow these steps:
Visit the Google Play Store on your phone (Android)
Type "Egg Factory APK" in the search bar
Find Egg Factory APK and tap install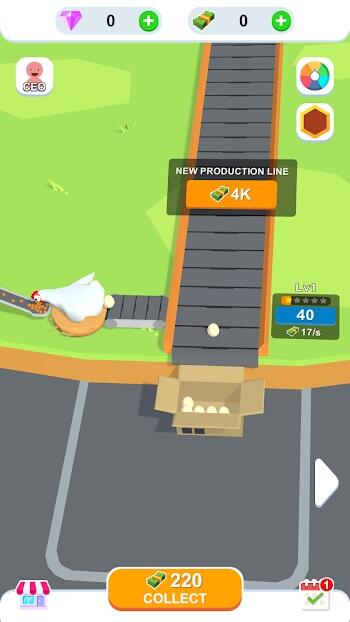 That's all you need to do to enjoy this immersive game.
Egg Factory APK
If you want more improved gameplay, you can download the modded version of the game. It has these special features:
Idle Egg Factory APKThe modded version of the game has unlimited money. This means that you will never run out of funds for production. You can buy anything and upgrade existing units without experiencing any difficulties.
Idle Egg Factory APKThe modded version of the game also provides you with unlimited treasures. These special items will help you complete various tasks faster and earn more rewards.
Easy UI. The game also has an improved UI system that will reduce the time it takes to upgrade your units and earn rewards for completing missions.
No Ads. The Idle Egg Factory APK diamonds do not contain ads. This means that you will be able to play it without experiencing any annoying pop-ups and banners.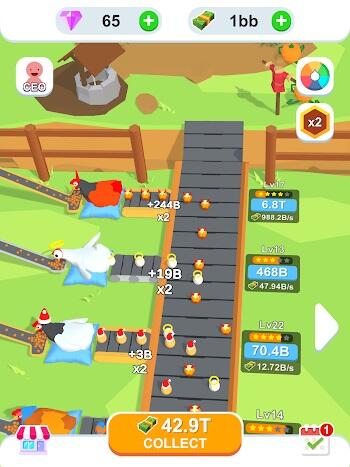 To download Idle Egg Factory APK for android, you should identify a reliable third-party website and click on the download link. You will then install it into your device and start using it instantly.
Conclusion
Egg Factory APK is one of the best casual games available. It will let you grow your business empire in a fun and entertaining way. The game has an easy-to-use interface, simple gameplay controls, excellent graphics, immersive sounds, and unlimited features that guarantee a great gaming experience.
With this game, you will live your dream of becoming a successful businessperson. It will help you establish your dream farm and make a nice passive income.
Even better, the Idle Egg Factory APK download comes with unlimited money and gems. This means that you will never experience any difficulties in the game no matter how challenging it gets.