AdVenture Capitalist APK 8.19.0
Ever had a dream of owning multiple businesses and getting rich quick? Play Adventure Capitalist APK now to easily create money out of thin air out of your empire!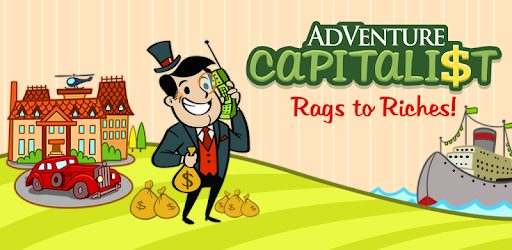 We've all dreamed of becoming rich someday. Some are striving hard to achieve those dreams while others are contented with what they already have today. But if you want to become filthy rich instantly, then playing Adventure Capitalist is the way to go!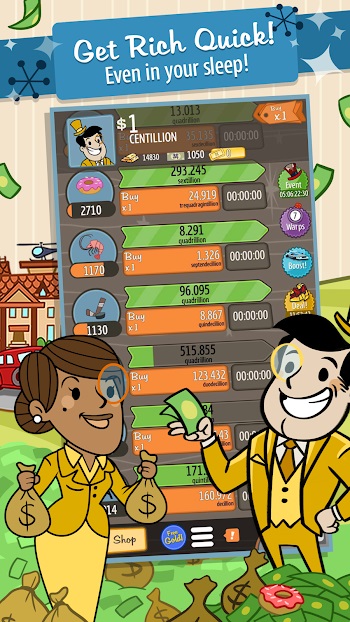 Here, you'll become the world's richest through starting and growing multiple businesses! Hire tons of managers and automate your way to riches! There are a lot of fancy clothes you can buy for yourself to complete the rich look. Then, you can also invest your earnings to get huge money! In this idle game, you'll be rolling in dough within hours of playing. There are countless worlds to explore and records to break!
Become Filthy Rich
A lot of people's goal is to become rich someday. Maybe have a big house, a nice car, a lot of businesses and a net worth that exceeds 7 digits. But most people won't get there. Only a little will get to that dream in their lifetime. But if you want to instantly become a billionaire, play Adventure Capitalist!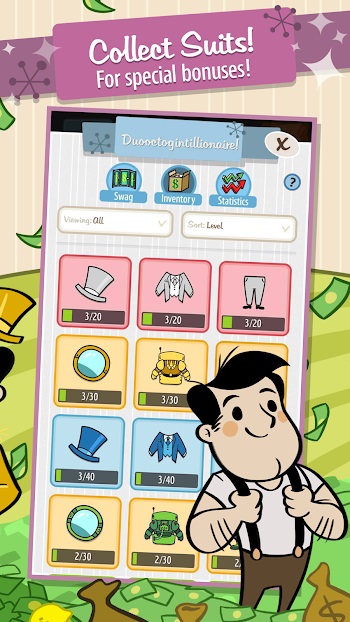 In this epic game played by 10 million people, you can become everything you've ever wanted! Become a tycoon who accumulates wealth infinitely. There are tons of things you can expect to make in here. Hire tons of workers and become instantly rich without doing much! Such is the power of leverage that you can do in this game.
What Makes Adventure Capitalist So Great
With a ton of things to enjoy, this popular idle game is living up to its name. But if you're still not convinced, here are the things that makes Adventure Capitalist so great:
Start from the bottom – In this game, you're going to start with nothing. Like most self-made millionaires, this is the case. There's nothing more satisfying than starting at the bottom and quickly going your way to the top. As a beginner, there are a lot of hurdles you need to jump before you can get a lot of money. But the good thing is that you can get rich quickly here!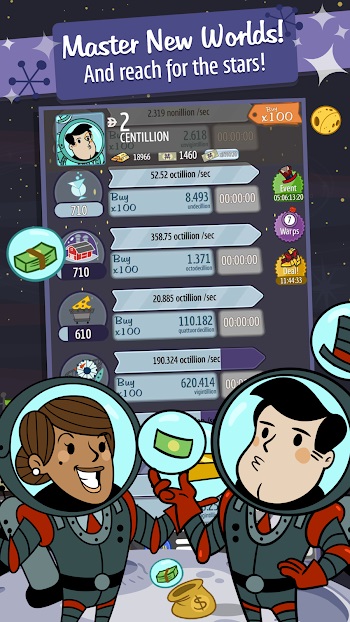 Hire managers – To make your business automated, you'd need managers. They will take the load of your shoulders so you can focus on making more money. Hire managers for the different sectors of your business you don't have to do the hard work yourself. The more you hire, the quickly, you can rise up to the level of a tycoon.
Dress the part – The tycoon look wouldn't be complete without the necessary outfit! Buy fancy suits, hats, pants and accessories and show off your wealth to everyone. Here, you can splurge your hard-earned money on things such as clothes. But don't just stop there, collect a ton!
Invest to make more money – We all know that compounded interest is the eight wonder of the world. In Adventure Capitalist, you can attract a lot of Angel investors to your business. Each of these investors will allow you to earn more money. Do everything you can to attract them!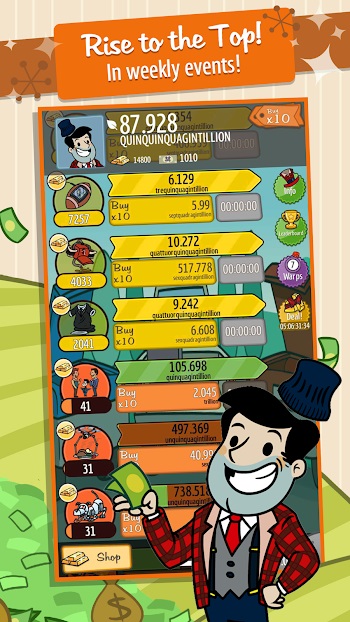 Tons of unlockable items – Who says you only need to be rich on Earth? In Adventure Capitalist, you can unlock adventures in the Moon, Mars and other planets. There are also a lot of items and features you can unlock to make things easier. The more you unlock, the more wealth you can earn.
Weekly events – There are also many weekly events to anticipate if you are bored. These will allow you to earn Gold, Megabucks and unique badges. Join in on the events and climb the Event Leaderboards to boast your wealth.
Earn money infinitely for free – Who ever though that making infinite money is free? Adventure Capitalist is a free to play game that has been enjoyed by plenty of players worldwide. It's your turn now to enjoy!
Adventure Capitalist – Bottomline
Enjoy a great time making money easily by playing Adventure Capitalist! Now, you don't have to worry about working hard, just earn money idly.