Evil Hunter Tycoon APK 1.361
Download Evil Hunter Tycoon APK – latest version – Free for Android to experience a brand-new hunter simulation game with pixel graphics. Ready for an adventure?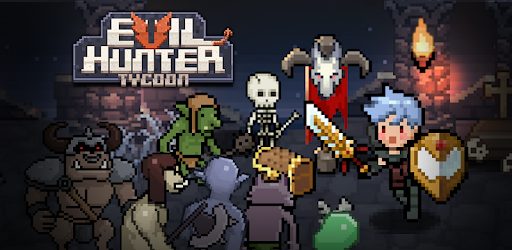 Simulation games are the norm nowadays. However, they mostly include zombie survival aspects or something related to that. More and more games are coming out in this genre such as Last Day on Earth: Survival and more.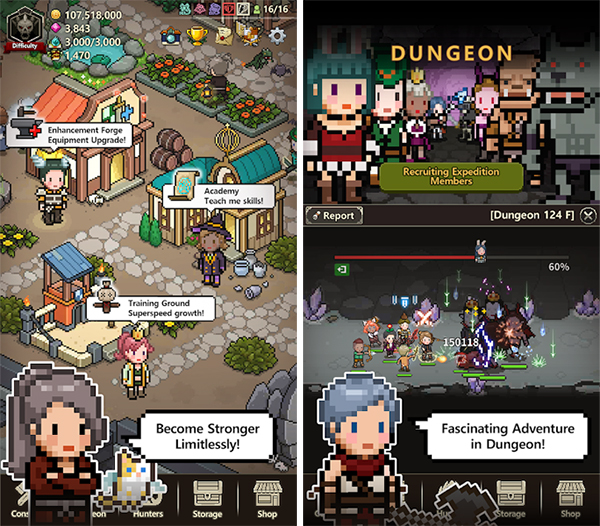 Once in a while though, some creative developers look for new ways to re-introduce this genre to us. Evil Hunter Tycoon APK is an RPG simulation game with 8-bit pixel style graphics to fill your nostalgic soul. It's a game unlike any other that will truly satisfy your thirst for something new and special. Ecstatic to know more about this gem? Read on!
A Demon Hunter Game
When we think of simulation games nowadays, we tend to think of zombies or the Sims. However, Evil Hunter Tycoon isn't your ordinary simulation game. It's got elements of an RPG game while incorporating the simulation genre.
In this game, you're in a remote town and you're going to embark on an epic demon hunting adventure. In this game, you'll become a town leader and you need to manage your town properly. Find wizards and warriors to hunt exorcists in your town. Your task is to basically manage your town and erect buildings to get resources for your hunter team. You can also sell items to get more money.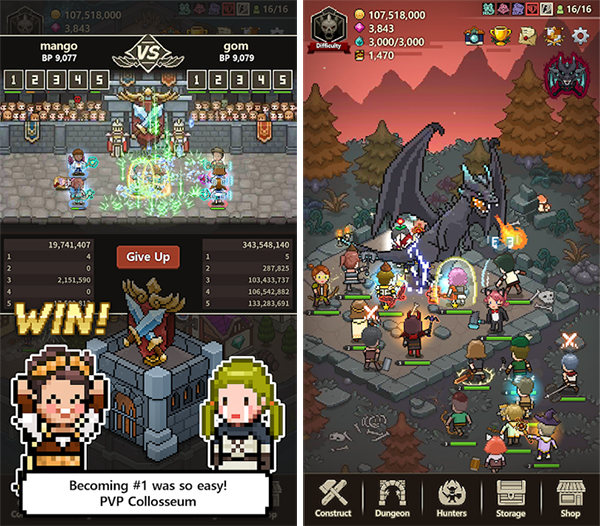 With an interesting storyline, cute graphics and a never-ending action-packed adventure, you're sure to be addicted to Evil Hunter Tycoon in no time! Engross yourself in an adventure of a lifetime while experience a gaming experience like no other.
Features of Evil Hunter Tycoon
Once in a while, in a sea of newly-released games, there are some gems that you'll find. Evil Hunter Tycoon is one such game because of how creative the developers were in making this game. There are currently no other game that can rival this one. Having said that, here are the features of Evil Hunter Tycoon:
Pixel Graphics – When we see pixel graphics on a new game nowadays, we automatically associate it with either crappy graphics or old-school. The 8-bit style pixel graphics in Evil Hunter Tycoon can be definitely called old-school. It's the perfect graphics for a game that has RPG aspects and a great storyline. Plus, this isn't an FPS game so it's well-made. But even if the graphics are in pixel, you can still clearly see the details on every object in the game. From the grasses to the houses and the characters – they're as detailed as possible considering they're pixelated.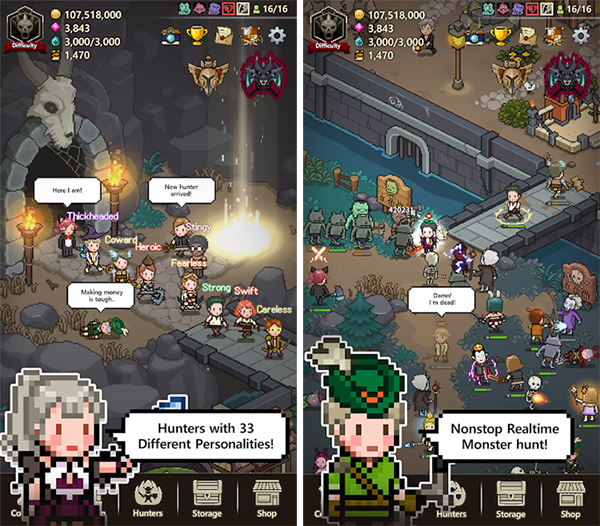 Recruit Hunters – One of the main tasks in this game is to recruit hunters. Your hunters are the ones who'll protect your town from monsters that are trying to ravage your town. Recruit and raise them!
Train Hunters – As your hunters will be the ones in charge of protecting your town, you need to train them to be stronger. There are 4 different classes of hunters. There are top tier hunters that randomly pop into town. Be sure to recruit them when you spot them right away! You can also invite top tier hunters with items to protect your town from monsters.
Rare materials and treasures – You can also explore different dungeons to find rare materials and treasures. You can use these materials to your advantage and make your hunters strong! There are a lot to be collected in this game.
33 Unique Hunter Personalities – In Evil Hunter Tycoon, hunters randomly pop up in your town. Before you recruit them, it's important to see first their characteristics. In this game, there are 33 unique hunter personalities you'll come across! Be sure to check them so you'll recruit hunters that are aligned to your ideals and town.
Design your own town – In this game, you're the town chief. That means you are in charge of construction, craft, sale and training hunters! You can build different facilities such as the Infirmary, Restaurants, Tavern, Inn, Weapon Shop and more. Be sure that your hunters can easily get to these facilities since they're the ones who'll protect your town from monsters creeping in. It's your town so you get to decide how it looks and how the buildings are designed. Whatever you do, always keep the functionality in mind.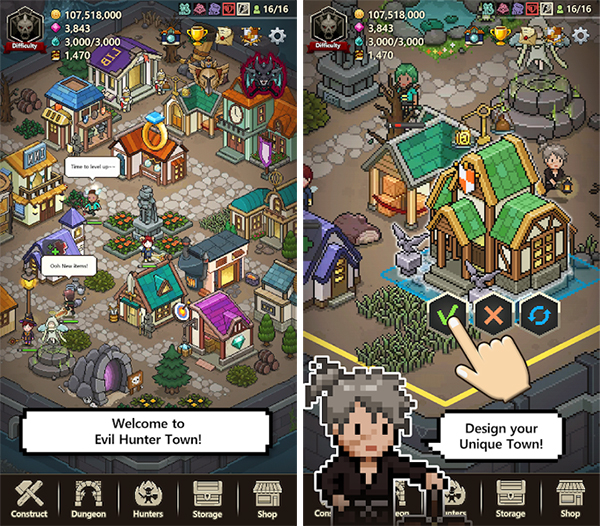 Unique gameplay and easy controls – Since this is a simulation game, every action you'll need to do can easily be done by tapping objects. You don't need complex controls in order to move character or create buildings. The controls are as straightforward as it gets. No need to get confused or to master them before you can play the game unlike FPS games.
Tips for Playing Evil Hunter Tycoon
Even though this game looks easy at first glance, it has some complex elements that you can only master by experience. To help you with this, here are some tips for playing Evil Hunter Tycoon:
Recruit only the top-tier hunters – In this game, you'll invest a lot of resources and time into raising your hunters. This means increasing their level, equipping them with the best gears, learning skills, traits and even more. So, in order to give you the best possible result, you need to only recruit the top-tier hunters. Don't waste your time with "N" rarity hunters as their stats are low. As much as possible, get the S, H, and L hunters. This will allow you to easily level up and earn a lot of gold from killing monsters.
Keep the stocks always up – In Evil Hunter Tycoon, your hunters will stop fighting if their HP is low, mood is low, they're hungry and stamina is low. That's why you need to always make sure that your restaurant/inn/tavern/infirmary have enough stocks such as food, rooms, bandages and beverages. Your hunters will automatically go to these buildings when they're low on certain stats so it's better to be prepared and keep them full. You should stock more for idle gameplay so you don't have to worry about your hunters not fighting monsters.
Evil Hunter Tycoon APK – Unlimited money
Want to play Evil Hunter Tycoon but want to level up fast? Download the unlimited money now and get high-tier hunters and unlimited gold!