Dungeon Village 2 APK 1.4.0
It's always fun to play RPG games. They give a sense of belongingness and adventure to players. In Dungeon Village 2, you get to build a town yourself!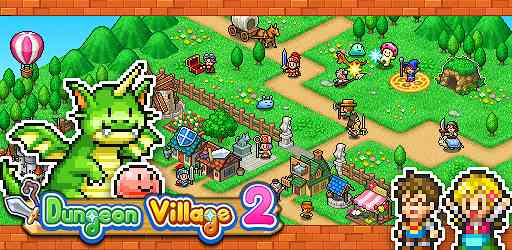 It's not an easy task to build and manage a town yourself. It requires planning, expertise and hundreds of hands. But when it all comes together, you can rest easy and find job at the fruit of your labors. In Dungeon Village 2, you have the ability to build and manage a town! Build inns, roads, weapon stores and make adventurers come to your town. This is a fun game where you can attract many adventurers by filling your town with food stores, facilities, and more.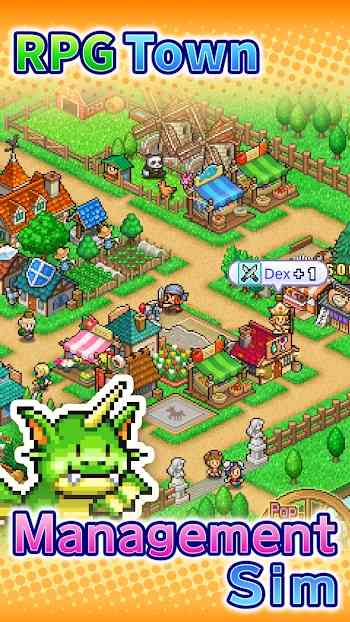 Published by Kairosoft Co. Ltd, this is a game where you can build anything you want pertaining to a town. Your only goal is to make it as attractive to adventurers as possible. To do this, you will need to erect many structures, stores, craft items and even invite monsters to join you. This is a fun RPG game to try today!
RPG Town
You may have played an RPG game before that involves fighting monsters and creating weapons. RPG games are one of the most popular genres when it comes to mobile games. But one of the joys of RPG players is when they come across games like Dungeon Village 2 where they can build and manage a town. Here, you can relax and enjoy the simple life of building a town that attracts adventurers. In Dungeon Village 2, you get to do all that and more.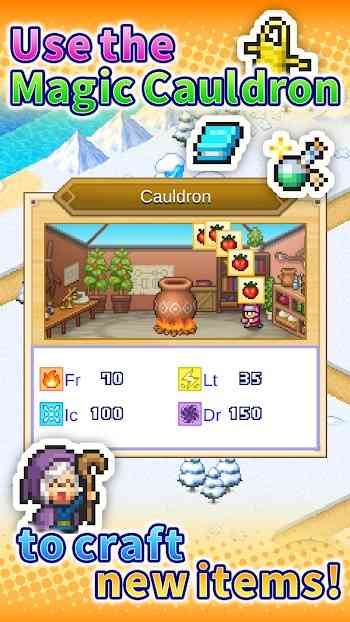 Build a town entirely from scratch in this fun RPG game. Here, you can set up stores, inns, roads, farmland, trees and more. It's your town so you choose how to design it to attract as many visitors as possible to keep it flourishing. Then, you may also hire some monsters to unlock new areas. Keep your pet monsters well-fed and happy so they can help you on your journeys.
There are also a lot of enemy monsters to fight in the game in which you'll enjoy. This is a fun RPG game that lets you rise through the ranks!
Dungeon Village 2 Highlights
You might be living in a city or a town today, but there's always some joy in running one yourself. Try your best in managing a town in Dungeon Village 2.
Manage a Town – It's easy and fun to live in any city or town in the world as that's what we've been doing. But what would you do if you can suddenly build a town of your own? Bring your dreams to reality in this game where you can build and manage a bustling town. Fill it with amazing stores and things to make it as attractive to adventurers as possible. Erect buildings, craft items and go on quests to earn money and discover new areas.
Here, you get to build new facilities and build roads and farmlands. You can also put-up statues, oak trees and inns to accommodate guests. This game also allows you to hire monsters and adventurers and go on epic quests. Craft weapons and items for them so they can earn more experience and rewards. There are a multitude of new monsters to fight here!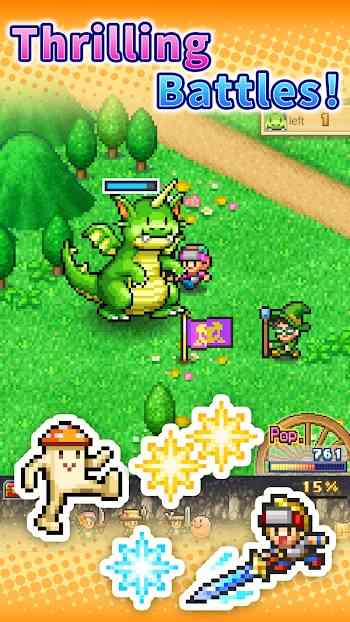 Train Adventurers – In this game, your goal is to build a town that adventurers would want to move in to eventually. That's why you need to constantly improve your services as the manager of the town. But once you have adventurers on your town, it's your job to supply them with the best weapons and items to help them level up and fight monsters. There are many new monsters in the game's roster that you'll surely be amazed at. Fight and gain rewards in this amazing RPG game.
Erect inns and shops – If you've never run a town before, this will be a good game to get experience. It lets anyone become a town owner so you can establish many stores and inns. Create a weapon store and let adventurers go there to get new weapons and items. You can also create a florist shop and many more inns to accommodate your growing population. This is a fun game that lets you settle down and enjoy the easy life.
Design your town – A town needs to be attractive and suitable for living. If you want to encourage travelers to live in this town, you need to put up many roads, trees, and decorate your own town. Set up many inns and things for your residents to do.
RPG Pixel Graphics – This game is just like and other RPG game that you've ever played. It has pixel graphics that mixes well with the gameplay.
Dungeon Village 2 APK
Want to have your own town? Build yours now in Dungeon Village 2 and attract adventurers and fight monsters!