What is the Submerged Map in Among Us?
Among Us is an insanely popular multiplayer game that's loved by millions today. At first glance, it looks complicated but it's actually a simple game once you understand the mechanics.
Basically, there are two groups of people who'll fight here which are the impostors and crewmates. There are certain roles for each member and you'll randomly get the role at the start. In this game, there's a new map called Submerged!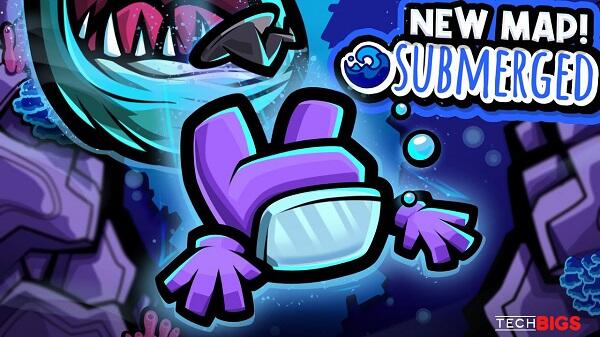 Published by Innersloth, this game has been dominating since last year ever since it came to the spotlight. Now, many games are copying it but nothing can topple the original one.
Today, the gaming world is talking about the new map called Submerged and it's available now. It's a map that allows you to play on a submarine under the sea. The map was created by Streamers spearheaded by 5up and it's an awesome one!
Among Us – What is it?
If you don't know anything about this game yet, Among Us is simply one of the most popular multiplayer games today. It's a game that allows you to play with your friends or family via local Wi-Fi or with random players worldwide. Here, you'll enjoy a spy-style game where you'll get a random role at the start.
There are only two roles here which are the impostor and the crewmate. As one of the crewmates, your primary role is to complete tasks while watching out for the impostor.
Then, as the impostor, you'll need to find the crewmates to eliminate them. This game also allows imposters to do fake tasks so they look less suspicious. This evens out the playing field for the two roles in the game.
Here, each player is able to move around using a virtual stick controller and perform actions on the right. There's also an ability here that allows you to customize your player by selecting a skin, hat, color, and pet.
Highlights of Among Us
Among Us is a popular multiplayer game that you can enjoy right now. If you want to know its features, feel free to read them here:
Different Roles – As mentioned above, there are only two roles in this game: Impostor and Crewmate.
Depending on the match, there can be 1-3 impostors that are randomly selected. Then, the rest of the players will be crewmates in the game.
You can also play with 4-10 people either locally or with other players worldwide. Here, you'll need to perform your role in order to win the match!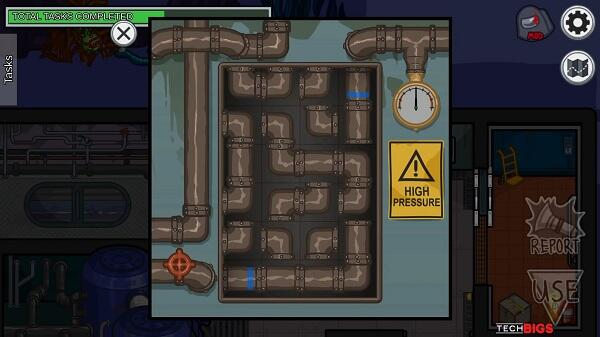 Various Tasks and abilities – Whatever role you're given, you must complete various tasks in Among Us. If you're a crewmate, your main goal is to complete all the tasks which will result in a win.
But if you're an impostor, your goal is to eliminate everyone without being caught! Then, you can also access fake tasks which will allow you to fool the enemies. Then, you can also have different abilities in this game depending on your role.
Here, all players can report dead bodies found so that a meeting will be called. In the meeting, all players will be present and they must discuss who the possible impostor is. At the end of the discussion, everyone is required to vote on who they think the impostor is.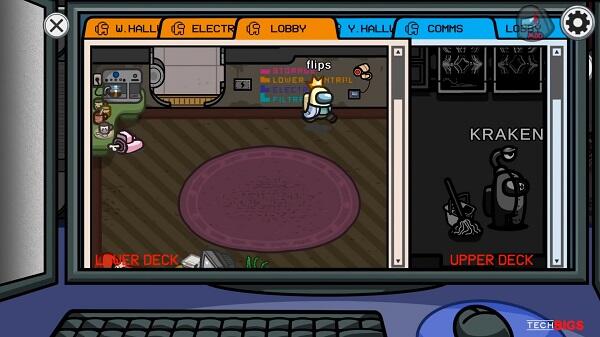 Colorful graphics and maps – This game utilizes incredible graphics which make use of simple colors. Here, you can enjoy different designs on various maps.
In this game, there are currently four maps available which are the Polus, The Airship, MIRA HQ, and The Skeld.
Each map has its own strengths and weaknesses but the most popular right now is The Skeld. However, there's a new map coming to town and you'll love it!
Customize – In this game, players may also freely customize their characters upon starting the match. Players can choose a unique color, skin, hat, and pet!
What is Among Us Submerged Map - What to Expect?
The Among Us Submerged map is the newest map in the game. However, it's not officially available for all since it was created by a group of streamers headed by 5up. But, the map was so good that Innersloth acknowledged it and allowed its existence.
This map features a submarine that has been submerged under the water. The designs feature corals and many sea-related things.
You'll also notice that there are unique tasks here that are all related to the unique map.
Overall, you'll find this map incredible especially if you love seas!
Here, we listed down all the new things that you can expect in Submerged:
Elevator – Unlike the other maps, the Submerged map in Among Us is the first one to feature an elevator. This is how you can travel between floors easily in the game. With this, you can expect an in-depth gaming experience as a lot of things can also happen on the elevator!
New Voting Interface – There's also a new voting interface that you can expect in the map. First, you'll be able to see the players that are dead and the ones that remain. Then, the voting interface is placed in a pink smartphone that looks cool. There are also different animations that you can enjoy!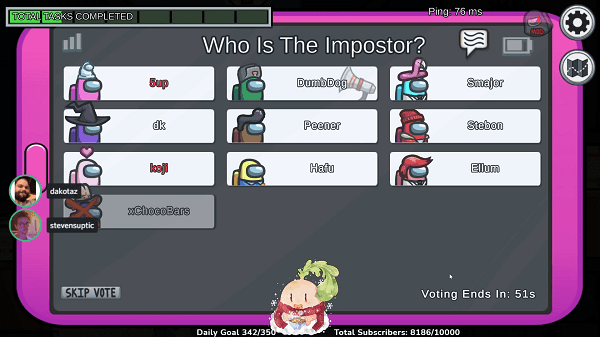 Choose lower deck/upper deck after voting – After voting, players are also free to choose where they want to go whether the lower or the upper deck! This makes the game so much easier as you don't have to go to the elevators again.
A Whole New Map – Submerged is completely a new map, this means that you'll have to memorize the different areas again! There are different areas on the map and since there's an upper and lower deck, this means there's a lot of areas to play with:
Central
Electrical
Storage
Lobby
Security
Ballast
Engines
New Vents – Unlike in the original Among Us maps, you'll be able to see more vents in different locations in the Submerged map! But there are also vents with new designs which look like an oxygen tank!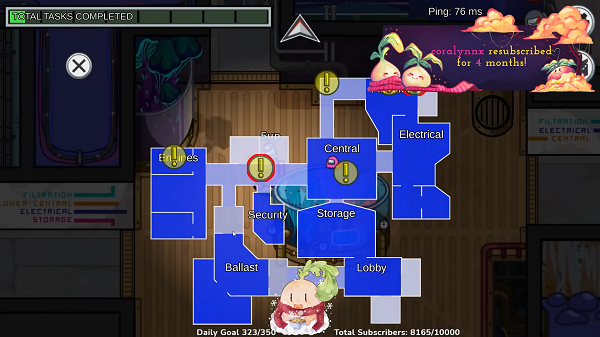 New tasks – As always, a new map comes a whole new set of tasks! In this game, you can enjoy many new tasks to perform such as the vending machine, Fix Wiring, Reshelve Books, Download Data, Track Manta Ray, Clean Glass, Purchase Breakfast, and Cycle Reactor.
There's also a plethora of fake tasks impostors can do such as Plug Leaks, Fix Wiring, Shoot Depth Charges, Submit Scan, Cycle Reactor, Locate Volcanic Activity, Purchase Breakfast, and Steady Heartbeat.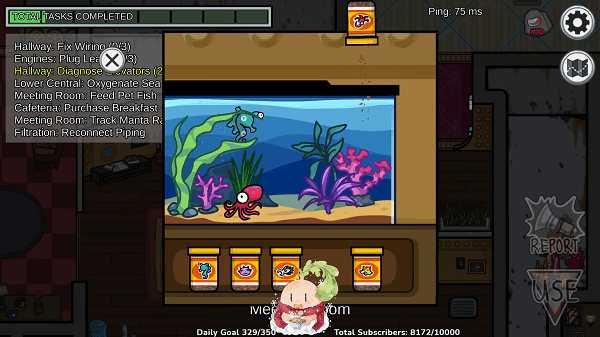 Feed Pet Fish – There's also a fun new task to do which is the Feed Pet Fish. Here, you'll just need to feed the various sea creatures in the aquarium. There are different types of sea creatures here such as an octopus, seahorse, and many more.
Ejection – In the Submerged map, there's also a cool new animation for those who will be ejected. The player will be thrown out of the submarine and into the deep sea where he will be eaten by a sea monster!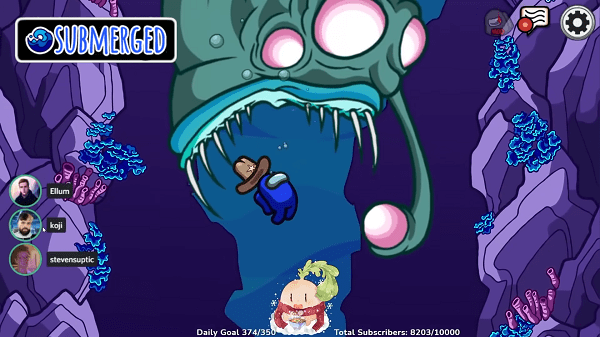 Interesting things outside of the map – Although you can't go outside the map, you can go to the farthest side of the map and you should be able to see interesting things outside. You'll be able to see a Yeti, there's also a volcano, a huge skeleton, seaweeds, and different sea creatures, and more!
Maybe you missed this great article: Jester Mod Among Us
Among Us Submerged Map Release Date
The Submerged Among Us map was released on June 25 on Twitch. But at the end of July, all the players will be able to access it.
How to Download Among Us Submerged Map?
As of now, you can only download the map on Twitch. But you have to pay a certain fee in order to get the map. But the good news is that even if only one player has the map, other players who join a match with him will be able to play it!
But if you want to get early access to the map, you can try emailing the creator to give you the map! Here is the email: [email protected]
Conclusion
Now that you know everything there is to know about the Submerged map in Among Us Mod APK, it's time to play! Share this info with everyone you know now!