Soul Knight APK 5.5.0
Download Soul Knight APK – latest version – on Android to shoot up all the aliens and retrieve the stone that will keep the world in balance. Ready?
Who doesn't love a classic arcade-style game? Download Soul Knight APK to experience one of the best and most intense shooter games currently on Android. Soul Knight is an old-school arcade style platform game that requires quick reactions and a desire to be entertained.
The premise of the game is that high-tech aliens have stolen the magical stone that has been keeping the world balanced. Now, you'll have to shoot through as many of them as possible to get the stone back and stop the world from falling into oblivion. Kill these evil alien scum and reclaim what is rightfully Earth's!
The game has easy-to-master controls and an intuitive UI so you only have to focus on the next enemy. There is a massive selection of weapons to choose from – including advanced alien weaponry. Choose your weapon and get ready to confront terrifying enemies from another galaxy.
Epic arcade battle
In this awesome action game, the fate of planet Earth is hanging on by a thin lifeline and you'll have to take the fight to the enemy to ensure that the fate of this world isn't sealed by these marauding invaders. Choose from more than 270 weapons and fight in a randomly generated dungeon. Every time you play, you'll be in a completely different environment, meaning you'll have a different experience every time you play the game.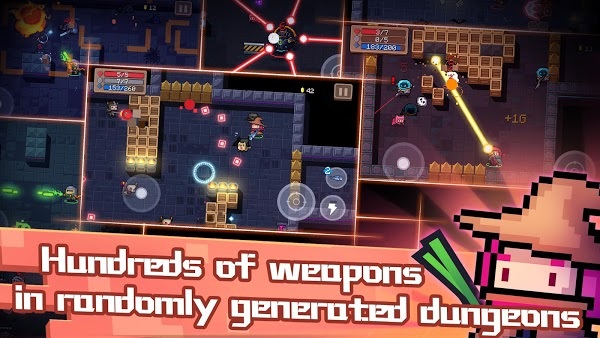 There are many traps in the dungeons, so you'll need to watch out for those, as well as the hundreds of objects in each dungeon that will turn into projectiles and try to hit you. Make sure that you're always on high alert and don't worry about trying to remember how to get through each dungeon, as it will invariably change every time you start a new level.
You'll also be able to equip yourself with power ups at the end of every level and then you can choose whether to level them up or change them to a new one with each successive dungeon that you clear. Some of these bonuses will make you immune to certain traps, restore your health quicker, or even slow down your enemy's bullets. Make sure that you're equipping one of these potions at the end of each level.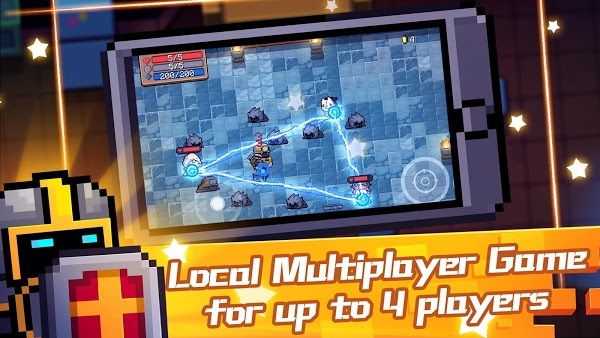 Pro tip: In the early levels, it's a good idea to purchase the Chest item. This will equip you with a basic weapon at the beginning of every level. It won't be the best weapon, of course, but it's much better than the 'bad pistol' that you begin levels with by default. You only need to purchase the chest once, so make the investment early on to help you out in those beginning levels.
Boss tip: Fighting bosses is difficult work – they're powerful and can deal out a lot of damage. A great tip to beating bosses early on is to unlock the character called Rogue. He can do a combat roll and doesn't take damage while doing it – it's a great way to avoid the damage from an otherwise devastating attack.
Soul Knight APK
If you want to play Soul Knight with less challenge, then download Soul Knight apk.