EvoWars.io APK 1.9.32
Continue to grow larger and more dangerous as you collect more and more orbs. Slash your opponents out of existence and become the biggest threat in the map.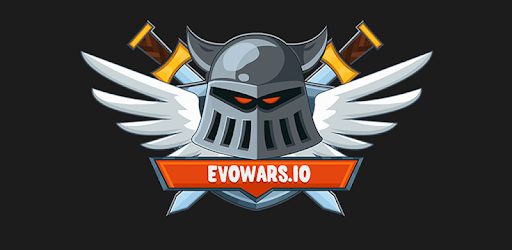 Download EvoWars.io for Android to play a fun and competitive experience for Android. Maybe not the best io game, but still equally fun!
Evolve into More Powerful Warriors!
As an io game, the concept is fairly simple to the popular Snake.io: You will continue to grow larger as you collect orbs. However, there is a significant difference between Snake.io and EvoWars.io. First of all, you aren't getting any longer as you grow in Evo. In fact, you become an even larger warrior than before. What's more, your appearance drastically changes.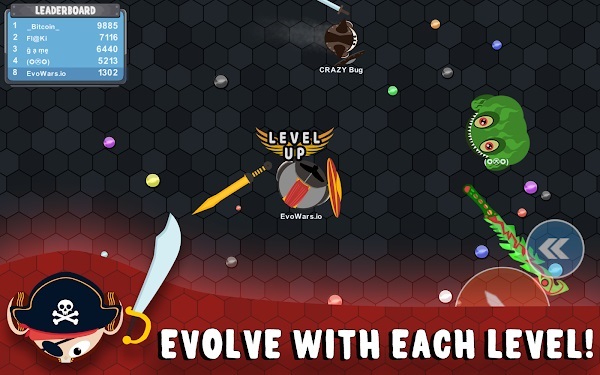 What is happening is that you are evolving. Rather than constantly getting larger, you have an experience bar that needs to be filled. Once this bar is fully filled up, you will evolve into the next level of warrior. Furthermore, your evolution will big bigger, badder, and even have a larger reach with your sword.
How to Gain Experience
There are two main ways for you to increase your experience in EvoWars.io:
Collecting orbs will grant you a slight boost in exp. However, this method will take much longer, and is practically useless once your large enough.
The second method would be through slaying your opponents. Slaying enemies will usually grant you enough exp to immediately evolve (for the lower-level warriors).
No need to worry, there are dozens of evolutions available, and even a secret premium evolution. However, the premium evolution will need to be bought.
Can You Reach the Epic Dark Knight?
Once you've reached your max level of 35, there is one unstoppable force waiting for you. The Dark Knight is seemingly immortal when accessed during the game. He's too big and powerful to stop!
However, the road to achieving this evolution is a difficult one. Players all around will be continuously looped between the same levels, due to the hierarchy of evolutions. It becomes more and more to evolve the higher you go. Most players can barely reach the AMAZING Dragon Slayer at level 25.
Do you want to know the easiest method on how to get the Dark Knight? Below, we can give you some advice on how to reach level 35 in EvoWars.
Here's a Quick EvoWars.io Tip:
Want to learn how to win in EvoWars.io? There's one secret that you should always keep in mind when playing. Make sure not to share this with anyone.
⚔️ When starting the game, stay far away from others and collect orbs to grow. Once you've evolved to a decent size, only aim for those who are your size and slightly bigger or smaller.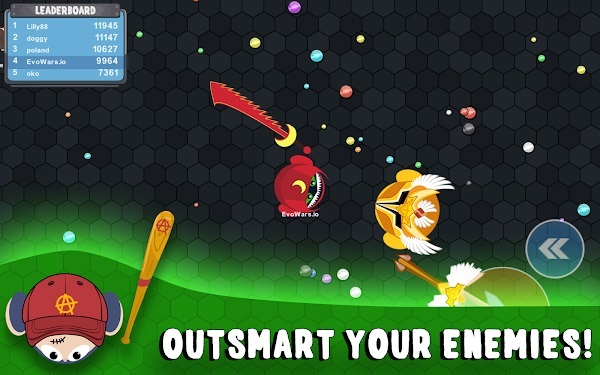 ⚔️ When attacking enemies, always aim for their blind spot. This is the side that lacks a weapon. This way, they cannot attack you as easily. If you take advantage of this tip, you'll be able to take down enemies who are larger than you (but not too large).
Similar games: Manok Na Pula Download and Bloody Bastard APK
EvoWars.io APK Latest Version
Download game EvoWars.io APK and you'll be able to avoid death. Check out the following additional feature of the game:
First, you'll get EvoWars.io APK unlimited health. This means, you won't die no matter how hard your enemies try to kill you.
Second, you can utilize the premium evolution by accessing the EvoWars.io APK unlock all feature.
There you have it. With this, you'll feel invincible as you take on other using the EvoWars.io APK feature. You'll continue to grow and become stronger, as other look helplessly, waiting for their deaths.
Download the game now to start your evolution!