Project Winter APK 1.7.0
Download Project Winter APK latest version for grueling survival missions on snowy mountains. It has 3D graphics and authentic challenges to keep you on your toes.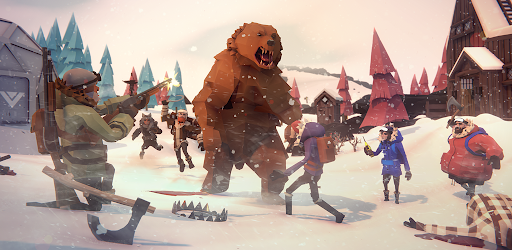 In-Depth Details about Project Winter APK Download
Project Winter APK full version is a Social Deduction game inspired by Among Us. The game, offered by Boltrend Games, is on a snowy mountain where the conditions are treacherous. You have to work with your team to ensure everyone survives the conditions and completes the mission.
However, you will have traitors in your midst who will do everything to ensure your mission fails. It is up to you to figure out who the traitors are and stop them from sabotaging the team.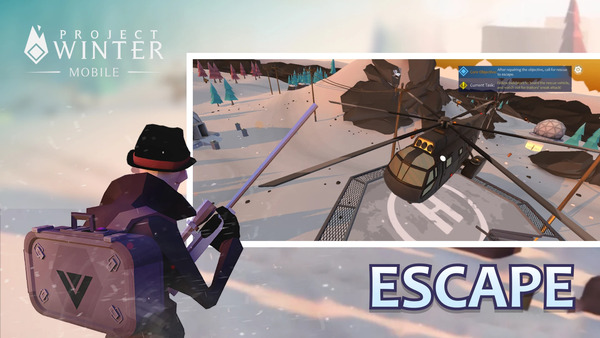 The game features realistic 3D graphics that make the environment look very authentic. You will see well-detailed characters and snowy landscapes. The challenges you face in the game will test your creativity, perseverance, and teamwork skills.
Project Winter APK for Android -Storyline
What would you do if you found yourself in a remote location with no way to contact the outside world? Worse still, in a cold, unforgiving environment with precarious conditions?
This is the situation that the characters in Project Winter find themselves in. As they were traveling to a remote research outpost, their transport ship crash-landed on a frozen mountain.
They are now cut off from the outside world and must find a way to survive the harsh conditions and complete their mission. However, not everyone on the team can be trusted. This complicates matters further as the team must now outsmart the traitors in their midst and ensure the success of the mission.
Fortunately, you will have lots of activities that can help you pass find help. Ensure you complete every task offered to you to progress in the game.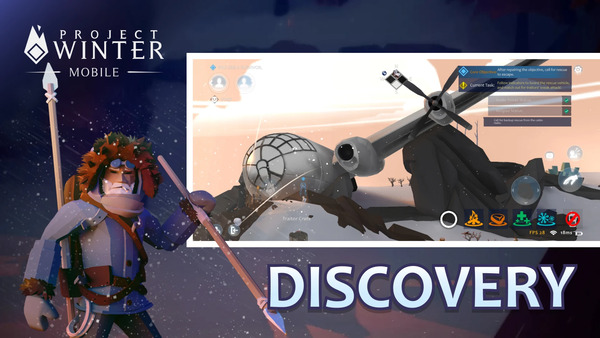 A Super Immersive Gameplay
This game requires collaboration skills to ensure the survival of every member. You will find yourself in an alien and hostile environment with only your team for support. The game is characterized by puzzles, challenges, and many betrayals.
The immediate need is to find a way off the mountain. However, this is not as easy as it sounds as there are many assignments to do. All these tasks must be completed while avoiding frostbite and other injuries.
Play as a Traitor or a Survivor
This game has 7-10 players, with some of them being traitors. Interestingly, you could be one of the traitors and not even know it. The game gives the traitors specific objectives to ensure the mission fails.
Once you start the game, your role will be highlighted in the bottom right corner of the game screen. The game will guide you based on the role you play. Each faction has specific activities to undertake, which will be vital to the game's progression.
As a survivor, your goal is to escape the mountain. You must complete all the assignments and reach the extraction point. For example, you can find a radio to communicate and ask for help.
The traitors, on the other hand, will want to ensure that none of the survivors escapes. They can do this by sabotaging equipment or slowing down the team's progress. For example, they can communicate with other impostors to block survivors from reaching the rescue vehicle.
Traitors must be cunning and smart to win the game. They must also be good at lying and deceiving the other players. They must also earn the trust of the survivors to be in a position to sabotage the team's efforts.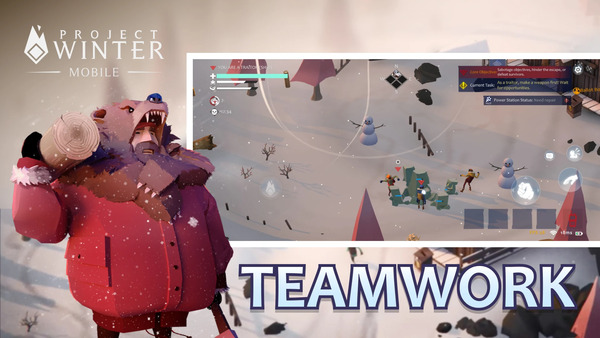 Whichever role you play in this game, always remember that the secret is in being alert. You must never ignore any suspicious behavior from any member of the team. This is the only way to circumvent the traps set by the traitors.
Many Activities to Undertake
Depending on your role/faction, there are many activities to undertake in this game. Some of the critical ones include:
Collect Items to Survive the Biting Cold. The weather is unforgiving, and you must ensure you have the right supplies. You must find food and water to avoid dying of hunger or dehydration. You should also look for ways to stay warm.
Fix the Radio. This is possibly the most critical task in the game. You must find a way to communicate with the outside world and ask for help. The radio is your only hope of getting rescued.
Explore. This is a survival game that tests your exploration skills. You must create and gather items to help you survive. For example, you can cut trees to create a fire or build a shelter to protect yourself from the cold.
Manage Your Emotions. This game is not only about physical survival but also your mental state. You must manage your fear, anxiety, and other emotions to stay alive. For example, you can use your positive emotions to motivate yourself and others to keep going. Always try to keep your health & HP up!
Fight the Traitor! You must identify the traitor and end their sabotaging ways. Only then can you hope to escape the mountain alive. It requires good collaboration skills, quick thinking, and fast reflexes.
Chat with Your Teammates. This is a cooperative game, which means you must always communicate and collaborate to improve your chances of success. You can use text chats, emotes, private chats, and private voices.
Take Different Roles. As a survivor, you can take on several roles, including medics, soldiers, scientists, defectors, or radio operators. You can also be a traitor, which gives you the option to become an impostor, accomplice, or saboteur.
Customize Your Character
This game gives you the leeway to create/choose a costume for your character. Fortunately, the costumes will be ideal for winter weather, making it easier to survive the cold.
There are various customization options to choose from. For example, you can select the color of your clothes, hairstyle, and accessories. You can also unlock cotton shirts and ski goggles to make your costume more functional.
There is no right or wrong way to customize your character. You can be as creative as you want and develop a unique look. Always remember that the goal is to survive the winter, so make sure your costume is functional.
Conclusion
The Project Winter APK free download is an excellent game that tests your survival skills. It is a must-play for fans of the genre. You must use your wit, courage, and resourcefulness to escape the mountain alive.