CSR Classics Mod APK 3.1.0
Download CSR Classics APK – latest version – Mod for Android to experience drag racing like never before with some of the greatest classic cars ever made!
Racing games are undeniably popular in the mobile gaming world. There are the heavyweight titles such as Need for Speed and the Real Racing series. But did you know that there are a lot of types of racing games out there? There are simulation games, normal racing, and drag racing.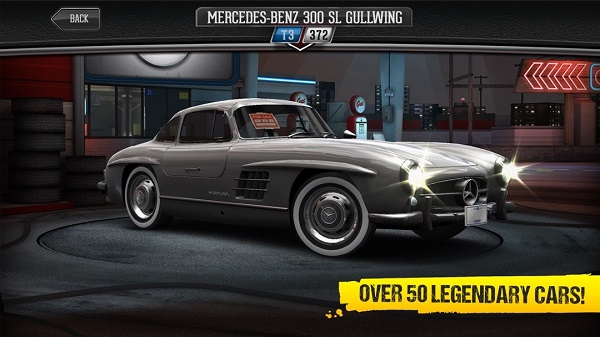 In this article, we're going to focus on drag racing – specifically, CSR Classics APK. If you didn't know, the CSR Racing games are the most popular and the pioneers in the drag racing category of racing in mobile games. Now, they're back but this time, they introduce to you not new cars but some of the greatest classics. Ready to become the best drag racer? Read on!
The Best Drag Racing Games in Mobile
If you don't know much about drag racing games, these are the sub-category of the racing genre where you don't race by controlling the car. Instead, you race by being the perfect shifters. This means that you only control the shift and the breaks. There are no room for errors in this game because one wrong move can cause you the entire match! That's how serious this is. And a match only lasts for a few seconds or minutes unlike normal racing games.
With over 10 million downloads in Google Play alone, CSR Classics quickly grew to become a classic game loved by millions around the world. Who wouldn't love classic cars especially the likes of Mercedes 300SL, Chevrolet Camaro, Ford Mustang, Skyline GT-R and more? These iconic cars are loved by everyone and it's exciting to use them in an epic game like this one.
Race against the very best in the world and claim the title of the best drag racer! But it's not that easy! You have to start from the bottom and race your way up to the top to be recognized. You have to prove that you have the skills and the know-how to drive these legendary cars. Are you up for the challenge?
Features of CSR Classics
This masterpiece of a game can't be truly appreciated unless we take a deep look at its features. Having said that, here are the features CSR Classics offers:
Great collection of classic cars – This game wouldn't be complete without the stars of the show – the cars! As you already know, the theme of the game is to let players experience the thrill of driving classic cars. And this game has over 50 classic cars for you to drive! There are a lot of classic cars such as the Ford GT40, Plymouth Superbird, Shelby Mustang GT500 and some more classic cars from Dodge, Ford, BMW, Chevrolet, Mercedes, Shelby, Pontiac, Plymouth and more!
Easy to play but hard to master – Like any CSR racing game, the controls are very easy at first. You just need to shift up and down in perfect timing as much as you can. You don't tilt your car as it only goes forward and you also don't need to accelerate as it's automatic. You just need to keep an eye out on the gauge cluster in front of the screen and follow the instructions for perfect transmissions. But it's not as easy as it seems! As you go along, you'll race against much faster and better cars. You will be tempted to shift upwards immediately when you see your opponent leaving you in the dust. That's where the hard part comes. Because you need to be in tune with your car and not get distracted. You'll need laser-focus and determination to win. Thankfully, the races only last for a minute or so.
Race against the world – The thrill comes from being able to race against the very best in the world! In CSR Classics, you get to challenge millions of other players online to top the leaderboards. When you successfully win, you'll grab special cars and prizes that are only available through this. Dare to beat the competition?
Incredible Graphics – What separates this game from other racing games out there is the sheer realism that the graphics team have achieved. From the cars themselves to the effects and the background, everything is designed to give you the best drag racing game experience of a lifetime. What more could you possibly ask for?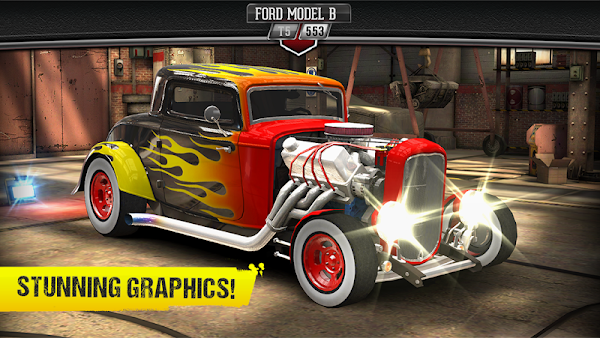 Customization – In this game, you need to constantly upgrade your cars and their parts in order to compete with other faster cars! You can do that in the garage where you'll spend the money you earn winning races into upgrading your body parts. You can also change car paint and add decals to further customize your car. This will allow you to truly win the streets in style.
Tips for Playing CSR Classics
Even though the game might seem simple, there are a lot to take in to truly master it. There's no substitute to experience and practice. But with a little help, you can get a little advantage over the others. So, here are some tips to help you win races:
Recover your stamina – In this game, aside from the gas, you also need energy to race. But after each race, your stamina runs out and you have to wait for a specific time in order to race again. However, you can race again by watching a video advertisement for free!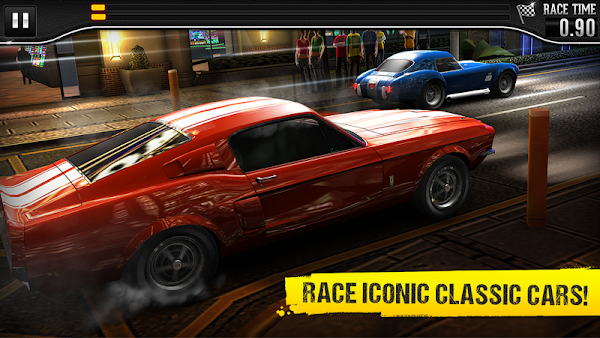 Finish all the tiers first before moving on to the next – It might be tempting to go to the next tier without finishing up the previous one. Don't do it! You need to first exhaust the tier you're on in order to earn the maximum rewards. This way, you get rewards and practice! As opposed to just going for the next tier where you don't have a new car to race better and faster opponents! This is how you race systematically!
CSR Classics Mod APK – Unlimited money
Don't want to wait a long time just to earn money to unlock new cars? Then download the unlimited money mod now and be the best racer out there instantly!