Hot Slide APK 1.5.39
Love drifting games? You'll enjoy Hot Slide today as you duel with real opponents and enjoy unique cars. Collect, race and show off your sick drifting skills right now!
There are many car games that are enjoyable to play today. Car racing games are so much fun for everyone as they provide fast-paced action and cars. If you're a car lover, you will enjoy this unique game with colorful graphics. What makes this car game different are the enjoyable graphics and gameplay. In Hot Slide, you'll duel with real opponents as you drift your way to the finish line.
Published by Tapcheer, this game is an over-the-top drifting game that's not your average game. The graphics alone will make you salivate as you collect realistic-looking cars! From monster cars to trucks to sports cars, there are so many to buy and to race from. Go for solo or team challenges and enjoy epic and difficult levels today. Play with real people worldwide as the more you drift, the faster you'll be to finish the track.
Drift to Win
We all know how hard it is to drift in real life. In fact, only professionals should only do this stunt as it's not an easy one to pull off. It's a dangerous stunt that lets you oversteer which is done so that you can traverse a track much faster than breaking every time. Essentially, you will be strategically using your clutch, brakes, throttle, steering wheel and gears to turn and oversteer. Since this isn't easy, only those with skills and experience can pull them off in real life.
But because of that, drifting looks cool as racers do it in steep mountains and in the racetrack. If you also want to do this safely, play Hot Slide now and drift as much as you want. In this game, drifting is not only allowed but a way of life as well. You'll use it a lot on races as you move up the leaderboards and you can also unlock many cars up to 30. These cars are unique as there are sports cars, monster trucks, and even the car from Initial D!
Moreover, you'll enjoy fun environments, weather effects and boosts all throughout the race tracks. The controls are simple but works well!
Hot Slide Features
Drifting takes a lot of skills as they're not for the faint-hearted. Show your sick drifting skills today in Hot Slide.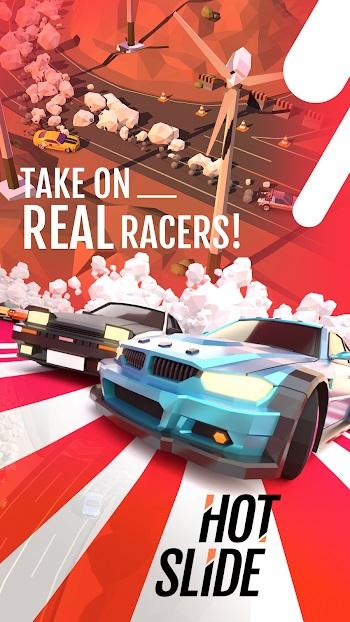 Drift Your Way to Success – Cars have been around for more than a century now as it has evolved tremendously. Now, you see cars go from 0-100 mph in seconds and some can carry a lot of passengers. Since there have been many types of cars that have been made, there were also numerous driving techniques born throughout the years. One of the flashiest ones is called drifting which involves skillfully maneuvering your car to get to the corners faster. In racing, every moment counts so drifting is a great way to not lose speed and momentum.
But in real races, it's not used widely as it's known to be just a flashy move. However, you can enjoy drifting to its whole potential in Hot Slide as you'll drift every single time. There are many curves and corners in the tracks of this game so you'll need to drift so you can go past your opponents. Here, you can go past your opponents and win in solo and team races today.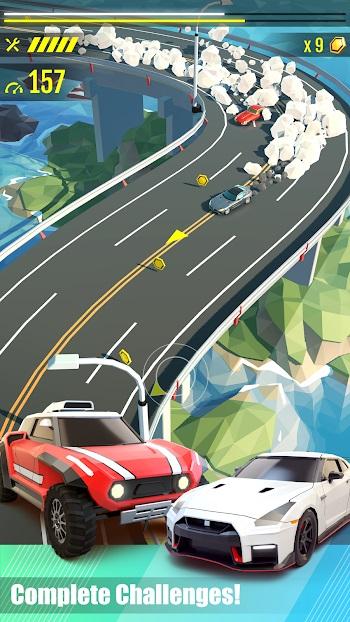 Unlock 30+ Cars – We all know that there are many types of cars that are made today. In this game, you can get unique cars to add to your collection by buying them. Each car is categorized by levels and they each have their own strengths and weaknesses. In this game, you'll be able to unlock supercars that look like Ferraris and Lamborghinis as well as Porsche ones. Moreover, there are pickups and even monster trucks that you can collect and enjoy!
Amazing Graphics – There's nothing more thrilling than drifting your car into the sunset or on the beach in this game. Here, you'll be able to enjoy amazing location such as the deserts, beaches, forests, the snowy plains, and many more. There are also realistic weather effects like snow, rain, and many more. Find out about shortcuts and boosts as well hidden in the race tracks.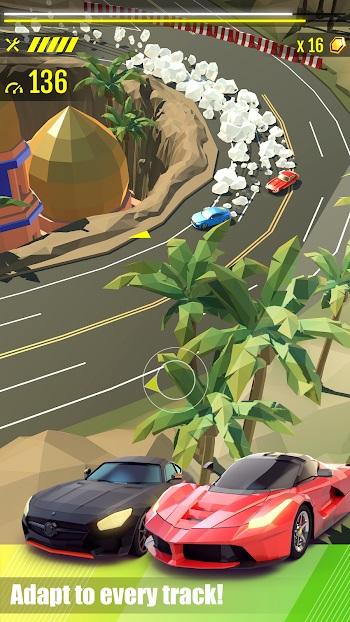 Team and Solo Challenges – Here, you can play against real players worldwide. Enjoy team and solo challenges today to earn insane rewards. Prove your worth as you climb in the leaderboards today and receive many rewards.
Intuitive controls – In this game, you will need to control your car with just one hand. Even though that's the case, it's still a fun and challenging game to play.
Hot Slide APK – Latest version
Do you enjoy racing games today? Enjoy Hot Slide today and drift to your heart's content.