Epic Race 3D APK 200264
Download Epic Race 3D APK – latest version – for Android to test your ninja skills at parkour. Are you up for it?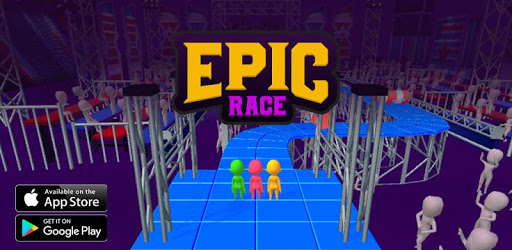 Do you love watching American Ninja Warriors? Yes? Then you'll love this game! This game features a lot of the same elements you see on that popular tv show but it has more to offer!
Parkour your way through obstacles, beat the clock and come out as the best ever in this game. With funny characters, interesting gameplay and challenging obstacles, you're never going to get bored playing Epic Race 3D Hungry for more? Read on.
Parkour Your Way to Victory
In this game, you'll race against other players from around the globe. The gameplay is simple, control your character as you overcome every obstacle in front of you. Of course, while playing with others and beating them to the finish line!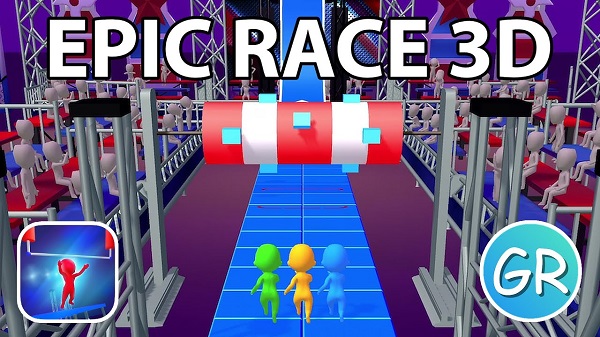 If you're thinking that the controls must be complex for this type of game, you're wrong! Playing this game is incredibly simple. You're basically just tapping and controlling your fingers. The only hard part comes when you need to perfect your tap skills whether to run or to stop. It's a minimalistic game that challenges your reaction speed while allowing you to have tons of fun at the same time!
Play to Unlock
In Epic Race 3D, you play to unlock new content. Basically, after each win, you're rewarded with coins. Coins are the only currency in this game so you use it to unlock new content. So, what can you buy with your hard-earned coins?
There are two things: skin for characters and dance moves. The skin costs 300 gold to unlock and they are random. And no, they don't give you an unfair advantage like plus speed in the game. They're just for decoration. Take note that you can also unlock new content by watching video ads (30-second) long. This could be neat if you don't have gold coins!
Stunning 3D Graphics
What separates this game from others is its stunning 3D graphics. Although it's simple, it does things splendidly. The whole theme is fun and aesthetic. The characters are like doodles which makes it very appealing especially for kids.
The game elements are as straightforward as it can get so you can focus on overcoming obstacles and winning the race. The colors are vibrant and playful and the obstacles are well-designed with a touch of realism here and there.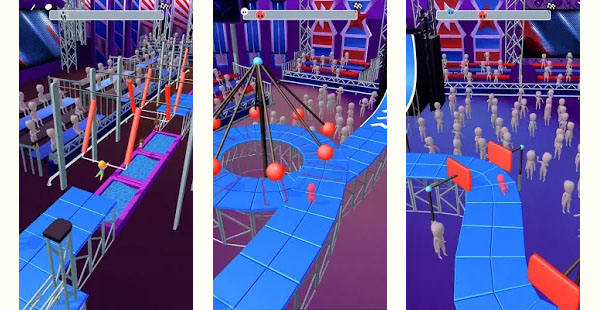 Challenging levels
If you play the game for the first time, you'll notice that it's very easy. That's because it's designed like that. The obstacles at first aren't too hard so players can get used to playing the game. As you progress though, you'll start to notice that there will be more demanding obstacles. This is how the game beats your boredom.
If you get hit by an obstacle, the good thing is that you won't get kicked out of the game. You'll just be delayed and start again at your last position. This will make you more aware of your surroundings the next time.
Tips for Playing Epic Race 3D
As with any game, you're going to have a hard time at the start. You'll come across unfamiliar concepts and gameplays. But don't fret, that's all part of the learning process. As you progress, you'll get used to the elements and in no time, you'll find yourself playing it for hours. That's the same case with Epic Race 3D. But we want you to get ahead in the game so we made this list of tips for you to try!
Bonus levels – You'll get to do a bonus level after completing a couple of race seasons. Bonus levels aren't the same as the ones you're used to though as you'll need to get as many of your characters to the finish line with this one. Unlike in normal races where you compete with others to the finish line. In this one, you'll start with a big group where you have to be careful and precise enough to get them all through the obstacles. Don't worry if some of them don't make it through, it's normal. You'll get rewarded 10 coins for every character that finishes the level. Don't worry if you don't do too good the first time, you can always watch an ad video to repeat the bonus level.
Patience goes a long way – Even though this game is a race, it doesn't mean that speed is the only determining factor of success. The key is to get better at knowing when to run or stop. If this was just a race, you'd normally don't want to stop. But since there are obstacles scattered throughout the race, you'll want to be precise with your actions. You don't want to get stopped by any obstacle as that will cost you more time.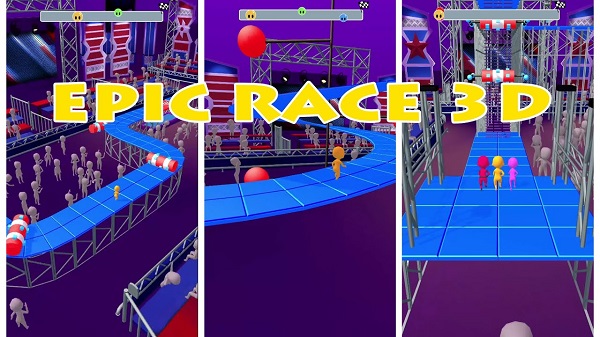 Be careful but be quick – Just being careful isn't going to give you a victory though. In this game, you need to also be quick as it's a race against everyone else. Be a good judge of how to overcome the obstacles though, don't just rush into things needlessly.
Be 1 step ahead always – The common mistake that many new players seem to make is to just focus on the obstacle that's in front of them. Although that's normal, great players take it up a notch. They look ahead on what's in front of them too! This will allow you to quickly know if you can continue to keep going without stopping which will get you ahead in the race.
Don't be a follower – Another mistake that newbies make is to follow whoever is in front of them. Don't do this as their pace and distance isn't the same as yours. You can't do the same things they're doing and not expect to collide with the obstacles. Not to mention, you might copy them when they're about to make a mistake which is costly too.
Epic Race 3D APK – No ads
If you don't want to waste your time watching ads just to repeat a level or to get some coins, download the Unlocked all skins, No ads now!