Burger Bistro Story APK 1.4.1
Do you want to create your own diner? In Burger Bistro Story, you can create your own success. Enjoy creating your own burgers right now and serve customers!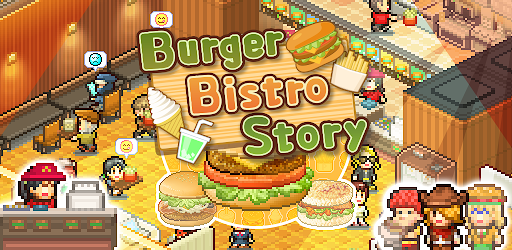 There are so many fast-food restaurants available in almost every country today. There's McDonald's, Burger King, Wendy's, Starbucks, Subway, Taco Bell and many more. There are also local joints and restaurants that you can enjoy right up your alley that you can enjoy with family and friends right now. But if you've always wanted to create your own burger diner, try Burger Bistro Story now. In this game, you'll create an open a new burger restaurant diner that offers many foods to customers.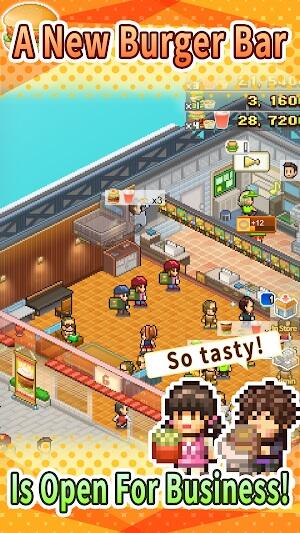 Here, you will enjoy the pixel and incredible graphics that will make you salivate from the food! Serve as many customers as you can today with your customized burger and earn lots of money! Then, you can do upgrades and hire new staff, research products, and then add more tables and chairs. This game lets you construct more stores as you become more successful today. You can also serve other food items such as ice cream, sundae, fries, and many more.
Create a Diner
Whether we like it or not, there are thousands of fast-food restaurants all over various countries in the world today. There might even be more than 5 or 10 right at your city or place since there's a huge demand right now. Fast-food has become a staple in a lot of places since people love to eat anytime and anywhere. But if it's your dream to put up one yourself, then Burger Bistro Story is the game for you. In this fun game, you can create your own diner.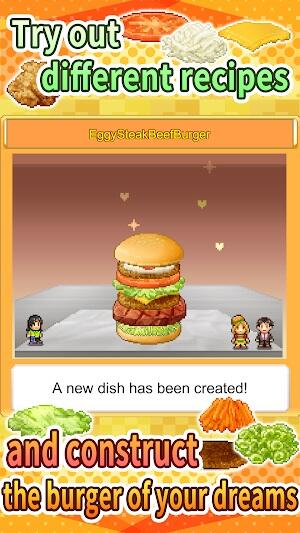 Here, the main product will be burgers and you're in charge of creating a unique one! Here, you'll serve many types of customers from workers, school boys, to many others. You can then start improving your store as you earn more money by hiring more staff, researching more recipes and trying out different products. This game also lets you upgrade your store as you buy many types of furniture to make it beautiful.
You can also enjoy serving different types of food today such as ice cream, fries, crepes, drinks and many more.
Burger Bistro Story Features
If you want to put up your own restaurant, you can download and play Burger Bistro Story today.
Open a Diner – There are many restaurants in the whole world today. Eating is something we do regularly so it only makes sense that there are many places for food. Fast-food are particularly notorious right now as their numbers are ridiculous and the demand keeps growing. So, if you think you have what it takes to open one, try playing Burger Bistro Story. See where your fast-food story takes you as you enjoy this game from Kairosoft today.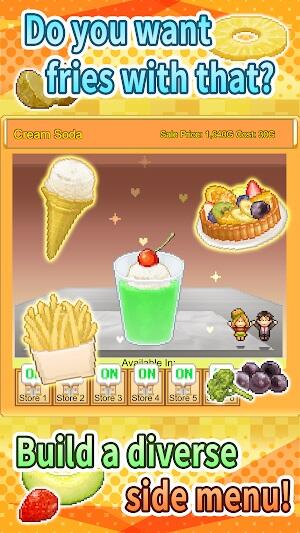 Here, you will serve mainly burgers that you can completely customize it to your liking. You can create double patty burgers, those with cheese, lettuce and research different recipes today. You can create your own burger from your dreams and sell it to many customers today. There are also a lot of room for improvements as you get more customers every day. Put up more tables and chairs and decorations inside the diner! You can also hire more staff to help you accommodate more customers today.
Serve Different Food Items – The main dish that you'll be selling in your diner is the burger. Here, you can create a variety of burger types that you can sell and upgrade many times over. You can also sell some side dishes such as sundae, drinks, fries, and many more! There's a variety of food items that you can sell today which will bring in more customers. There are so many side dishes and menu that you can create so you can cater to a lot of customers.
Research Recipes – You can also do plenty of projects and research. Here, you can research various recipes so you can serve a lot more customers. The more recipes you have, the more food you can make today. Try to research as many as you can so you can accommodate more.
Upgrade and Expand – One of the best feelings when you start a restaurant is when the customers keep coming in. Once you have a steady flow of traffic, you can start to upgrade your restaurant. You can upgrade plenty of things such as tables, chairs, sofas and many more. You can even buy the properties of your rival stores so you can expand.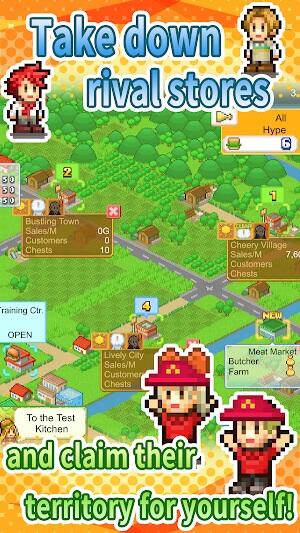 Hire Staff – You can also hire many staffs in charge of different areas right now. You can enjoy plenty of time to yourself today by hiring many people to help you.
Enjoy the Pixel Graphics – In this game, you can enjoy pixel graphics today.
Download Burger Bistro Story APK – latest version
In Burger Bistro Story, you can enjoy starting your own burger story today! Serve many customers right now.