Bike Hop APK 1.0.97
Download Bike Hop APK – latest version – for Android to shoot your dude into the air with a rocket and fly as far as you can before crashing back down.
Ride, jump, activate rocket – FLY! Download Bike Hop APK now to throw your dude and his bike thousands of meters into the air and beat your records. You can unlock new ramps, rockets, and kit for your dude to jump off of and then send him flying through the air over towns, beaches, UFOs, and more.
How far can you make him fly? That's the aim of the game – to send him into the air for as long as possible and then keep him up there for even longer! It's a simple game – and like most simple games, it's very addictive.
Tap, beat records, use rockets
The graphics are cartoonish, but in a well-designed way – sort of like in The Simpsons. The sound effects are actually really good, which makes it even more fun when your dude comes crashing down from 1000 meters up in the air and lands face first on the tarmac.
The point of the game isn't necessarily to keep your guy from getting injured – it's more about just shooting him into the air really high and really fast. In short, we wouldn't recommend trying this out in real life.
How to play Bike Hop APK
To play Bike Hop APK, all you need is a good tapping finger. You'll need to tap the bike like crazy the second it crosses the start line to ensure that you've got the maximum run up to the initial ramp. You'll get rated when you do this (good, perfect, and so on).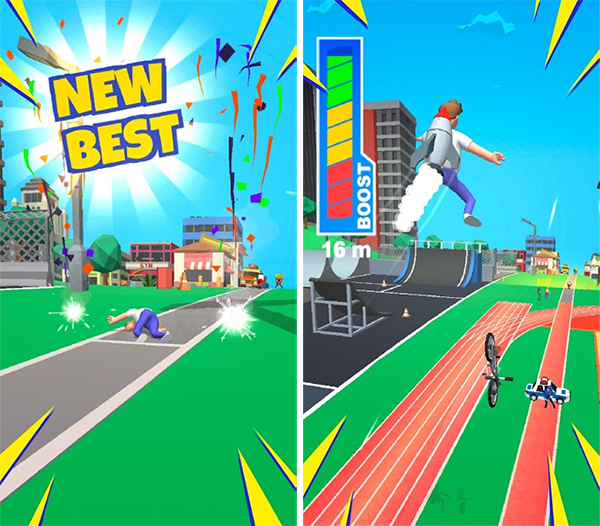 If you can get a good run up to the ramp, then the next step is to detonate the rocket on your dudes back as soon as you take off. You can also make sure that your rocket goes off while you're halfway up the ramp to get an even bigger start.
Now your guy is in the air – sailing through it at incredible speed. In the early stages, he'll only travel around 100 meters, but once you continue to upgrade your ramp and rocket, he'll be able to travel thousands of meters.
You can use all your rocket fuel in one go, or you can allow him to glide for a while between bursts to maximize them amount of flight that he gets. We recommend the latter method, as you'll end up covering more distance this way.
Once he's in the air, he'll sore like a bird until he can soar no more – then he'll come crashing down. When he hits the floor, you'll get a Polaroid snap of him disfigured in the road. Sometimes, some other random dude will appear behind him – like Superman. You'll then get awarded a chest full of gems.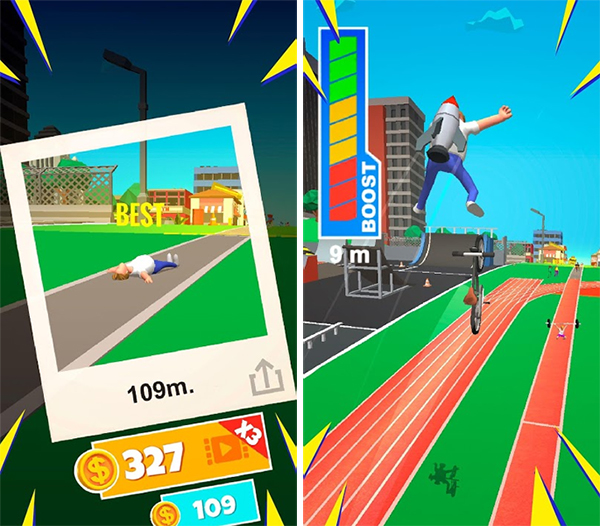 The trick is to continually upgrade your three stats: Ramp, Rocket, and Offline Earnings. In this way, you'll have a more balanced gameplay experience. The ramp and rocket are both needed to get a good start in the game, so you shouldn't prioritize one over the other. Offline earnings can help you to gather tons of cash in the game, which you can use to buy new things for your guy.
Download Bike Hop APK
If you'd rather not have to wait around for ages to earn money, then you can simply download the Bike Hop APK – Unlimited Money and Gems. This will allow you to play the game without having to worry about earning. Enjoy!