HellCopter APK 1.8.28
Download Hellcopter APK – latest version – Free for Android and ride in a helicopter while destroying enemies! Are you man enough to do all the missions?
Arcade shooting games are a popular genre for mobile gaming. There are plenty of games being developed every day in this one. They're popular as well because they're fun, exciting and easy to play! But with so many of these games in the market, what should you play?
Hellcopter is a 3D shooting game developed by SayGames. It has already reached over 1 million downloads in Google Play Store. But this isn't your ordinary shooting game. It's much more complex than that. For one, you're going to be shooting from a helicopter every time – hence the title. But more than that, the game is fun even though it can get violent at times. Just don't fall off the helicopter while carrying missions! Read on to learn more!
What is Hellcopter?
Shooting games have always been played by many. They're addictive, fun and a great way to pass the time. Not to mention, they're extremely re-playable. Even if you play them for hours, you would still be hungry for more.
One of the best arcade shooters today is Hellcopter. The idea is that you'll be working as a member of the police team who's in charge of taking out the bad guys in a building. They have the numbers but you have the element of surprise. Just be wary not to involve the hostages as collateral damage. But in this game, time slows down briefly allowing you to shoot multiple enemies at the same time.
Aside from that, you can try different types of guns such as pistols, shotguns, machine guns and SMGs. They each have their strengths and weaknesses so you need to be careful about choosing. But overall, the gameplay is simple yet addictive.
Features of Hellcopter
Hellcopter isn't your ordinary shooter game. This game is unique and has tons of features that you will enjoy. Here are its features:
Unique gameplay – If you're fond of movies such as The Matrix, you'll appreciate this game even more! In this game, you're a police member with the sole duty of eliminating enemies on a building. But it's not that easy! They are all over the building and there are even hostages! It's up to you to eliminate them all while keeping the hostages out of danger. Needless to say, you also need to shoot fast enough so that the enemies can't shoot back. Then, you can also shoot bombs and gas to eliminate multiple enemies at once!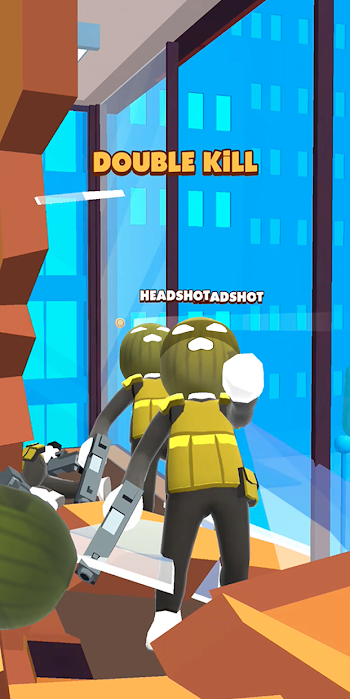 Tons of weapons – In this game, you can use a bunch of weapons. You can use pistols, revolvers, shotguns, SMGs and sniper rifles. Each weapon is unique and it has different capabilities than the rest. It's up to you to determine which one you're going to use into battle. However, it's best to collect them all!
Customization – In this game, you can also customize your attire. The game offers you the chance of changing attires from time to time. Buy them in the shop! You can change your hair, shirt and pants! Go crazy and show off your rebellious side against the hostage takers!
Many levels – In this game, the more you complete the levels, the harder they will be. There will be more enemies and hostages as you progress so you need to be careful. Also, the enemies will be faster to respond!
Epic graphics and effects – Everything in this game is 3D so you'll appreciate the Matrix-like action scenes. Also, you can blow up gas tanks and bombs for a more intense scene!
Hellcopter APK
Hellcopter is a game that will test your shooter skills against multiple enemies at once! Download the unlimited money to instantly unlock all the weapons and customizations!