Wreckfest Mobile APK 1.0.82
Download Wreckfest Mobile APK and have fun playing this ultimate car racing game. Use various vehicles to take part in fierce fights and enjoy spoiling other cars.
| | |
| --- | --- |
| Name | Wreckfest Mobile |
| Updated | |
| Compatible with | Android 4.3+ |
| Last version | 1.0.82 |
| Size | 2 GB |
| Category | Racing |
| Developer | HandyGames |
| Price | Free |
| Google Play Link | com.hg.wreckfest |
A Comprehensive Description of Wreckfest Mobile APK Download
Wreckfest Mobile APK for Android is a unique and exciting racing experience. This crazy racing game combines destruction and enjoyment. On areas intended to do the most significant harm to your car, you will compete against other players. When a player's car has taken a significant amount of damage, the car won't be able to perform as well. In order to enjoy a better gaming experience, it is advised that proper upgrades are made to the body of the car, such as increasing the strength of the chassis and adding roll cages. This is done so players will find battles with other opponents more convenient.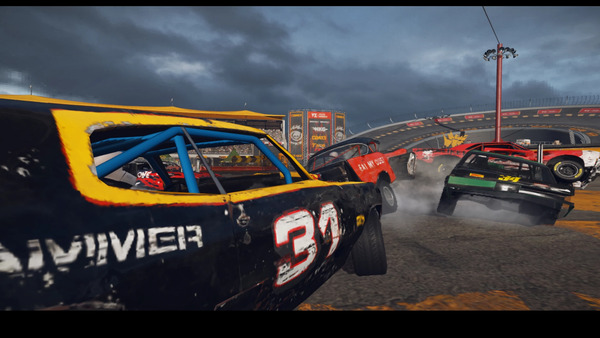 Wreckfest Mobile APK latest version provides a variety of game modes to maximize the driving experience. You may compete against other players and your friends in multiplayer racing mode. You must push yourself to the extreme and destroy your opponents to win. The goal of Wreckfest mobile APK android is to destroy your opponents. Therefore there is a challenge mode in which you can play player vs. player using any vehicle as the appropriate option. You can compete in career mode if you want to establish a reputation on Wreckfest mobile APK download.
Wreckfest mobile APK, you can modify a variety of cars both visually and mechanically. For example, you can increase a vehicle's armor, add weight to it to quickly ram other vehicles, or remove it so you can go faster than everyone else on the track without being hit. You may make different changes , such as improving the strength of the chassis or adding roll cages, to make vehicles more durable. Additionally, you may install side shields to make sure your car is prepared for any severe incidents. Wreckfest mobile APK download is, without a doubt, a fantastic racing game not to be missed, including an exceptionally well-maintained dynamics system and unmatched attention to detail and damage.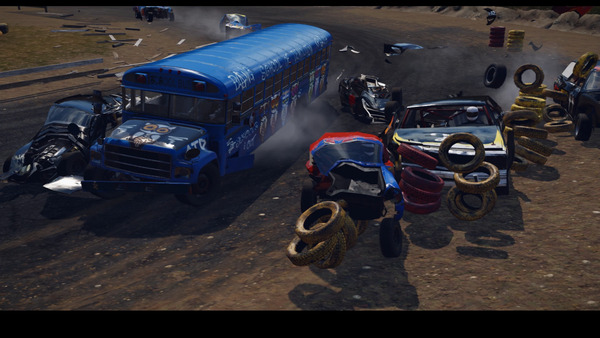 Players may participate in races and challenges in this game using incredibly realistic and detailed automobiles. They range from huge trucks, tractors, and school buses to muscle cars, hot rods, and street racers. Players may enjoy various driving experiences with each car. Additionally, the majority of the automobiles in this game are iconic designs from different eras, adding a nostalgic feel to the action. Every race is made fascinating by their expressing charm and individuality. There is a car for everyone, whether you appreciate European or American supercars.
You'll come up against cunning and fierce opponents in this game. They will different devious activities to win, even crashing into your vehicle or employing unscrupulous techniques to their benefit. But ease; they are not indestructible. You may outwit them and prevail by utilizing a thoughtful approach and precision handling. Please make sure you thoroughly research them and create a strategy to counteract their tactics. Take note of where your enemies are based, get ready to take their attacks and make sure you have a backup plan in case things go wrong.
Wreckfest Mobile APK Free Download
Suppose you are searching for a different gaming experience, make the Wreckfest Mobile APK Free download here. Our site offers a modified version that allows you to upgrade your vehicles without restrictions. It also provides unlocked cars, giving you access to all of them from the start of your gameplay, with this you have an advantage over your opponents. So what are you waiting for? Please download the latest Wreckfest Mobile APK from our site now.
Features of Wreckfest Mobile APK
Now that you know about Wreckfest Mobile APK let us explore some of the fantastic features of the game.
Realistic Game Physics: Every race is fascinating because the crashes, car motions, and damage seem authentic and realistic. The games have no guidelines or limitations, so players can implement any tricks or techniques they like.
Variable Weather Conditions: In this game, the weather might change anytime, affecting the races and difficulties. Driving may be more difficult due to poor visibility caused by rain, snow, and fog. It gives the gaming experience an additional degree of intensity and authenticity.
Neck-Breaking Maneuvers: Pull off wild stunts and gain points for them to raise your total score in races. There are many different tricks available in this game, such as leaps, drifts, flips, and more.
Extremely Detailed Tracks: The tracks in this game are extremely detailed and present a range of challenges. Drive past industrial complexes, building sites, and farm fields, among other sights. The excitement and intensity of races are increased by the fast courses, crossroads, and oncoming traffic.
Physicists of Realistic Destruction: Because of the realistic demolition mechanics in this game, each collision and crash feel significant. The game is made even more violent as players are given the freedom to blow up cars, and crash them. When vehicles are blown up, the destroyed parts can be seen scattering all over the place.
Crazy Car customizations: One cool thing you can do in this game, you can add different weapons to make your vehicle more formidable. Each modification, though, has advantages and disadvantages. For example, using heavier metals increase the overall weight of the vehicles and makes it harder to manoeuvre.
Excellent Sound System: As vehicles meet, their engines roar, their tires screech, and metal crackles. It raises the overall level of realism and gaming aggressiveness. With Wreckfest mobile APK, an exciting sound experience is promised.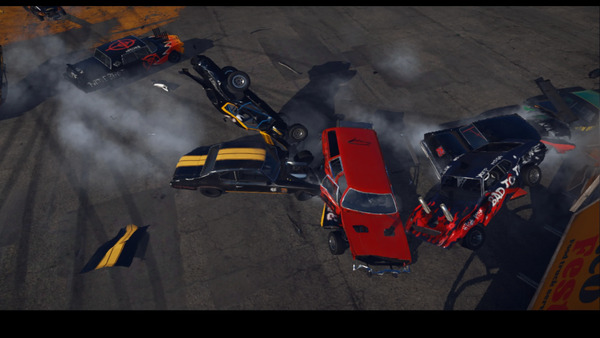 Conclusion
Wreckfest Mobile APK combines realistic vehicle dynamics, changeable weather, stunts, and demolition with intense and entertaining gameplay. Improve the performance of your automobiles by upgrading and customizing them. Download Wreckfest Mobile APK Free download and enjoy the game for an improved playing experience. It is certain that you will become hooked on this racing game. So what are you waiting for? Hit that download button now!