World Truck Driving Simulator APK 1,359
Download the World Truck Driving Simulator APK - free to become a trucker, drive the world's most famous trucks, and complete challenges.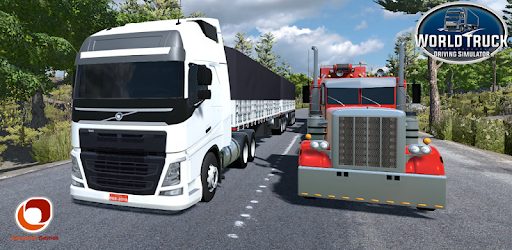 World Truck Driving Simulator is one of the leading sim games on Android, giving you a chance to become a hardy trucker, driving some of the world's coolest trucks on some of the planet's trickiest and most treacherous roads. There are dozens upon dozens of different trucks to choose from with models from global manufacturers, such as Mercedes, Ford and much more. In this bunch you'll also find trucks from every corner of the globe, from America, Australia, Russia and many more. With great simulator graphics and decent controls for an Android game, there's a reason why this is one of the highest-rated simulator games on the Store!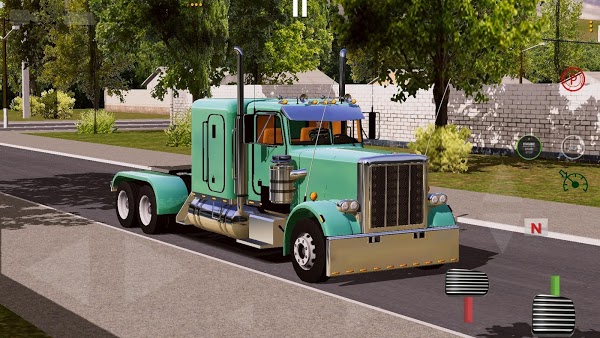 As well as all the different trucks, there are also lots of different places to explore. Every stage is sourced from real life locations, although the settings aren't always matched up with the challenges! As well as completing deliveries there are a number of different skill challenges in store for you, have you got what it takes to become a master truck driver? Read on to find out more about the game, as well as some of the best features. Customisation, different trucks, challenges, and much more!
Best Features of World Truck Driving Simulator
World Truck Driving Simulator has millions of downloads and plenty positive reviews, but what about the game makes it such a great sim? Developed by Dynamic Games, this game takes its love of trucks very seriously. If you're a fanatic of awesome trucks then this game is the one for you, as care and time has been put into the details of each unique truck, the different tracks, and the realism of the driving and damage simulation. The physics engine is a big part of this game, and that's just one of the best features! Read on to find out more.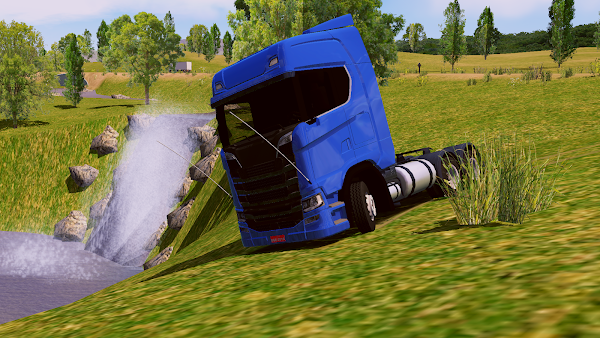 It's All About The Trucks
What a surprise - World Truck Simulator is all about the quality and variety of awesome trucks. From classic models to more modern super-haulers, there are dozens upon dozens of different trucks to drive and unlock as you progress through the game. Each vehicle has unique qualities, such as gear control, handling, speed and much more. There are also trucks from leading manufacturers from across the world. You can find your favorite or find a new favorite by hunting through this impressive stash of trucks.
Physics and Realism
Every simulation game, even on mobile, has to have a great simulation engine. In World Trucks Simulator this comes down to physics: how the trucks behave, handle, and much more. The dev team worked with real trucks and spoke to real truckers to find out more about how the trucks handle on the road, and this comes across in the individual way each truck feels when you're driving it around tight skill-testing courses. There's suspension, movement in the cabin, movement of the antenna on the front...every detail has been looked into and taken care of.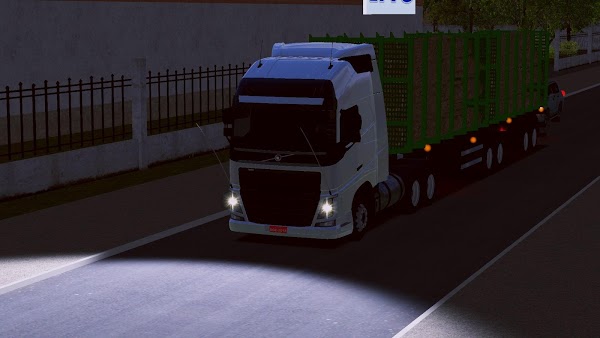 Down To The Finest Details
As well as physics, it's the details that count in a simulation game. In World Trucks Driving Simulator many minute details have been taken care of, such as smoke from the exhaust, details inside the cabin, and the performance of the trucks. Each vehicle will either have a manual or automatic gearbox, for example. This has an effect on how the truck drives. You can even change the position of the driver in the cabin depending on whether you are on a right hand or left hand drive road, depending, of course, on where you are in the world.
Graphics That Can Be Configured For Your Device
Sure, simulator games might run best on a high-end PC, but the devs have taken a wide range of devices into mind when they programmed this game. You can change up the graphical configuration if your phone can't handle the game, while you can also boost the graphics if you have a powerful Android phone. The game looks great on a tablet, and the graphics are obviously an important part of enjoying a simulation game! All the trucks and locations are unique, and the game does look pretty great for a mobile game.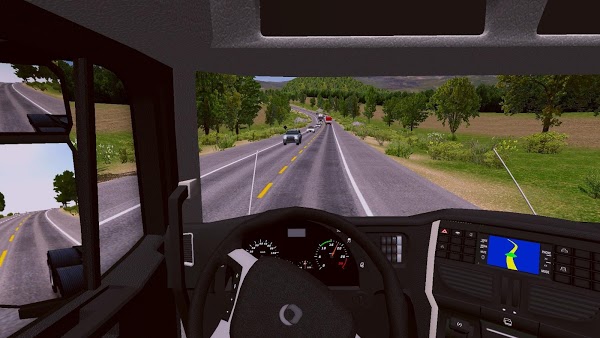 Tasks and Challenges in World Truck Driving Simulator
You'll face a lot of different tasks and challenges in the World Truck Driving Simulator, but a lot of it does boil down to delivering cargo, as is the life of a trucker. The game includes lots of different types of cargo which has an impact on your journey and destination. Some cargoes will reward you with more points to give you a boost to your truck funds! Dry goods and high-end equipment, as well as much more, give each journey a unique feeling.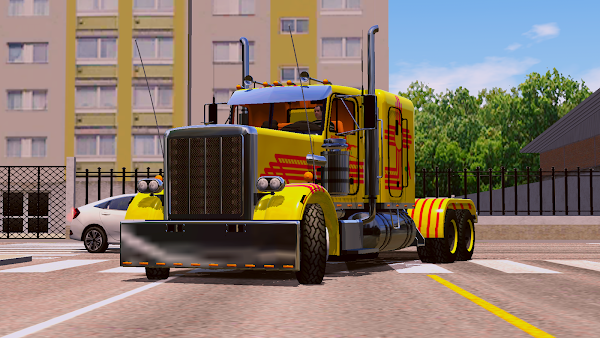 Community & Extra Game Details
While the game can be played offline, there are online global leaderboards to measure your trucking prowess against other drivers around the world. Regular updates keep the game fresh with the goal of retaining players and drawing in new players. The achievement system also gives you different targets to work towards, and reaching the more tricky achievements is quite a task, and will definitely take some practice. Lastly, there's a GPS in the cabin so you can drive following a set route, and you can even set your real life picture to be on your trucker's driving license. The devs have thought of everything!
World Truck Driving Simulator APK
Download the latest version of the World Truck Driving Simulator apk to get unlimited money, and unlock all the trucks to begin with!