Turbo Stars APK 1.8.23
Looking for a great racing experience on your mobile? Download Turbo Stars apk for an addictively fun racing game that will have you hooked from the get-go!
| | |
| --- | --- |
| Name | Turbo Stars |
| Updated | |
| Compatible with | Android 4.1+ |
| Last version | 1.8.23 |
| Size | 82.88 Mb |
| Category | Racing |
| Developer | SayGames |
| Price | Free |
| Google Play Link | com.turbo.stars |
Developed by SayGames - the guys who bought you Johnny Trigger and Sand Balls – Turbo Stars is a classic racing game that feels a lot like Mario Kart. If you're looking for something simple, colorful, and classic, then this is the game for you.
The mechanics are all too familiar for anyone who enjoys the old-school games. Your character is always moving and you just need to guide him through the obstacles while trying to collect as many coins as possible. You also want to win the race, though, which means that sometimes you'll be choosing whether to overtake an opponent or collect coins.
Hilarious gameplay
You can play Turbo Stars apk for hours before getting bored – quite frankly, it's just an awesome game. You're racing through a half pipe on a skateboard while trying to outwit your opponents and collect coins. What's not to love?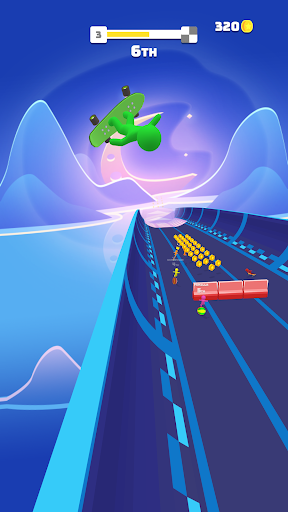 One of the most fun features is actually when you bump into someone else while racing. Instead of slowing you down, you just pick them up and throw them behind you! This certainly makes you want to target other players while racing.
Of course, there are also bonuses littered throughout the course, which you can pick up for extra points. If you come first, then you'll receive diamonds as a reward. You can then use the cash that you earn to get bonuses in future races – for example, you can get a start boost to get you ahead of everyone else at the beginning of the race, or you can opt for improved speed throughout.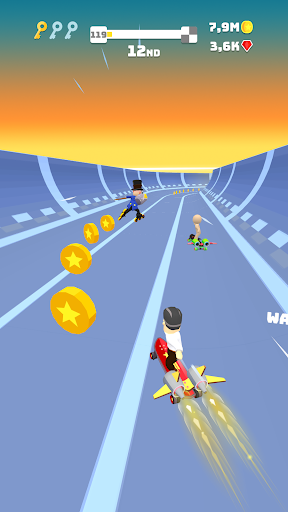 Regardless, you'll get a speed bonus for completing races in first place. What's more, you'll gradually unlock faster vehicles to race with. You start with a skateboard, but you can upgrade to a wheel to get ahead of your opponents.
Tips for playing Turbo Stars apk
Make sure that you try to collect as many coins as possible when playing – but don't be shy to spend them on boosts at the beginning of the race. This will get you ahead of everyone else. You can also perform tricks on the half pipe while racing to get extra money.
Watch out for keys – if you collect three of them then you can get a bonus box which might have loads of cash in it. Obviously, you should avoid crashing into obstacles like walls, water, and barrels. These will slow you down.
Each time you finish a race, you'll get a speed upgrade for the next level of racing vehicle. You should wait until you've maxed out the next level before upgrading to it. For example, stick to your skateboard until the wheel has a 100% speed bonus.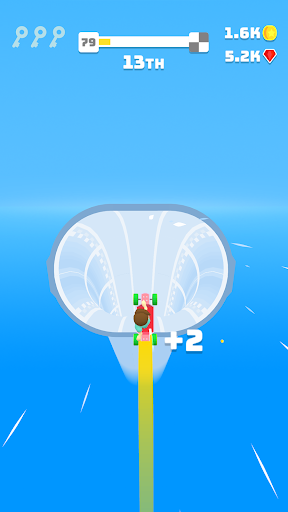 You can get rid of other racers by running into the back of them – you'll pick them up and throw them miles off of the course. This is both fun and actually really useful, plus is doesn't slow you down so there's no reason not to do it.
Watch some ads to get extra money if you want – or simply turn off your Wi-Fi so that less ads can load. Unfortunately, the game is pretty loaded with ads and you have to pay $5 to make them disappear. While this is annoying, it is also how developers make money, so you should consider this when playing the game that they spend a long time making for you.
Turbo Stars APK - Free upgrade
To get a more complete gaming experience, simply download our unlimited money so that you can immediately get all the upgrades and boosts in Turbo Stars apk. Enjoy!