True Skate APK 1.5.71
Download True Skate APK - latest version - and get the most out of your skateboard to pull off some sweet tricks on your phone.
True Skate is the most popular skating game on Android from True Axis. A bit like a toy skateboard of old, this allows you to skate with your fingertips. There are lots of different levels to try, skateboards to unlock, and tricks to pull off. The better the tricks, the quicker you'll progress through the game. You'll need to practice lots to learn the best and compete with others across the planet.
Labelled as the most authentic skating game ever, True Skate has lots of mechanics that try to accurately recreate the magic of skating in a mobile game. Although the game is quite old now - it came out almost 7 years ago - it's still a lot of fun. The touch-based physics, realistic deck wear (if you mess up, you'll scratch up your deck), and a huge skatepark which lets you express yourself freely and roam around without restrictions.
Best Features of True Skate
Despite the game's age, there is a lot to be enjoyed in True Skate. It's a soothing way to pass the time and as you practice you'll definitely notice a difference to your skill level. As you progress, you'll unlock new skateparks and decks to try out. Some are available through in-app purchases although you can also get a sizable chunk just from playing the game. That's the way mobile games should be, and True Skate does it well. Whether you want to try and master all the skills or are just looking for a laid-back mobile game, download True Skate today.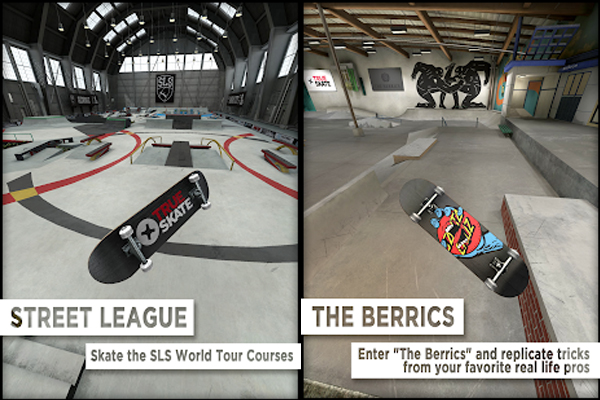 Touch-Based Skate Mechanics
One of the best things about True Skate is how effective the touch-based controls are. It's quite a delicate process - the touch of finger guides the skateboard around the skatepark and allows you to pull off pretty interesting tricks. Moving one way or another has an effect on the deck and you'll quickly pick up how to play the game. There is a tutorial at the start and then it's up to you to explore all the different parks!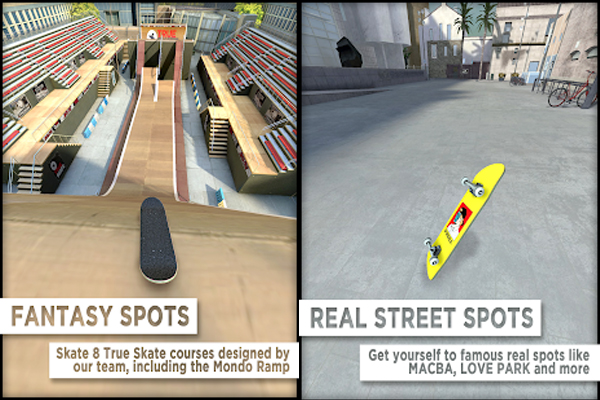 Realistic Deck Wear
If you've ever tried skateboarding you'll know how quickly the deck picks up wear. The everyday use, bumps, knocks and knockouts all add up to a pretty damaged board over time. Just like in real life, the skateboard in True Skate also takes on realistic wear damage. This keeps the player informed of when some repairs are necessary, or maybe even an upgrade to a new deck entirely. That's up to you!
Free Roam On Multiple Skate Parks
Where you skate is a massive part of the skating culture, and that's represented well in True Skate. This game allows you to traverse multiple different skateparks, all with their different layouts and places to try out your tricks - half-pipes, bowls, and much more. The first skatepark is pretty large, but you might get bored of it quickly. Thankfully, you can unlock more as you play - either through completing missions or taking part in an in-app purchase.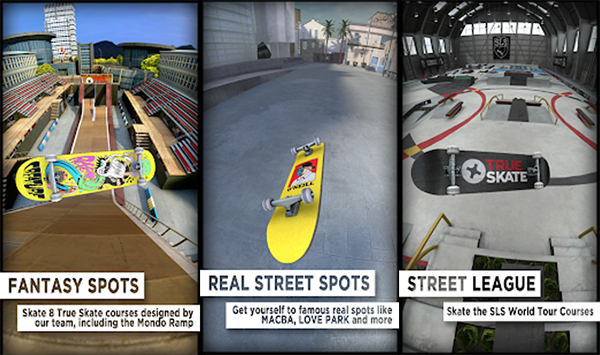 Addictive Gameplay
Even years and years later, the game still has an active player base. There has been no need for an upgrade because this game ticks all the boxes, but it would be great to see a graphical update at some point. While the first map is small, purchasing new maps isn't expensive, and these unlock a lot more potential fun! Careful, this game is addictive, and you might miss a few bus stops while you're engrossed in the compelling skating gameplay.
True Skate APK - All skateparks + Unlocked
Download the True Skate APK to get access to all the different skateboards, skateparks and much more, and it's super easy to do.