Basketball Arena APK 1.107.2
Download Basketball Arena APK - latest version free for Android if you want to play 1 on 1 basketball matches with friends and random people online!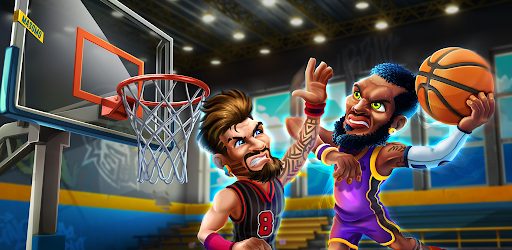 Basketball is without a doubt one of the most popular sports worldwide. It's one of the major sports recognized by many countries and there are countless leagues worldwide on this sport. There's the NBA, FIBA, CBA, Euro League, and many more. In Basketball Arena, you will challenge players worldwide on a one versus one basketball match that's unlike your ordinary game!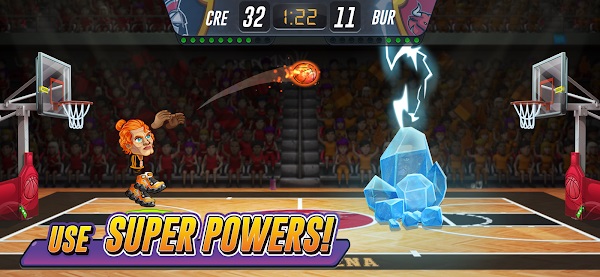 The popularity of basketball as a sport has transcended time. It has been the subject of many great movies, shows and anime shows. But in this game, you're going to fight against one player only on a duet of the best. You can use superpowers, long 3-point shots and power dunks to show off your skills! Earn cups and climb the leaderboards to prove that you're a top-notch player.
A Unique Basketball Game
There are a lot of basketball games around such as the NBA 2K series and the likes. These games feature stunning realistic graphics and gameplay that keeps getting better every year. However, some players would go tired of them and search for some fun ones. If you're like these players, then try downloading Basketball Arena today! This is a unique and fun basketball game created by Masomo Gaming.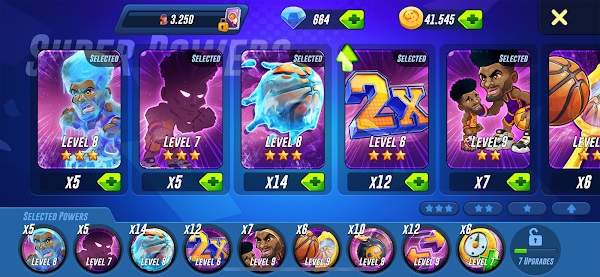 Instead of the usual 5 on 5 basketball 3D matches, this is clearly a different one. Here, you can play 1 on 1 matches against random players worldwide. Plus, there are a lot of super skills that you can use and level up! There are also different players that you can unlock by winning matches and cups. Climb the leaderboards and earn insane rewards. There are many daily missions that await you and you can also unlock courts, coaches, characters and more. This is a free-to-play basketball game that is unlike your ordinary ones. Graphics-wise, it's on another level!
Features of Basketball Arena
If you love basketball, then you must also play basketball games a lot. If so, Basketball Arena is the next best thin for you to play.
1 on 1 matches online – If you're a crazed basketball fan, you've probably played a lot of basketball games such as the NBA 2K series. These provide the most realistic basketball gaming experience anyone could ever dream of. But if you're tired of those normal ones, then you must be on the lookout for crazy basketball games. You're in the right place as Basketball Arena isn't your typical basketball mobile game. First of all, this allows you to play one on one matches against plenty of players worldwide. Aside from that, there's super abilities that can be used which makes things 100 times more exciting.
Basketball powers – If you've watched some basketball anime shows like Kuroko, then you have a great taste. In the show, the main characters have god-like abilities that are considered superpowers. In Basketball Arena, you can also unlock these powers and incorporate in your basketball matches. Here, you can go for extreme slam dunks or long range 3-point shots like it's nothing. Or, you can also conjure ice-like powers to shoot balls! There are plenty to unlock and you can also level them up so you can make use of them more. The existence of these abilities makes the matches more amazing for basketball fans. If you're also excited by this fact, then prepare for more!
Manage your team – Even though the matches are one on one, you can still create a team here. You can unlock a coach and different players! There are different rarities to the players and coaches so you should get the ones that are strongest every time. In the matches, you'll only have a limited number of energies you can spend in a certain time which is why you'll need to change players often. You can only bring in 3 players at a time so choose wisely!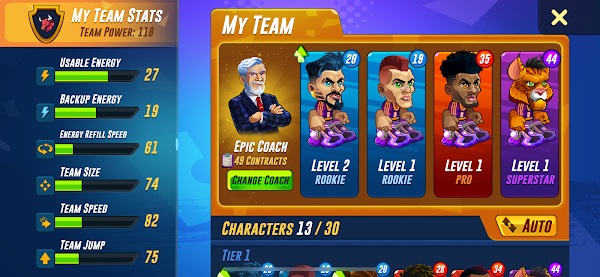 Unlock characters, coaches, and courts – Basketball Arena also allows players to unlock characters, coaches and courts. They mostly cost a lot of money so you need a lot of wins early on. But the characters are categorized by their rarities: Rookie, Pro and Superstar. Obviously, your team stats are determined by the combination of your individual points. So, you must try to unlock more characters to get wins!
Daily missions and cups – There are a lot of daily missions to do to get legendary characters in the game. The missions will also give big rewards if completed!
Superb graphics – This game is a great 3D game that makes use of superb graphics to make the games fun and realistic.
Download Basketball Arena APK - Latest version
Want to play a fun 1 versus 1 basketball game online? Try Basketball Arena and invite your friends for some virtual match ups!