Flip Jump Stack APK 1.4.4
Download Flip Jump Stack APK – latest version – Free for Android if you want to test your skill as an acrobat in a trampoline! Can you complete all levels?
Sports games have always been popular in the gaming industry. They provide players with unlimited fun and excitement. It's as if the players themselves are playing the sport that they love so much. That's how these games give players hope and virtual practice just to get them a little better. But even for non-sports gamers, sports games provide enough entertainment for them to consider this game.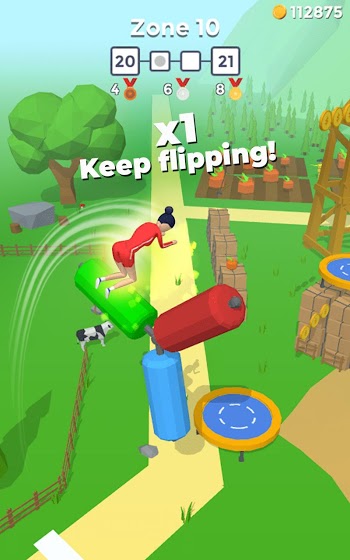 Flip Jump Stack APK By Crazy Labs by TabTale is a popular acrobatic simulation with over 1 million downloads in Google Play Store. In this game, you can play as an acrobat that does insane tricks to complete levels. In this exciting game, the ultimate goal is to perfectly stack yourself against your other teammates to form an acrobat stance. If you're curious about this game, read on!
What is Flip Jump Stack?
If you're a sports fan, you'll surely love Flip Jump Stack! In this game, everything you love about acrobatics and gymnastics is in this game. But wait, there's more! Since this is a game, there's a lot of components that make it infinitely more interesting than your real-life acrobatics. In this game, it's safe to say that the laws of physics don't apply.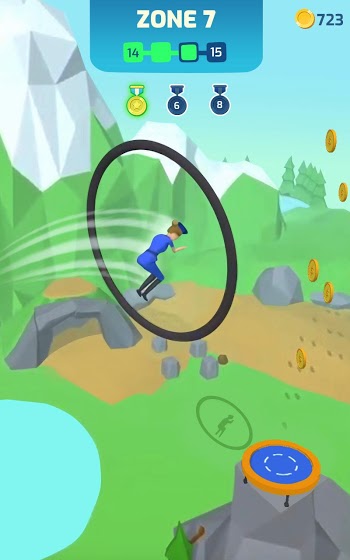 Flip Jump Stack is an insanely popular acrobatic simulation game that has over a million downloads in Google Play Store! In this game, you'll play as an acrobat who shall perform different tricks to collect coins in the air and to ultimately land in a human stack formation! It may sound easy but, in this game, you'll jump from building to building with the help of a trampoline. Yes sometimes you can evet get sent flying into the air in this game just to do some insane stunts! Then, you need to collect as much tokens as you can so you get more money. The challenge is completing the levels as they get harder and harder. Think you have the body to pull all the stunts? Read on to know more!
Features of Flip Jump Stack
Flip Jump Stack isn't your typical sports game. Everything in this game isn't ordinary! From the execution height to the obstacles, everything is designed so that you'll have the hardest challenge of your life! Here are the features of this awesome game:
Plenty of levels – In the beginning of Flip Jump Stack, you'll play in easy levels. This means that the jump-off height isn't very high to let you get the hang of the game. But as you progress, you'll find that the levels will be harder and there will be higher take-off points as well as obstacles. That's what it means to excel in this game. You need to overcome obstacles while collecting coins and then successfully land in a human stack. Think you can handle all of that?
Customization – The beauty of Flip Jump Stack is that you can customize your outfit to your liking! In this game, you can change your outfit to different styles and colors such as red, white, blue and multi-colored. This makes the game so much more fun than normal! Then, you can also change your hats to something like a police officer, Christmas hat or a normal cap. However, you can only unlock them when you reach certain levels and you need coins to buy them.
Incredible graphics – But what truly separates this game from the rest is the incredible 3D graphics. Every jump, you'll feel like this is a realistic game that will truly test your limits. The background is also stunning as you get to perform stunts in tons of different places such as the sports complex or high up in the mountains. You get to experience adrenaline-pumping action with tons of obstacles so you can collect coins.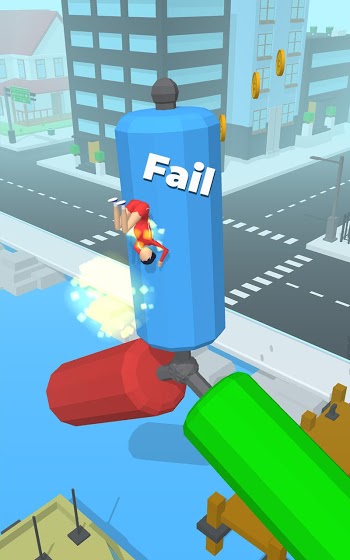 Easy controls – Since this is just a simulation game, the controls are as easy as tapping the screen. You'll get the hang of the game easily after just some few levels. That's how easy the game is. However, the levels will become harder so it's your job to adjust accordingly.
Unique gameplay – There are tons of games out there today, but nothing is as unique as Flip Jump Stack. The game offers everything you can ever want out of acrobatics and more! Prepare to be amazed.
Flip Jump Stack APK
Flip Jump Stack is a game that will truly test your limits as an acrobat. However, you need money to unlock suits and hats. If you want to instantly get those, just download the unlimited money now!