Tool Skin Free Fire APK 10.0
Do you play Free Fire a lot? Enjoy various free skins today with Tool Skin Free Fire APK! Here, you can modify various skins such as your character, vehicle, and more.
| | |
| --- | --- |
| Name | Tool Skin Free Fire |
| Updated | |
| Compatible with | Android 4.1+ |
| Last version | 10.0 |
| Size | 5.6M |
| Category | Tools |
| Developer | Maikro |
| Price | Free |
| Google Play Link | octaviansyah.inc.ff |
Free Fire is one of the major battle royale games that came out in 2017. This game is a popular one today with millions of players enjoying it around the world. With this game, you're able to enjoy a vivid gameplay full of action, weapons, beautiful locations and skins. Here, you can buy a lot of skins available in the game today with real money. But if you don't want to spend any real money on the game, you can just download Toolskin Free Fire!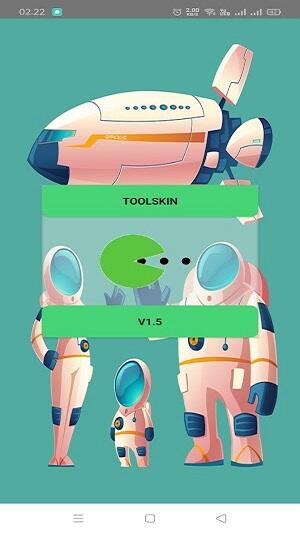 This app was published by Maikro and it allows any player to modify and acquire any skin they want for free. Here, there are many types of skins available per category such as background, character, backpack, parachute, vehicle, surfboard and even emotes! The app lets you get all these awesome extras for free today that you can use in the game right now. No need to pay for anything and no need to register as you can use it right away.
Free Skins
You might have heard about battle royale games by now since there are so many popping up left and right. What used to be a unique genre is now a saturated one thanks to many games today that are claiming to be the best. But in the gaming world, the best ones are usually those that were the first ones to capitalize on the hype which is what Free Fire did. This game was released in September 2017 and it joined the hype set by PUBG and Fortnite which were released in the same year.
Today, Free Fire is one of the most popular and with hundreds and millions of players enjoying it today. This is especially true in Asia and other parts of the world where people don't have PCs. Since the game is so accessible and small, most players choose to play this game over resource-hungry games like PUBG and Fortnite. Moreover, this game has beautiful graphics now that can go head-to-head with AAA titles. This game has all the features you need plus the extra ones that attracts many.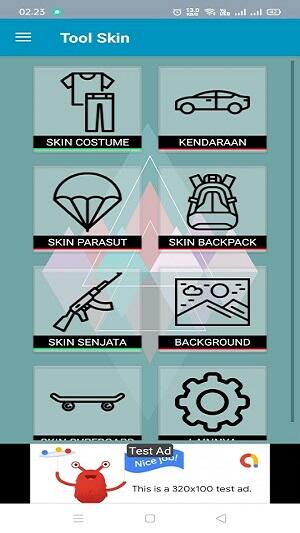 Just like with many battle royale games, there are also various skins available in the game every season. Here, you can buy the skins using real money or the money you earn by winning matches. But if you don't want to pay for any of it, you can download Toolskin Free Fire APK now. This tool lets you get free skins such as parachute skins, mask skins, hats, weapons, surfboards, weapons, bundles, vehicles and many more! It's so easy to use and you don't need to register or pay for anything to use it.
Toolskin Free Fire Features
If you want to make your character livelier in Free Fire, it's only right to don it with the latest skins and emotes. But the problem is that these costs real money to buy. If you don't want to pay anything, download Toolskin Free Fire now.
A Useful App – When it comes to battle royale games, everyone has an even playing field all the time. This is because players can randomly jump out of the airplane and parachute anywhere, they wish. And every player in the match will not be equipped with anything at the start of the game. This means players should gather resources like armors, weapons, and other items they need to survive. This makes battle royale games a challenging game to play even when you have all the money in the world.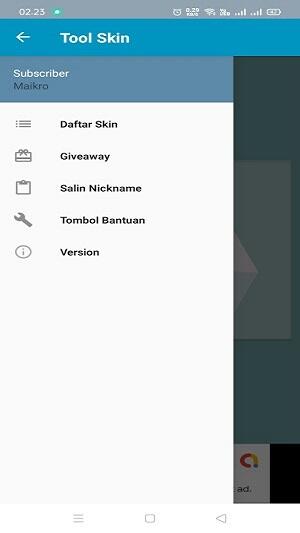 But it can't be denied that skins have a lot more impact than what we can perceive. Sure, they don't give us powers or skills but they allow us to enjoy the game even more. With customized skins, we can enjoy the game more and look cooler while playing. With this, Toolskin Free Fire is a useful app that provides us with free skins that we can use today. Enjoy collecting various skins in different categories all for free today.
Get Free Skins – This app simply exists to give players the free skins they need. Here, you can get all the latest designs without having to worry about costs. Now, you can look cool and look like you have more money than what you normally have. Because of this, you can enjoy the game more and you can mix and match different items today. You can literally equip different skins every match if you want to.
A Variety of Categories – As you all know, there are many skins available in Free Fire. Here, you can unlock many skins for your character, backpack, parachute, vehicle, surfboard, background and more! There are so many skins available today that you can easily use and collect. Now, the game is more vivid and more enjoyable for everyone since there are a lot of skins to collect for free.
Emotes – Emotes are certain actions and poses that you character does. You can use these in-game and outside matches to taunt and to celebrate a victory. There are many available emotes in the game today and you can unlock quite a lot of them with Toolskin Free Fire. You can now taunt and make fun of your enemies to make them lose their cool in battle! Celebrate in the best way possible with this app now.
Easy to install – Installing this skin is as easy as buying one in the game. Here, you simply need to download the app here. Then, you need to give the app permission to store images. Next, just select the skins that you want to have and then you can then use them in the game!
Free and ad-free – This app is completely free to use. You don't need to have a rooted device and you don't need to register to use it. It's also completely ad-free!
Download Toolskin Free Fire APK
Want to get the latest skins for free? Get a lot of them now with Toolskin Free Fire and enjoy.