Copy My Data APK 1.5.0
Download Copy My Data APK Latest Version free for Android. Transfer all of your information from one phone to another – Even iPhone to Android.
Now, you can move all of your information from one of your phones to another without any issues. Even if you want to move data from an iPhone to and Android, it's all possible when you download Copy My Data.
How to Transfer Your Data
It's actually pretty simple to learn how to use the application. In just a few quick steps, you'll be able to move all of your information from one device to another. The process will be swift and seamless. It's as simple as one, two, three.
So follow this guide and you'll be on your way. To be honest, it's so simple, that you may not even need instructions to show you how it's done. Nonetheless, we believe it's worth understanding the application before downloading. Just in case you feel reluctant to download it.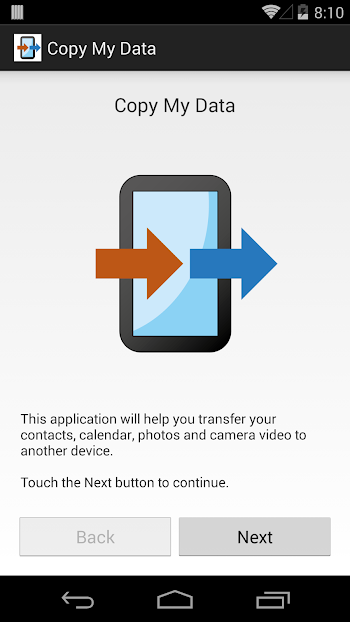 First, you'll need to download the application to even get started. So click on the download link and install Copy My Data to your device. You will also need to have the application downloaded on the device you are transferring the data to as well.
Now that you have the application on both devices, you'll need to open the app from each side.
You will need to allow permissions from various applications in order to transfer data. Your information cannot be transferred if access is not granted to copy and pull it over. Makes sense right?
Now, select "Next" on both of your mobiles.
Next, select "To or From Another Device Over WiFi" from both of your devices.
Now, from the second mobile, you'll need to select "Copy Data From Selected Device".
One your first mobile, you will see a 4-digit PIN. For security reasons, you'll need to enter this PIN onto the second device before transferring any data over. So, get ready and prepare to begin the data moving process. Type in the PIN onto the second device now.
You can transfer the following information from one device to another:
Calendar
Contacts
Camera Photos
Camera Videos
Select whichever, if not all of the information you wish to copy and pull over from device to device. It's not a lot of information, but it's enough for someone who is starting fresh on a new device. You can always download old applications again, at any time.
Select "Next" onto your first mobile in order to begin the transfer process.
You will get a message from both phones/mobile devices. The first saying, "Transferring Data", while the other says "Copying Data". The entire process will take a few minutes while all of the information is being gathered, copied, and distributed. So, go ahead and have a cup of tea, grab a snack, or watch a video while you wait.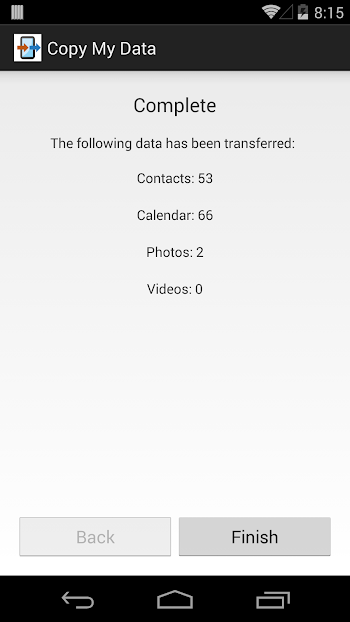 And that's it! Once the process is complete, go ahead and check the second device to see if the transfer was successful or not. If you followed to procedures step by step, then all of the data should be where it's supposed to be. If not, then you may need to refer to the steps again and see what you did wrong.
Copy My Data APK Free Download
Download Copy My Data APK if you want to have small benefits from the app included. For one, the download size is compressed and easier to install, while saving data.
So, download the app for both Android and iPhone now.