Quick Vpn APK 1.17
Your privacy is important. That's why you should download Quick VPN right now to secure your privacy and data online. Don't let attackers try to collect your data!
We use the internet for a good portion of our time nowadays. It has provided us with a lot of ways to connect, to be updated, to enjoy and to do good for everyone. Because of this, it has become a vital technology worldwide as many industries and individuals rely on it daily for their needs. We rarely see anyone today who doesn't know what the internet is. But as much as it's beneficial to us, there are some that are trying to take advantage of it so you must use QuickVPN.
Since we use the internet daily, it only makes sense to use it with protection. If there's a safety harness for climbers, VPN apps needed for internet users. There are many VPN apps available to use today but one of the best one is QuickVPN. Here, you can connect to plenty of servers in different locations and countries. Enjoy unlimited and fast speed servers today where you can unblock any websites!
Enjoy Online Security
If you're reading this today, it means you're using the internet. But if you're not using a VPN service, then this is the best time to do so. As you know, we leave our data vulnerable online when we browse different sites especially malicious ones. We don't know when our data may be stolen so it's best to be preemptive and to protect our privacy every time we go to the internet. There are plenty of VPN services that you can avail today but most of them are paid.
We don't pay to access the internet today but we pay our internet service providers. Because of this, we may not even have the budget for VPN apps today since they can be costly. But the benefit you'll get from the VPN apps far outweigh the costs of it. This is because you can enjoy total internet protection today so you can browse without any worries. But if you don't want to pay anything, you can download QuickVPN and enjoy premium services.
This app allows you to hide your IP address and use a proxy one and connect to a variety of servers. There are 13 locations in 11 countries today such as South Korea, Singapore, Canada, US, India, Germany, France, Ireland, France, Japan and many more. There are also plenty of websites you can use today that you can access freely even if it's blocked in your country. Here, you can connect with any connections such as WiFi, 3G, LTE and even 5G! Here, you can prevent any data stealers from getting your personal information today.
Features of Quick VPN
There are plenty of things you can do today on the internet. But if you want to have a total freedom, download QuickVPN now.
Internet Freedom – There are so many VPN apps that you can use today and all of them promise internet freedom. Today, you can get total protection by using any VPN apps as long as they're reputable. But if you want more features, you'll need to pay a monthly fee for most of these apps today. So, if you want to total internet freedom without the cost, you should download QuickVPN today. This app lets you connect to a proxy server that allows you to hide your real one.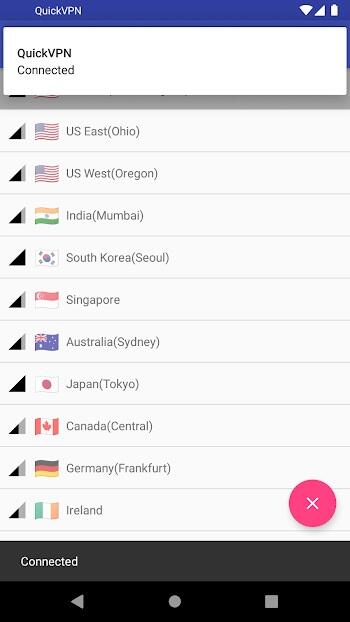 Doing so lets you protect your privacy and data when you're browsing. Ideally, you should always turn on the app when you're browsing so that attackers won't see your IP address and they can't tap into your personal data. You can also select the server that you can connect to here thanks to a variety of locations in various countries. The countries available are Singapore, US, India, Australia, Ireland and many more. So, if you need to connect to a certain country that's on the list, you're free to do so which will enable you to access the websites you need.
Access Many Servers in Different Locations – Today, you can enjoy plenty of servers in different countries in QuickVPN. You can access 13 server locations today in countries such as Australia, India, UK, Japan, Canada, US, South Korea, Germany, France, Ireland and many more. With this, you can have the freedom to select which server you want to connect to today. Now, you don't have to get tied with just one server where it can suddenly disconnect.
Connect Using Different Networks – With this app, you're free to connect to different networks that you're using. Whether you're using WiFi, 3G, LTE or even 5G, you can freely use the app today to your advantage. Enjoy lightning-fast and uninterrupted connections right now with this VPN app.
Unblock and Sites – You can also unblock any website with the use of this app. Now, you can access blocked sites and content right now with the app. With this, you can easily access any sites today and even blocked YouTube videos. Just connect to any site today using QuickVPN and you can easily access content that's normally not available.
Keep Yourself Anonymous – With this, you can keep your IP address anonymous today. You don't have to use any paid VPN apps today with this. Here, you can enjoy high-speed connections right now. You can enjoy plenty of services that you can enjoy. Here, you can select any server that allows you to hide your real address. With this, the attackers will have a hard time trying to detect your real credentials as well as your data. Now, there's no need to worry about any attacks or breaches even when you're using the internet for extended hours.
Download Quick VPN APK – latest version
If you value your safety and privacy, you need to use QuickVPN now! This is a free app that lets you connect to any server today.
See more similar VPN apps: Turbo Vpn Apk and Itop Vpn Apk