ProtonVPN APK 4.6.12.1
Download ProtonVPN APK – Latest version – Free for Android if you want to browse anonymously online, protect your IP address, and access blocked websites worldwide!
The internet is filled with websites, images and all sorts of attackers. If you're not careful, you could expose your personal data to countless intruders out there preying at the vulnerable. If you don't want to have your precious data stolen, it's in your best interest to use some kind of protection while surfing online.
The best way to do so is by using a Virtual Private Network (VPN). ProtonVPN is one of the leading VPN apps worldwide created by Proton Technologies. With over a million installs, the app is trusted by many to protect themselves online. In this app, you can safely browse any websites you want without worrying about attackers trying to get your data. Aside from that, there are plenty of other things to watch out for in this app!
Protect Yourself Online
Every day, billions of people use the internet whether for business or personal needs. There are tons of websites out there that offer different functionalities and for different people. This is why there are still millions of people that are unprotected when they search online.
Because of this, it doesn't hurt to have yourself some layer of protection against potential online threats using a VPN service. ProtonVPN is one of the most trusted and most popular when it comes to protecting yourself online. Its multi-layered protection gives it an edge among its competitors and allows you to have more internet freedom. Aside from that, there are features such as Split Tunneling Support, Bypass Blocking, DNS Leak Protection and many more! Who said you couldn't protect yourself online for free?
Features of ProtonVPN
ProtonVPN is an incredible app that allows you to protect your privacy online without a cost. This seemingly simple app is capable of so much more! Here are its features:
VPN service – There are plenty of websites out there that might leave us vulnerable as well as our data. For this reason, plenty of apps have surfaced which allows people to protect themselves while browsing online. ProtonVPN is one of the best VPN apps right now with high speed connections and multi-layer protections. In this app, you can browse any website you wish without worry! You no longer need to do anything else as long as you have this outstanding protection.
No logs – Some VPN apps claim to protect you from attackers while they themselves collect data from you! In ProtonVPN, they never log or use your data in any way, shape or form! This ensures you that you can browse safely and use their app without worries! Now, you don't have to worry about anyone seeing your precious data other than yourself.
Split Tunneling Support – This is an advance feature that allows you to select what traffic goes through the VPN tunnel. If you don't want the other devices to have protection, it's fine with this app. This will allow you to multitask while using this VPN app!
Bypass Blocking – If you ever found yourself unable to access a website because it's blocked in your country, don't worry as ProtonVPN is here! This app automatically grants you access even with sites that have VPN bans to unlock and uncensored content! There is virtually no website in the internet that this app can't access.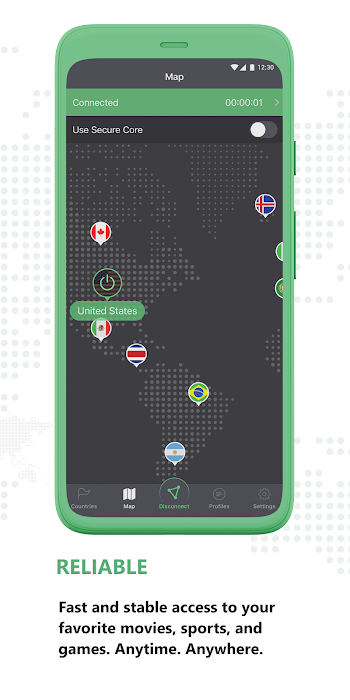 Tons of servers – To help you, this app features 577 servers in 44 countries worldwide! This will allow you to select which ones you need and to provide you with a wide range of selection.
Support – If you have connectivity issues, you can easily call for help using the app's support system!
ProtonVPN APK – Removed show dialog
ProtonVPN is an app that allows you to do all things online while being protected. Download the latest version now.