Auto Clicker APK 2.1.4
Want to play a clicker game or app? Download Auto Clicker now so you won't manually tap the screen for thousands of times. Simply set it up and let it work!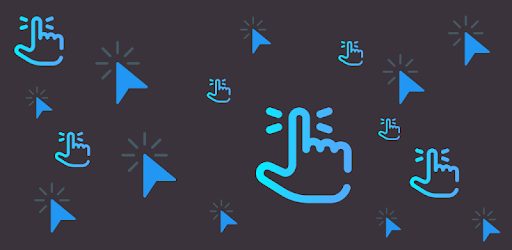 Have you ever played a mobile game where victory is determined by how many times you can tap the screen? Perhaps you've come across numerous ones as this is a favorite tactic of developers to increase the difficulty of the game. For the gamers, this just spells disaster. But if you don't want to subject yourself to countless torments, then Auto Clicker is the app for you.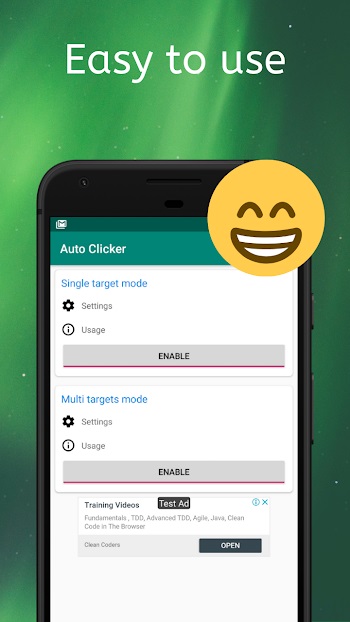 In its simplest form, this app from True Developers Studio allows you to tap the screen multiple times without manually doing so. The app will do all the heavy lifting so you just have to set it up to work perfectly. This is a great companion app if you want to beat difficult games and other apps as well. Play games or earn money from apps, there are a lot of ways you can utilize this one.
Don't Tire Yourself
If you're an avid player of mobile games, you may have come across multiple ones that force you to click repeatedly on the screen. Popular clicker games include Adventure Capitalist, Clicker Heroes, Tap Titans, Egg, Inc., Idle Miner Tycoon and many more. Aside from that, there are making-money apps that allow you to watch hundreds of video ads before you can make money. But the only problem with these games and apps is that you need to manually click them for thousands of times.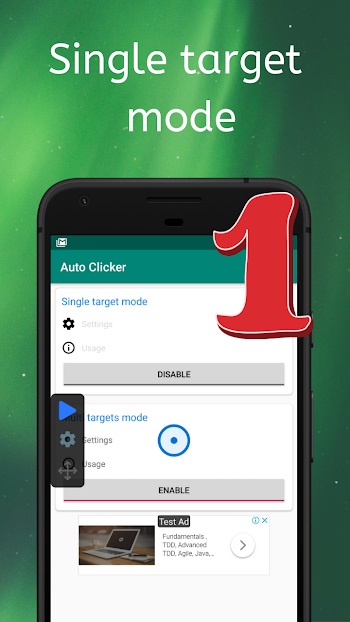 If you don't have the energy and the patience to do it manually, why not let an app do it for you? Auto Clicker is one such app with the ability to completely eliminate the need for you to manually tap the screen. Think of this app as a robot companion that will help you with anything you need in regards to tapping the screen. Whether you're playing mobile games, or trying to skip a lot of ads at the same time, the app has many uses!
Highlights of Auto Clicker
Do you want to play clicker games and apps but don't want the hard labor that goes into playing them? If so, Auto Clicker is the solution you've been waiting for.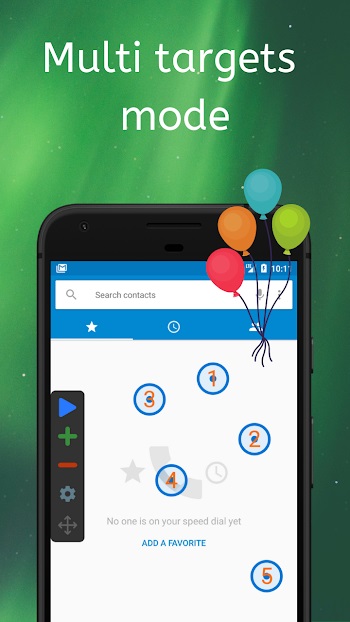 The Best Companion App – Playing clicking games isn't an easy task. Unless you're not a human, this is just plain impossible to finish quickly. The same is true with clicker apps that expect you to tap the screen a thousand times just to get something going. This usually baits the person thinking they can earn money when they would just watch a thousand ads for the app. But with Auto Clicker, you don't have to be the subject of hard work anymore. What this simple app does is that it taps the screen automatically so you don't have to. Simply put, you don't have to do it all yourself. You just need to configure it so it gets the timing and the right buttons to tap and you can leave it for hours!
Supports Multiple Click Points – Auto Clicker is a multi-purpose app that supports multi-targets. This means that you can set up even complicated sequences using the app. It's a simple app that can do complicated mundane tasks for you so you don't have to bother. This way, you can focus on more important tasks on hand! But if you just want to tap one button, just switch to a Single target Mode easily. There are a lot of things you can do with this app.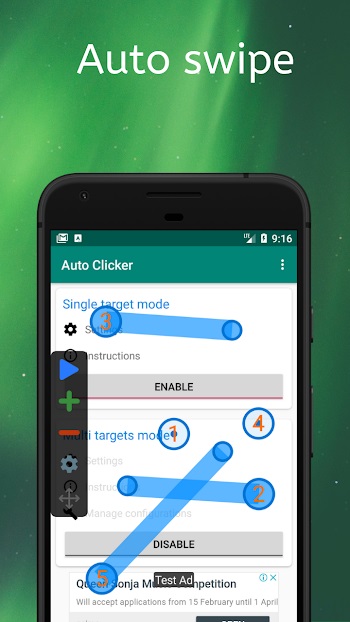 Global Timer – The app can also be configured to run for a definite number of minutes or hours. With the stop timer on the app, you can configure it to run only for a specified time. This allows you to have complete control over what you can or not do in the app.
Can be adjusted – The best thing about Auto Clicker is that it can be configured depending on your needs. The 2 modes can be adjusted according to your preference. You can also swipe the buttons so you can adjust where it will tap from. Then, you can also set the sequence so everything is systematic and automatic. If there's something wrong, feel free to tweak the settings so you can get it right.
Easy to use – Who knew that beating idle games is as easy as using Auto Clicker? But this app doesn't only let you beat games. It's a multi-purpose one that can be utilized with a lot of things.
Download Auto Clicker APK – Latest version
Want to beat games and certain apps? Download Auto Clicker now and get rid of manual tapping!
Similar apps: Bgmi Gfx Tool and X8 Sandbox Apk