Slay the Spire APK 2.3.2
Want to play an action game with cards? Download Slay the Spire and experience a game where you can collect and combine powerful cards to beat a lot of enemies!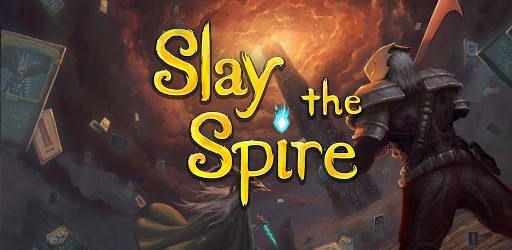 Card game battles were popular decades ago. But today, they are mostly replaced by mobile games who provide more action-packed goodness. However, that doesn't mean that they're completely non-existence in today's technology-driven world. Games like Slay the Spire are popular and they combine action with cards to provide a unique gaming experience.
This game is a product of Humble Bundle and it has more than 10,000 downloads now. This is a fusion of card games and roguelikes which creates a totally unique experience. Discover hundreds of cards and fuse them to create powerful ones. Reach the top by defeating stronger enemies than you. Everything is up to you so you'll need to choose the right cards to use at any given moment. Experience a strategy action game that will wow you!
Card Action Game
Kids back then used to play card games since popular anime shows like Pokemon and Yu-Gi-Oh were mainstream. There were a lot of physical duels that would be considered rare today. But if you're missing the good old days but still want a modern game, then you need to try Slay the Spire now. This game is a combination of card collecting and action games.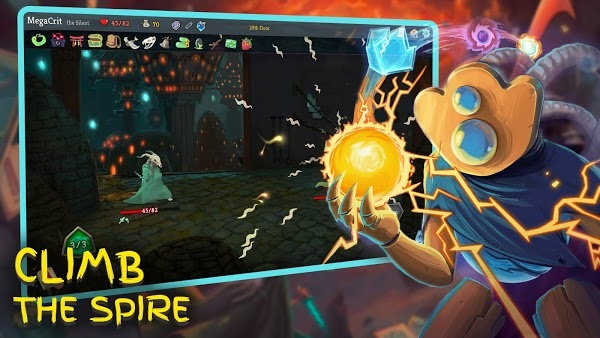 In this game, you're going to bring a deck of cards into battle and fight using them. Your win is determined by how you use the cards to your advantage. Therefore, you must collect cards that will help you a lot in battle. Collect attack and defense cards as well as powerful ones. But the best part is that you can combine different cards to create a powerful one! You can also find powerful relics that will enhance your deck. However, nothing is easy in this game. You must face difficult opponents if you want greater rewards. Ultimately, it's up to your cards and strategy which determines your victory. Can you beat the opponents using your cards?
Features of Slay the Spire
If you're into card games, RPG and action, then Slay the Spire is the perfect mobile game for you. It has everything you need in an action-packed card game.
Craft a unique deck – If you're familiar with deck games, then you should know how cards make or break a match. You can't expect to go into battle without preparing for every possible thing. However, it's impossible to get all the cards into your decks because that isn't permitted in Slay the Spire. So, you must create a balanced deck that has great offensive and defensive capabilities. Having a deck like this allows you to be flexible when the time comes. You don't have to sacrifice anything so you can climb the Spire.
Collect hundreds of cards and combine them – In Slay the Spire, there are hundreds of cards you can collect. Each card has its own capabilities. It can be an offensive or a defensive card. And, they are also separated by rarity. There are cards such as Defend, Strike, Anger and many more. Then, you will have your turn and the enemy's turn in a match. It's not a 3D game where you can freely move. But with that said, you need to think hard about what cards to use on a given situation since every opponent is different. Not only that but you can also combine different cards that work together to create an entirely new one.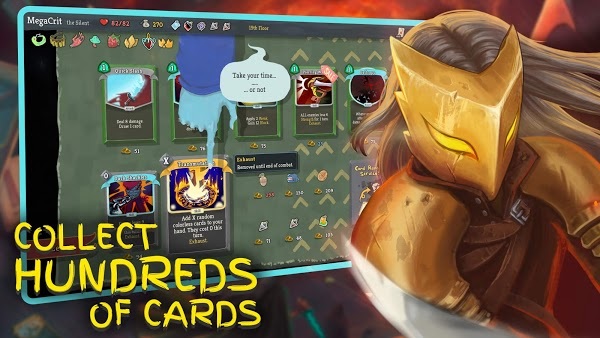 Face tough enemies – As you go through the levels, you'll notice that the layouts of the Spire differ every time. This way, you'll face different enemies and use different cards. There are also different bosses that you'll face! Be careful and create the best strategy beforehand. The tougher the enemies you face, the more rewards you can get. But you need to take your opponent's stats and health into account if you want to win. Try to weaken them fast if they're strong so they won't recover. Overall, there are plenty of strategies you can use to secure victory.
Powerful relics – There are also items called relics in Slay the Spire. Here, relics are powerful items that you can discover as you journey through the Spire. These relics can enhance your deck greatly helping you overcome tougher opponents. But these relics aren't cheap and common!
Astounding graphics – Are you someone who loves action games because of their graphics? If you're bored by card games, then Slay the Spire is the perfect game to try. This one integrates card and action games seamlessly to create a whole new environment.
Slay the Spire APK
Do you have what it takes to build a powerful deck and climb the Spire? Download Slay the Spire now!