Slap and Run APK 1.6.26
Download Slap and Run APK latest version and hit pedestrians randomly. The game has a unique reward system and super-cool sound systems.
Riveting Details about Slap and Run APK
Slap and Run is one of Voodoo's arcade games that require agility and a daring spirit. You will be required to hit random pedestrians and run away!
However, it will not be simple! The pedestrians can retaliate. When that happens, only your speed will save. Ensure that you run as fast as you can to avoid beatings.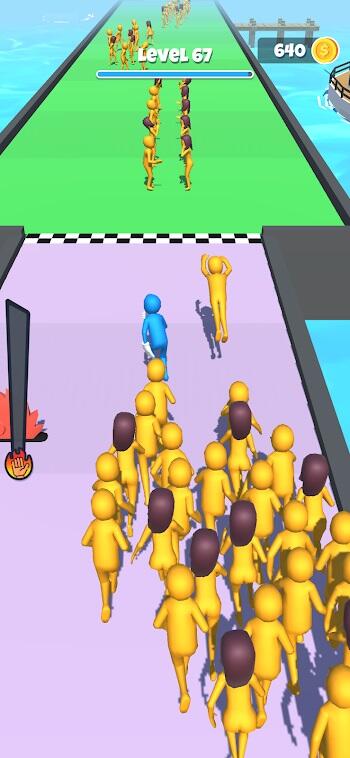 The game is ideal for both children and adults. It has a satisfying rewarding system that awards all your effort.
If you believe in your judgment and speed, download Slap and Run APK for android. The game is only 81M and requires Android 7.0 and above to work optimally.
Why Download Slap and Run APK?
Voodoo has a history of producing exciting games based on real-life experiences. For example, you will feel like you are really in a street when attacked by random pedestrians.
On the other hand, you will feel like fleeing when they retaliate. The game masterfully incorporates excellent sound effects to maximize realism.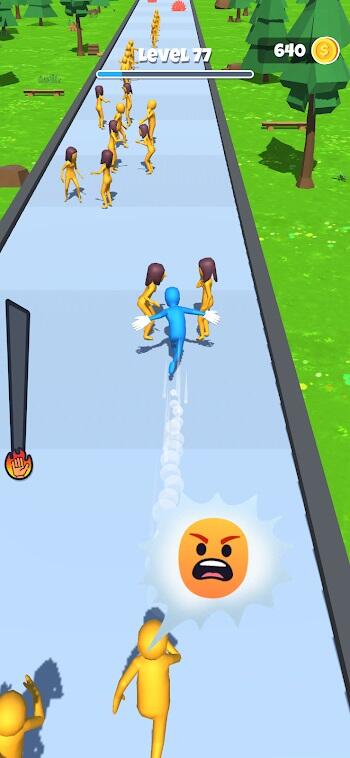 As expected, it uses real-life characters, including adults and children, who are all dressed up in different costumes that suit their age group.
The game is also free!
Enthralling Gameplay
The game promises a unique experience where you will be required to hit random pedestrians and disappear without getting caught. You can also engage in multiplayer games with your friends.
The most thrilling thing about the Slap and Run APK is that you do not know how your victim will react. If they fall, they allow you time to continue running, but if they get up to retaliate, you may end up in a tight spot.
It's thrilling!
You can even collect boosters along the way to increase your strength, reflexes, and endurance. Whatever it takes, ensure that you escape.
Numerous Rewards and Bonuses
The game awards you every time you accomplish a task. It offers points, upgrades, and virtual cash, among other exciting prizes.
Even better, you can use your rewards for character upgrades. For instance, you can increase the number of hits before they retaliate or even purchase boosters to make it easier to escape.
Straightforward Controls
The game is easy to handle. You can swipe left or right on your screen to control your character. The simplistic controls are strategic.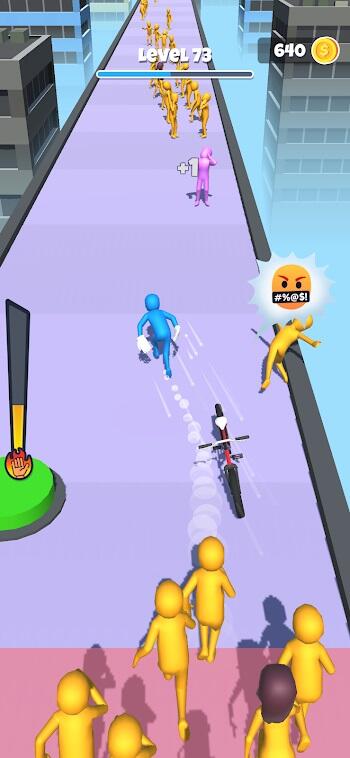 They allow you to focus on beating and escaping without distractions. You can even turn your screen upside down to compensate for the controls.
Other Features of Slap and Run Game
Different Skins. The game offers diverse backgrounds and skins that you can use to make your character stand out. For example, you can select differently-colored costumes.
Intuitive User Interface. The app is designed with a minimalistic interface. For example, you will find all the necessary control options such as fast-forward and rewind on the main screen for convenience.
Several Levels of Difficulty. You can select numerous levels that relate to your speed and reflexes. This means that everyone will enjoy playing this amazing game!
Many Obstacles. You will find different obstacles that you might want to avoid. If you fail to dodge these obstructions, you will fall. When this happens, it will impair your chances of winning the game.
Easy to Play. Lastly, the game is easy to play. You can even play it with one hand as you carry out other activities such as walking or traveling around.
Beautiful Graphics and Immersive Sound Systems
The game has an impressive and unique look and feel. It uses HD graphics to bring the characters to life! As you run down the track slapping pedestrians, you will feel like you are in the real street.
Sound effects are also an integral part of this exciting game. You will feel all the thrills that come with escaping from people who want revenge on you!
Download Slap and Run APK Unlimited Money and Gems
Slap and Run APK latest version offer a better gaming experience than the original. It has the following unique features:
Slap and Run APK Unlimited Money. This modded version of the game comes with limitless resources, enabling you to purchase whatever you like without worrying about the costs.
Slap and Run APK No Ads. The additional benefit of this modded APK is that you will not be annoyed by ads. You do not have to worry about accidental clicks or pop-ups.
All Levels Unlocked. The Slap and Run APK download allow you access to all levels without restrictions.
Boosters Unlocked. The Slap and Run APK download game provides boosters that help you increase your strength, reflexes, and endurance levels to boost your chances of winning the fight.
Conclusion
If you love simple games that will keep you glued to your smartphone, you should get the latest version of Slap and Run APK. The game provides countless thrills and excitement!
It's not just a matter of slapping other people on the street. You have to upgrade your character, dodge different obstacles and escape from your enemies who want you to pay the damages.