Vector APK 2.0.12
Download Vector APK Latest Version free for Android. Break the system and escape to attain freedom in a world full of lawlessness!
| | |
| --- | --- |
| Name | Vector |
| Updated | |
| Compatible with | Android 4.0+ |
| Last version | 2.0.12 |
| Size | 181.70 Mb |
| Category | Arcade |
| Developer | NEKKI |
| Price | Free |
| Google Play Link | com.nekki.vector |
Introducing a dynamic and diverse game that anyone should add into their collection of mobile games. Vector is a free-running platforming game that is full of nonstop action and adventure.
There are multiple tasks that must be accomplished in order for the vector character to escape. The cost of freedom is very steep. But, the more difficult the challenge, the more worth the reward. Think you can handle it?
The first task is breaking free and running as fast as possible to avoid getting caught by the team of guards in pursuit. Being the employee of a mysterious company and facing tons of pressure from your boss, you get overwhelmed and cannot stand it anymore.
So, take off your shorts, throw papers at your boss, and break a window on the 30th floor. Luckily, you land safely and zoom through the rooftops. Now, you must avoid guards or being electrocuted, otherwise that would spell the end of your run.
Fascinating Gameplay
Vector has two different game modes to enjoy: Players can either choose a Hunter Mode or the traditional Story Mode. It is a chase between security personnel and a fleeing employee. However, the two characters have the skills and technique of parkour athletes.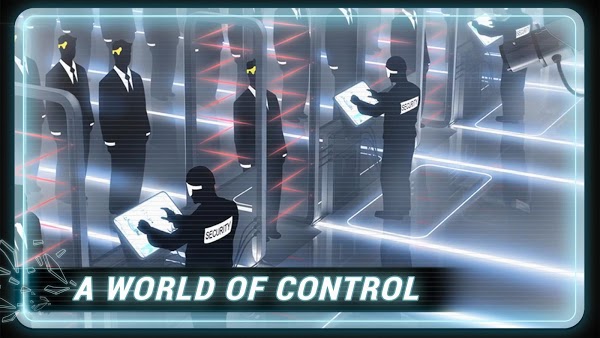 In the story mode, players will assume the role of the employee, and their part will be doing everything they can to get away. Rolling, jumping over houses, climbing, and running will be some of the skills needed in order to avoid obstacles and reach the end of each level.
Remember, the security is always right behind. Meaning, the way to victory is to run as fast as possible and avoid all obstacles.
The controls are super smooth and easy to use. One finger is all you need to control your character through various obstacles. With such a simple control scheme and interface, it's no wonder this game has amassed popularity.
Also being a mobile game means you can enjoy the game anywhere you want. From school, while riding the bus, or even in the middle of a trip.
Although, we wouldn't recommend playing this in the middle of work. Otherwise, you might get some crazy ideas to flee the scene and escape any unnecessary paperwork.
Either way, Vector is an addicting platforming adventure game for players of all ages to enjoy! No matter the circumstances, anyone can pick up and play this fun game.
Spectacular Graphics
The graphics and user interface resembles any stick animation or stick-style game. Although everything is rendered in 2D, you'll be mind-blown, thanks to rich visuals. Consequently, players experience attractive and realistic gameplay, leaving them excited and satisfied. Besides, the background sounds create more tension and gets anyone motivated to conquer more levels.
Basically, the game still looks and feels good while playing.
Vector APK - Latest version
Boost your progress playing the game by getting the version into your android device. It gives you unlimited money to unlock anything you desire in the game. The resulting is solving all your financial problems in the game racing to the finish line.
Conclusion
Finally, dive into endless and unlimited fun of the version of Vector. Anyone would get addicted to the one one-finger controls and seamless gameplay. Collecting stars to progress and unlock more levels is now unnecessary with the.