Parkour Race APK 1.9.13
Download Parkour Race APK – latest version – for Android and test your parkour skills against the very best in the world! Do you have what it takes?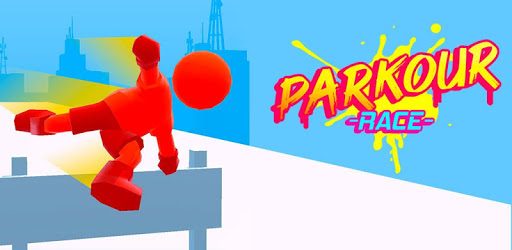 | | |
| --- | --- |
| Name | Parkour Race |
| Updated | |
| Compatible with | Android 5.0+ |
| Last version | 1.9.13 |
| Size | 82.86 Mb |
| Category | Arcade |
| Developer | Madbox |
| Price | Free |
| Google Play Link | com.parkourrace.game |
Parkour has been around since the 80s. It's the act of moving quickly from place to place and escaping obstacles with style and flair. You've seen them all on YouTube, those seemingly fearless daredevils who jump and roll at any environment especially urban ones.
If you're a fan of the sport or a parkour enthusiast yourself, you'll enjoy Parkour Race! As every sport nowadays seem to have a game dedicated to it, parkour isn't an exception. In this game, you control a simply-shaped character and race against your friends or other skilled players all over the world. The obstacles are as complex as you have to dodge them while at the same time race to the finish line. Can you do it? Read on!
The Ultimate Parkour Race Game
Out of all the parkour-themed games out there, Parkour Race is one of the best. Though the name is as simple as it can get, the entertainment factor is unlimited! In this game, your task is simple – get to the finish line first! Sounds simple, right? Until you find out that you're on top of a building at the starting line and you have to dodge multiple obstacles right in front of you.
You need to jump, slide, dodge and do all things so you can beat the other opponents! This isn't a simple race so it's not as straightforward as other races. In here, all the players have a fair chance at winning because one wrong slip can cost you valuable seconds! At the start of the game, you'll get to experience what it's like to parkour and you can do it alone.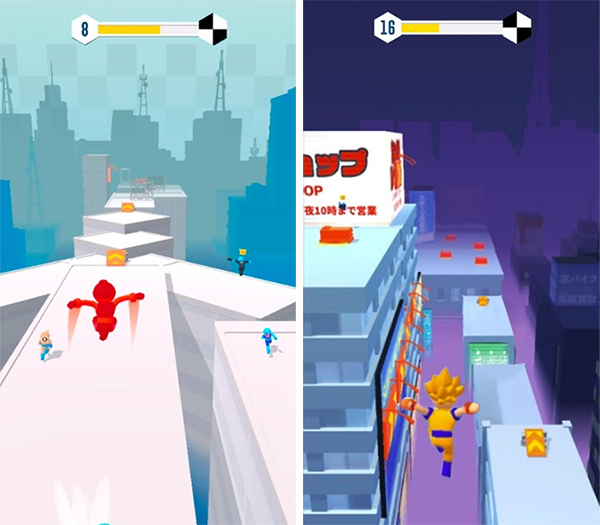 The controls aren't as complex as you might think though. It only involves the usual slide right and left and up or down to control your character's movements. The real challenge is timing your swipes so it corresponds with the right movements. Winning a level gives you rewards that you can use to unlock all sorts of things. So, are you ready to become the best traceur?
Features of Parkour Race
Mobile racing games have evolved during the past decade. With so many competitions, developers are finding new ways to compete in the genre. One key aspect that's common in today's racing games is that they focus on a key theme. In this case – it's parkour. With that said, here are the features of Parkour Race:
Simple but elegant graphics – First let's talk about the graphics. Parkour Race is what you can call the ultimate minimalist game. There are not much intricate details because they're going for a minimalistic design. This approach works well because players only need to focus on the obstacles in front of them. Adding unnecessary designs would've been too much and would distract the players. Overall, the character designs are well-made and on-point as well as the overall aesthetic.
Straightforward controls – It seems that the theme revolves around clean and minimal in this game as the controls are also the same. Although most games have minimal design today, Parkour Race still stands out. If you've played any runner mobile games before, you'll instantly be familiar with the control scheme of this game. After all, how hard can swiping up, down, left and right could be? The tricky part comes when you encounter obstacles. In here, you must be quick and you need to understand how to move flawlessly. The key here is to never stop running because if you do, you could lose some valuable time.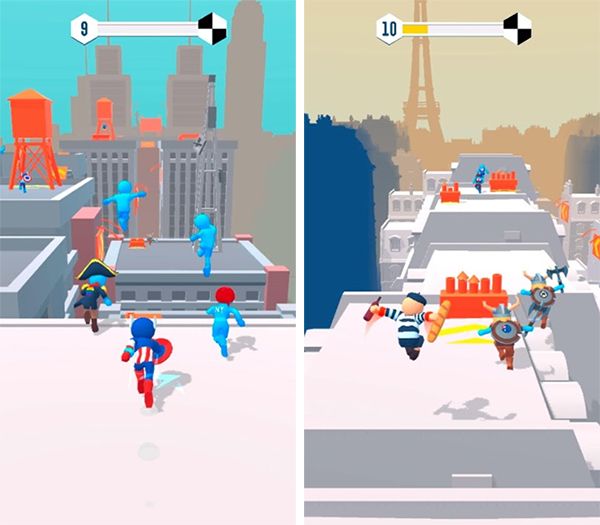 Different costumes – Parkour Race has over 30 different costumes that you can collect. Each costume is uniquely designed and some are special to certain tracks. Then, players can also collect prints that they can use on their costumes. These can include flags or special symbols. Lastly, they can also collect special effects that will make their runs more interesting. Show off your creative side and go crazy!
Interesting backgrounds – The buildings, obstacles and the background all contribute to a beautiful game. They aren't complex but they aren't lazily made either. All the elements are made just right to complete the minimalist look while still bringing a unique gaming experience. There's not a thing that stands out too much in the background so as not to distract the players. On the contrary, the designs of the obstacles and the buildings are just right for players so they'll instantly know how to deal with it. There are electric fences, ramps and all sorts of obstacles waiting for the players in this game. Think you can take them all on?
Great Concept – Parkour games wouldn't really work with 2D design even though a lot of parkour games exist in that space. However, Parkour Race differs greatly as it offers exciting 3D race that enables you to go in multiple directions and spaces. Although you can't turn backwards, this game still gives players so much controls over how they play. It's truly a unique game that many will enjoy. Plus, the runs aren't that time consuming. So, whenever you fancy a race, just play Parkour Race!
Tips for Playing Parkour Race
Parkour is an extremely difficult and dangerous sport to get into in real life. However, Parkour Race makes it all a reality for those who want to experience it without the physical dangers it brings. With that said, here are some tips to help newbies:
Use the ramps as much as possible – If you see ramps with yellow arrows in them, these give you speed bumps and allow you to fly for a short period of time. Use them as much as possible in order to get ahead from the pack. They may be placed on the side of buildings or at the edges to give you that much-needed boost.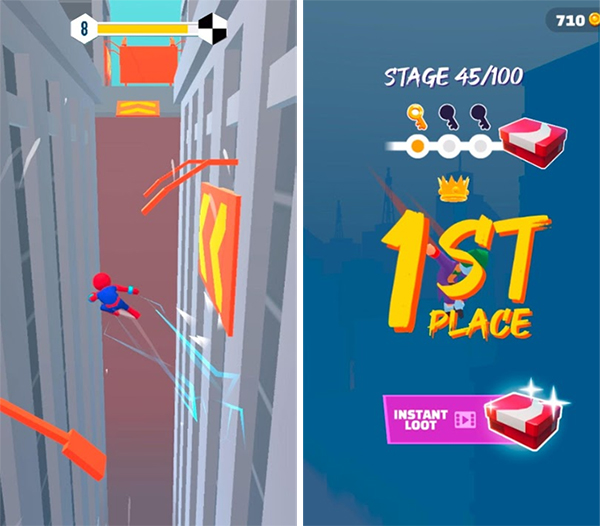 Look ahead – Most newbies tend to look only at their character and its immediate surroundings. But pros know that they need to look ahead in order to formulate a strategy on how to cross. In real life, people who do parkour plan their runs ahead of time so they don't make mistakes. The same concept applies here. In order to run smoothly, you need to plan your next move ahead of time.
Parkour Race APK
Do you want to instantly unlock all the costumes and be the best at this race? Download the Unlock All, No ads mod now and be the ultimate parkour racer the world has ever seen!