SimCity BuildIt APK 1.51.5.118187
Download SimCity BuildIt APK – latest version – free for Android and become the mayor of your own city as you build it from the ground up. Do you have what it takes?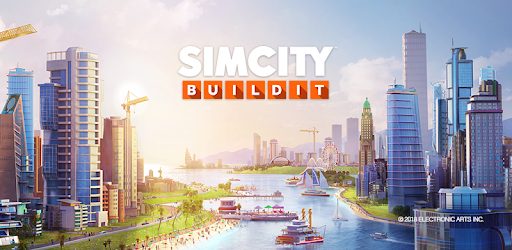 Simulation games have been making rounds lately. But if you're truly a fan of the genre, then you'd know that the Sims are one of the original games in the genre. The name Sims is almost a household name by now as the series has amassed millions of fans worldwide.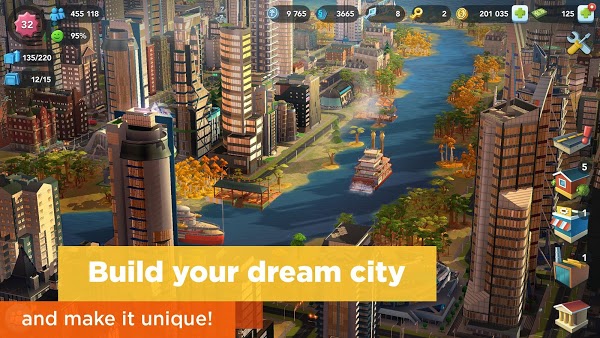 SimCity BuildIt is one of the most successful games of the series to date. With over 50 million plus downloads on Google Play alone, it's clear to see why. This game is a bit different from the usual Sims as you're tasked to build a whole city in this game. This is different as the usual Sims only allow you to customize your home and your immediate surroundings. If you're curious about this game, read on!
Build Your Own City
Have you ever wanted to be a mayor of a city? Perhaps you've gone so far as to thought about the city structure and everything? Your dream is now a reality – at least in SimCity BuildIt. In this game, you're the mayor of the city and it's your task to build the ultimate city of your dreams. Then, you'll also be in charge of maintaining it and fix all the problems that may arise.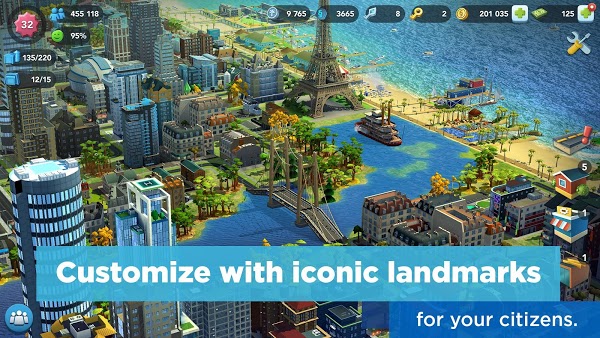 As the mayor, you need to be able to solve problems such as fire, pollution and lack of necessities. It's your job also to take care of your city to attract as many people as possible to live in your city. In SimCity BuildIt, you get to experience what it's like building a city from scratch. It's as detailed as possible allowing you to experience what it's like to build a city. In here, you'll learn that many things go into building and maintaining a city. And you'll appreciate your city in real life even more. So, are you man enough to build your own city?
SimsCity BuildIt Features
SimCity BuildIt is the perfect game for those who aspire high. This is also perfect for aspiring engineers, carpenters, architects and even politicians. You'll learn a lot to what goes into building and maintaining a city to perfection in this game. With that said, here are the features of SimCity BuildIt:
Easy Controls – Who said building a city should have complex controls? SimCity BuildIt begs to differ as it's extremely easy to play. The controls are as simple as a drag and drop mechanism for all your building needs. You can build or destroy things using the controls. It's entirely up to your imagination as to what your city will look like! The easy controls make it easier than ever.
Build your facilities – In SimCity BuildIt, you are in charge of building everything such as skycrapers, factories, landmarks, parks, and more! You need to think about where to place everything strategically so it all fits together. You also need to provide services like power plants and police department to keep your citizens safe. Also, to increase your population, you need to build parks and education centers. However, you need to constantly monitor the facilities especially factories so you can continually receive raw materials. You need to regularly check your plants to add more materials and collect the productions.
City Wars – In SimCity BuildIt, you can compete in real-time PvP with Club Wars. In here, you'll declare war with other cities and you'll strategize with Mayor's Club members. In this city war, you can unleash crazy disasters on your enemies such as the Plant Monster and the Disco Twister and watch the damage it will do. You can earn disaster cards, SimCash and other valuable things so you can use it in battle and improve your city. You can also participate in the Contest of Mayors and compete in weekly challenges and climb through the ranks in the Leagues. Become a top Mayor and make your city the best using your creativity and good governance!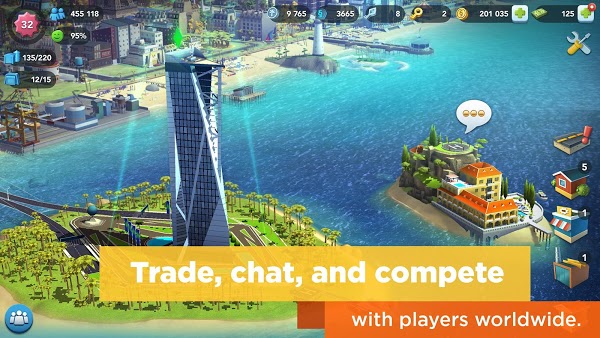 Make money from different sources – As we all know; taxes are the lifeblood of the government. This is your primary source of income at the start of the game as you try to build and improve your city more. Then as your city becomes larger, you can sell goods from other players worldwide and you can also buy anything you need from them as well. And as you increase your city's population, you'll be able to make shipments from other countries such as London, Tokyo and more. Overall, you'll need to reinvest your money into upgrading your city's facilities and buildings to attract more people into living in your city.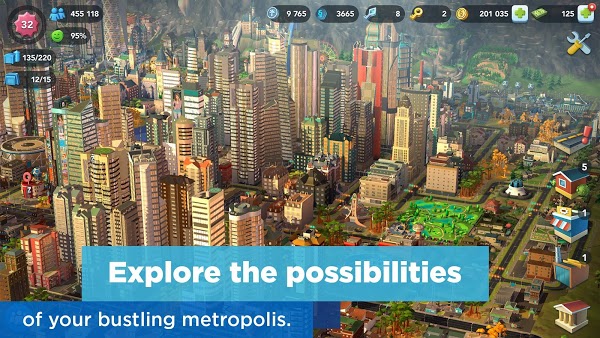 Currencies – In this game, there are two virtual currencies. They are called Simcash and Simoleons. Simoleons is the type of money that you can earn from trading, completing tasks and from taxes. SimCash is the more premium currency as you can get in by buying it with real money. You can also get it during playing but it's not much. At the start of the game, you'll get 50 SimCash for free. You should save this for future use.
Tips for Playing SimsCity BuildIt
SimCity BuildIt may seem like a fun and easy game at first but you'll quickly realize that it's not. This game needs you to become a mayor that oversees everything from building infrastructures to maintaining order. Here are the tips you'll need:
Build the basics – At the start of the game, you'll only have a limited supply of money and resources. Make every money count by building only things that you'll immediately need. This can include sewers, water, fire and health. Don't go overboard building high skyscrapers that you can't support with parks or other areas at the moment.
Automate it – Before you log out of the game at night, try to load up the factories with all the long-term items so you can wake up with fire pits, cream, electronics, frozen yogurt and more. As for the other resources, you can make them while you're playing during the day.
SimCity BuildIt APK
Building a city seems like an easy task but it requires huge money and resources. If you want to quickly build your city and populate it, download now!