Rescue Cut - Rope Puzzle APK 2.1.24
Download Rescue Cut - Rope Puzzle APK – latest version – to complete complex puzzles and help your character to escape from bondage. Don't die!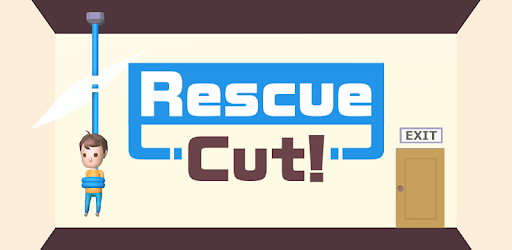 | | |
| --- | --- |
| Name | Rescue Cut - Rope Puzzle |
| Updated | |
| Compatible with | Android 4.1+ |
| Last version | 2.1.24 |
| Size | 63.73 Mb |
| Category | Puzzle |
| Developer | F.I.L Games |
| Price | Free |
| Google Play Link | com.app.rescuecut |
Sometimes, you want to be challenged. A solid puzzle game on your mobile will allow you to push your brain to its limits without actually having to get up and do anything physical. Who needs Sudoku when you've got the infinitely more interesting option of puzzle games on your phone?
Rescue Cut – Rope Puzzle is one of our favorite games right now. It's so simple and yet oh, so addictive! The aim of the game is to free the little man from bondage and help him to escape the room he's being held captive in without getting eaten by a bear or shot by gangsters. Sounding a little more exciting already, isn't it?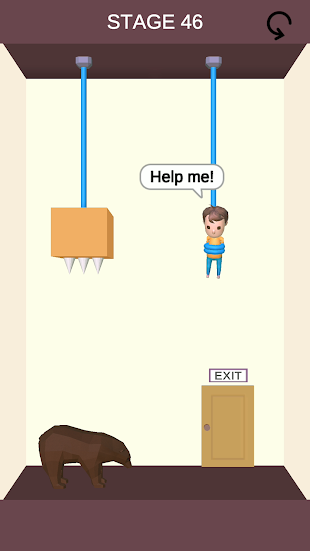 Be careful, though – if you cut the rope at the wrong time then you won't block the enemies who are trying to kill you. The aim of the game is to cut the rope at precisely the right time to ensure that you can beat the bears and gangster by setting them on one another instead of on you.
This means that you have to focus and have sharp attention to detail. You'll notice quite early on that this game is actually a lot harder than it looks and that to progress through each stage requires a lot of patience and practice.
Tips for playing Rescue Cut – Rope Puzzle
If you're going to succeed in this game, then you'll want to pay attention to some top tips in order to not get frustrated in the early stages. This is a game of patience and caution – you'll need to carefully assess the area around you and figure out if anything is being held up by the rope suspending you. Your captors aren't just going to let you escape easily.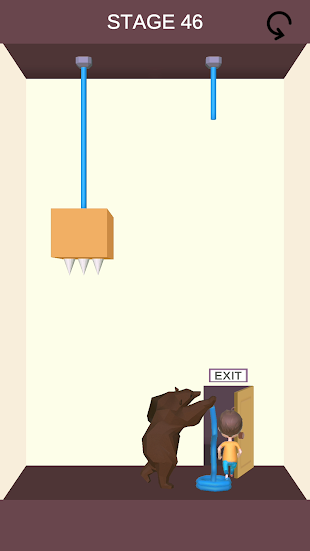 Be cautious. Oftentimes, there will be a trap that is being held together by your rope. This means that you can trap the bears and gangsters who will kill you before they get the chance. Use these traps wisely, but make sure that you're not just falling yourself into a trap – be patient and wait for the enemies to move around so that you can decide the most effective way to trap them.
Use physics. You can sometimes use the laws of physics to your advantage. The game follows these logical laws, so that your character can use the ropes to swing over obstacles if you cut them right. Pay attention to all the possible ways that you could the rope to help your character to escape.
Be careful with boosters. Sometimes, you'll see a special booster – oftentimes a spring that you can use to jump across the room. These can be essential to escaping, but other times they're detrimental. For example, sometimes there will be spikes on the ceiling and the spring will just throw you into them… not very helpful, after all.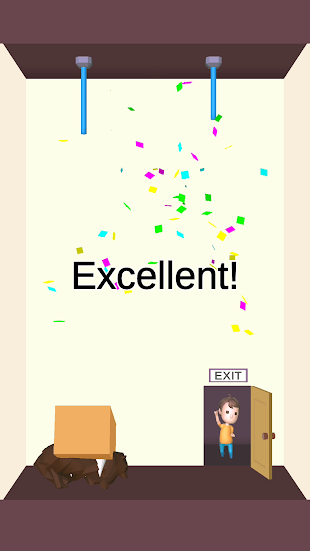 You fall down slopes. Your character can't climb slopes – he can only fall down them. So, be careful to avoid landing on a slope if you're trying to get around them. This could mean that you'll need to swing
and cut the rope at the opportune moment in order to guarantee that your character can escape easily and isn't just going to be bear food.
Rescue Cut - Rope Puzzle APK
Ready to test your brain? Download Rescue Cut – Rope Puzzle for Android to get in on the puzzle action. There are tons of levels to play through, so you won't be getting bored any time soon. Good luck!