Toon Blast APK 11196
Download Toon Blast APK – latest version – on Android to get the best match-3 puzzle game currently on mobile. There are hours of very addictive fun to be had.
| | |
| --- | --- |
| Name | Toon Blast |
| Updated | |
| Compatible with | Android 4.1+ |
| Last version | 11196 |
| Size | 157.99 Mb |
| Category | Puzzle |
| Developer | Peak |
| Price | Free |
| Google Play Link | net.peakgames.toonblast |
From Peak Games – the developer who brought you Toy Blast – comes Toon Blast, another match-3 puzzle game for mobile that will have you hooked in no time. The game follows the general match-3 dynamics. It's simple, bold, colorful, and you have to match the blocks together to try and destroy as many of them as possible and get points.
Simple, addictive gameplay
Like any match-3 puzzle game, Toon Blast requires you to match up the same color blocks and blast them off of the screen. The more you blast, the more points you get. The idea is to blast as many blocks as you can before your moves run out. If you pass the required amount of cubes, then you'll pass the level – but if you surpass this and blast lots more than required, then you'll get a perfect score and three stars.
Once the level is complete, you'll hammer your way through the blocks and allow your cartoon friends to continue their adventure across magical worlds.
Tips for playing Toon Blast apk
If you want to play the game well and survive into the later levels, then pay attention to these simple tips and tricks to help you along your way.
Don't waste boosters. You only get so many boosters, and you can use them to blast away the entire board. They make passing difficult levels easy, but you only get so many of them to begin with and they're very hard to come across later on in the game. For this reason, it's best not to waste them. Instead, only use them as an absolute last resort – perhaps once you've failed a level a couple of times and really can't get your head around it.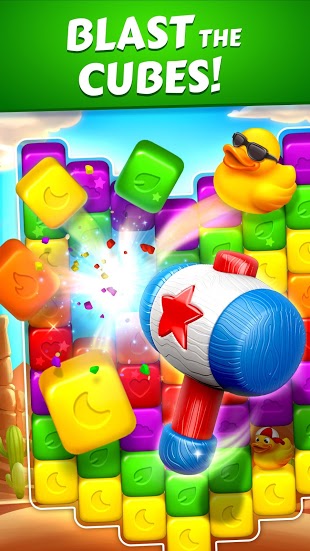 Don't worry about stars until level 15. After level 15, you'll unlock the star chest, which means that you'll actually be storing your stars. This doesn't happen before level 15, so don't worry much about storing all those stars prior to level 15. Just get through the early levels and focus on completing the later ones to collect stars if you really want to spend your time more economically.
Join a team. You can make your own team after level 20 – or you can simply join an existing one. If costs a lot of coins to make your own team, and you can join someone else's easily, so it's best to just join up with someone else and save your coins. Once you're a member of a team, you'll be able to send your teammates lives – and receive them as gifts when you're in trouble. It makes it easier to get through the later levels when you know that your team has your back.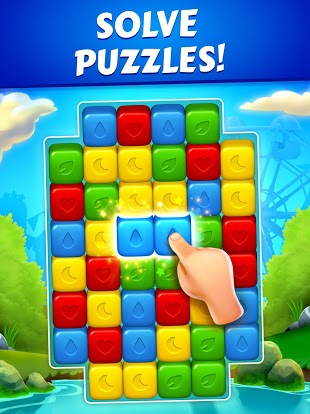 Quick lives recovery. If you really need some quick lives, then you can either wait for a couple of hours for them to regenerate, or you can just go into your Android settings and change the date and time to trick the game into thinking that more time has passed. This is exploitation, yes, but it's an easy way to get
lives for you and your teammates. Try it out when you really need more lives but don't want to have to wait for ages.
Toon Blast APK
If you want to have unlimited coins to buy more boosters and start teams with, then download the easy get 3 stars to make the game much easier for you. Just bear in mind that this will remove some of the challenge.