Real Boxing 2 APK 1.40.0
Download Real Boxing 2 APK Latest Version for Android and get some of the realest moments in boxing from your Android. Step into the ring and claim victory.
Left, right, jab, cross, hook, uppercut! Combo your opponents to an easy KO with Real Boxing 2 for Android. There's nothing more satisfying than knocking your competition into next week.
With each swipe of your finger on the screen, every impact can be felt while unleashing devastating blows. Nothing else on mobile even comes close to the realism displayed in the Real Boxing 2 game.
Graphics, sounds, and gameplay are all mixed together to give the most life-like boxing journey on your Android. Most of all, you can play wherever you go. Take your next boxing match to school, work, the park, even to a lame family dinner… Regardless, every moment is another chance to let your skills in the ring shine.
That's enough gloating, you should know more of what is to be expected of the game. Here is an analysis on the Real Boxing 2 mobile game for Android devices. Tighten your boots, strap your championship belt and get ready.
Knockout Any Challenge with Easy Controls
One of the greatest aspects of this realistic traditional boxing game are the super easy to learn controls. It's as simple as swiping your finger in the direction you want to land a hit. With each gesture, you are able to utilize a different technique.
With this type of control and fluidity, the game is even more realized. Every hit has a certain weight to it that feels so gratifying to the user. It's like your own strength is utilized to knock your opponents into next week.
Soon enough, they'll be wishing they never faced you in the ring.
But wait, that's not all in terms of immersion when controlling the game. For even more control and range in the combat, defensive moves are a quick button tap. You can block and weave using the buttons displayed on your screen. This makes switching from offense to defense seamless and quick-paced.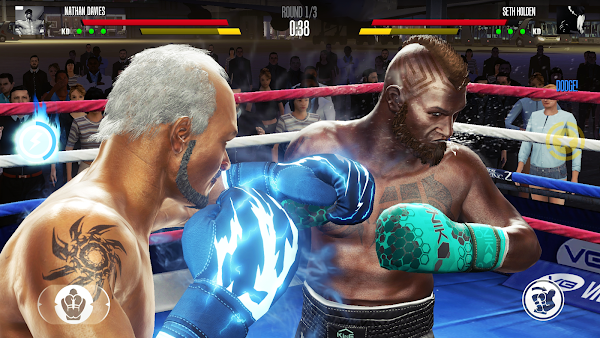 Fights actually seem as fast and heart-racing as you would imagine in real-life. Practice up on your combinations and you'll surely be a force not to take lightly.
So, what else is there to mention about how life-like the game is?
Do We Need to Mention the Graphics & Sounds?
Come on, the game is called "Real Boxing". What more could you imagine from the graphics, if the name says "real"? That's exactly what you get. Super-realistic graphics with some jarring sounds to make for the most immersive boxing game around.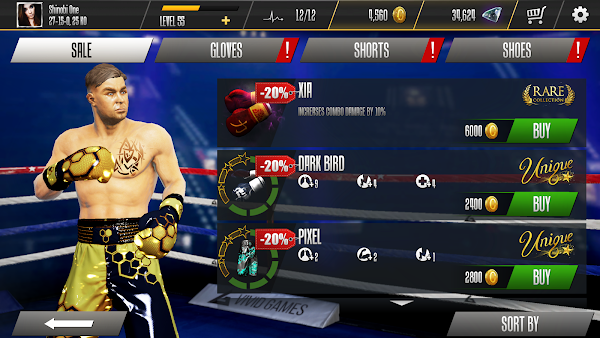 Every detail is pronounced. You can see the sweat coming off these beefed up competitors. And with every strike, the sound of the impact is ever-so satisfying to hear. You may as well be in the ring yourself.
Listen as the crowd roars in excitement for your matches. Play in awe; reimagine your favorite boxing matches, or create ones to your liking. Regardless, you control the pace of the game, you create your own scenarios in boxing history!
Get the Real Boxing 2 APK
There's no reason to just stop at the boring old version of the game. Why not take it a step further with the Real Boxing 2 APK latest version.
Finally, there's a perfect game to fully-realize the excitement of boxing. With the realistic gameplay and updated features, you have no reason not to get Real Boxing 2 APK.
Download this version to your mobile device now!