Lumbercraft APK 2.5
Are you someone who likes to chop wood and fight? Download and play Lumbercraft today and experience something new! Chop wood and defend!
Chopping wood isn't an easy job. It takes strength, time and the right techniques to do so efficiently. But if you enjoy this type of job, then you might be the perfect player to play this game! In Lumbercraft, all you'll need to do is to collect lumber by chopping trees all over the jungle. Then, you can use these lumbers to build towers, town and even houses.
In this game from VOODOO, you'll just need to chop your way to victory! But take note that you have to fight numerous enemies in different stages. To do this, you'll need to put up a tower cannon that will automatically fire at enemies. You can then fight them as well yourself so that they will be defeated easily. Aside from that, there are plenty of upgrades for you to do!
Chop Wood and Fight
Have you ever tried chopping trees or wood in real life? If you did, then you must know how difficult it is to do. It's not a simple task that can be done halfheartedly! But if you already know that, then this game might be the one for you. Lumbercraft is a game that simply lets you chop trees and fight enemies. It's as simple as that but it gets interesting as you play more! Simply put, you can try to level up and go through different stages for some insane challenges every time.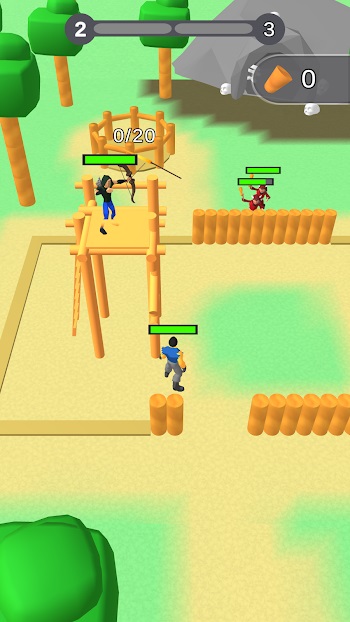 Here, you can chop trees and get the lumber you need to earn coins. There's a Lumber Mill where you can let your raw wood be chopped into fine pieces of wood ready for construction. Then, you can also go to the Blacksmith to get stronger. Here, you can level up your damage and armor! However, leveling them up costs coins so you better chop a lot of wood first before you do this. Aside from that, you can trade wood for coins! There are a lot of people who'd love to do some business with you here.
Features of Lumbercraft
If you're a muscle head who wants to test out your strength by chopping trees and fighting enemies, here's the perfect game!
Chop trees endlessly – Chopping trees may seem like a tedious job for people who don't normally do it. But for those that enjoy it, it becomes second nature to them. That's why in Lumbercraft, you'll do a lot of chopping! This game is designed so that you'll need to collect a lot of wood so you can get things going. First, you'll need to collect them so you can build structures such as towers and gates to protect yourself. Here, you can level up as much as you'd like and fight a ton of enemies! You can erect different structures to protect yourself such as one with a cannon or even with an archer. This is definitely a fun game to play as you level up and face more enemies.
Fight against numerous enemies – In this game, you'll need to also clear stages if you want to proceed and earn more! Aside from collecting wood, you'll need the right armor and weapon to fight against plenty of enemies. As you go through different zones, you'll face off against different types of enemies. You'll be given a short amount of time though to prepare yourself to defend against these enemies. During this time, you can choose to erect towers and collect more wood. Then, when the enemies come, your towers will automatically shoot at all enemies in sight. Aside from that, you can join the fight and use your weapon to fight against these cavemen. Note that the enemies get stronger as you go through different stages! They will have armor and weapons and their HP will increase overtime!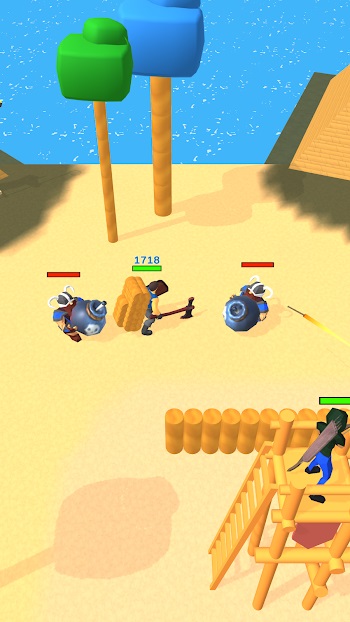 Clear stages – There are plenty of zones to clear here. There are also different waves of enemies per zone. This means you'll face plenty of enemies throughout the game. You can leave your towers to do all the heavy-lifting or you can join the fight yourself! The strategy is all yours. But you need to use your time wisely if you want to clear the stages easily.
Upgrade and sell – When you're not busy fighting and chopping trees, you can go to the home where you can do all sorts of things. Here, you can convert the trees you chopped to fine lumber using the Lumber Mill. Then, there's the Blacksmith where you can upgrade your power and armor! Then, you can trade your lumber to coins if you want in the shop.
Lumbercraft APK – Unlimited money
Want to experience wood chopping and fighting to the extreme? Download Lumbercraft now and enjoy this endless survival game.