Egg Inc APK 1.28.2
Download Egg Inc APK – latest version – for Android to get an incredible clicker game where you have to build and manage your chicken egg empire.
Eggs are the future and you're going for the top. Download Egg Inc. APK to get one of the best clicker games currently rising in the Play Store. Manage your very own egg empire and become the world's biggest egg producer.
Egg Inc. is set in the near future, where eggs are now the most valued resource on the planet. There are countless hen farms – including yours. Humble and basic farms that specialize in eggs and diary have been around for thousands of years, but now the next level of egg production must be reached for.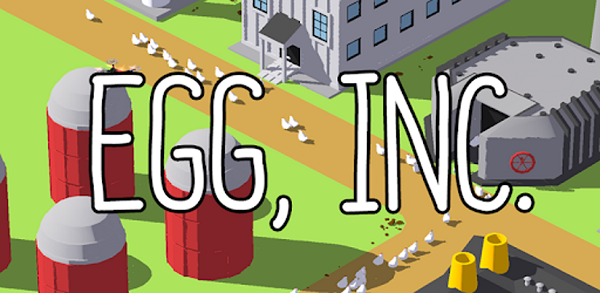 You will grow your humble egg farm into a multi-national corporation, dominating global egg trade and production. This is egg capitalism like you've never seen it before. Grow your facilities and upgrade your production houses, then research new and improved egg varieties.
Build your egg empire and dominate the global trade on dairy in this epic clicker (and clucker) game for Android.
How to play Egg Inc
When it comes to building and managing your egg empire, you'll want some top tips to make sure that you're on point. Here are some of our top tips and tricks to help your empire grow to its full potential when playing the game.
Focus on upgrading hen houses: The main way to make money – and therefore how to grow your empire in the game – is to sell eggs. To do this, you'll need to routinely send your hens to the hen house to lay eggs. There is a red button in the bottom corner of the screen with a chicken on it – press this to send your hens to lay eggs. The more hen houses you have, the more chickens you can have. This means that you should be upgrading your four hen houses as a priority.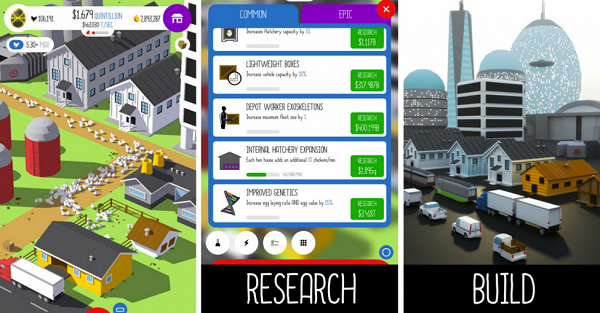 You'll also want to upgrade your transportation vehicles like trucks and so on. These vehicles are essential for taking your eggs out of your farm to be sold on the market. Finally, you'll want to upgrade your silos so that you can make more money when you're not actually playing the game.
Keep researching: Researching costs quite a bit of money, but it's worth always doing. As you research, you'll be able to increase the amount of money that you gain per egg, as well as upgrade your facilities to the point where they can support your growing ambitions. You should prioritize research that brings in more money from your egg farm so that you can upgrade your infrastructure while investing in more expensive but worthwhile research alongside this.
Prestige: You should be careful when choosing the right time to Prestige. Doing this will make you start over again, but you'll earn more money per egg after prestiging, which will ultimately allow you to progress quicker. You'll get to keep your special eggs, but will have to rebuild your entire farm and start the game again. You'll be a prestige member, though, which carries a lot of status and benefits.
Catch the drones: Every now and then, you'll see a drone flying over your farm. Tap on it and it'll drop some soul eggs and you'll make some decent cash. In the beginning of the game, the drone rewards are pretty small, but don't let this fool you – as you progress through the game those prizes will increase in size a lot. It's definitely worth always catching the drones – you have nothing to lose.
Upgrade your eggs: You'll be able to receive more money per egg the more your play the game and the more value your farm has. This takes some time to get to the highest egg values. In the beginning of the game, you'll be making $0.25 per egg, and by the end of the game, you'll be selling Tachyon eggs, which are worth $50,000 per egg (for some reason…). As you can see, it's worth upgrading your eggs.
Don't boost: Boosting costs golden eggs and it allows you to skip time up to eight hours and earn the equivalent amount of money for that time passed. The thing is, these golden eggs are required to unlock epic research. They're so valuable and hard to get that you should just be patient and save them for research purposes.
Egg Inc APK
Want to build your empire as fast as possible? Download the apk for Egg Inc. to be able to upgrade your farm as soon as possible and make bank on selling the most valuable eggs in no time. Enjoy!