Jelly Dye APK 200204
Do you love dying things and jellies? You'll have a lot of fun with Jelly Dye APK as you color all the different jelly things now. Make them look realistic now and enjoy!
Do you work hard as part of a company or are you a student who has school day in and out? If so, then you must love to play mobile games after every hard day at work or at school, right? Then, how about you play Jelly Dye today and experience a different type of game for once. This relaxing game from Good Job Games is a simulation one that lets you inject dye colors into jellies! This is a fun and relaxing game perfect for you!
To put it simply, it's literally a game where you inject different dye colors into jellies that are shaped different things. There are ones such as flowers, eggplants, trees, Earth and many more. Complete all the levels and have an amazing and a relaxing time! Try to complete all of them now.
A Relaxing Game
Sometimes, we get so worked up in our work or school that we forget to have fun when we go home. But most of us just play any mobile game that we have on our phones to relieve our stress a little. But often times, that just backfires especially if the game you're playing is stressful in nature like battle royale games. So, why not try something different for a while? For instance, you can play Jelly Dye where you just need to color different things.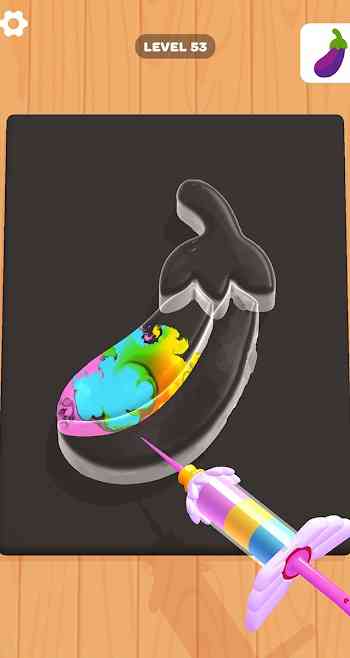 It sounds like a child's game but this one is more of a simulation that lets you inject dye colors to jellies. These jellies are shaped into different parts that form one cohesive thing! There are things such as pencils, plants, clouds, Earth, ice cream and many more. In each level, you'll be coloring different things that have various parts. You must be creative and make the jelly look as realistic as possible.
But the most fascinating thing about this game are the realistic physics of the jellies themselves. The developers made sure that the jellies were as realistic as possible which means even if you inject them, they'll still behave like a jelly.
Jelly Dye Features
Have you ever wanted to inject a jelly with different colors? In Jelly Dye, you get to do just that and enjoy!
Color Jellies for Fun – There are many games out there that gives players the most fun they can ever have. We see a lot of RPGs, action games and shooting games flourishing since they are popular. But once in a while, you'll need to have fun as well while playing. And what better way to have fun than playing Jelly Dye? This is a simulation game that lets you experience what it's like injecting jellies with dyes.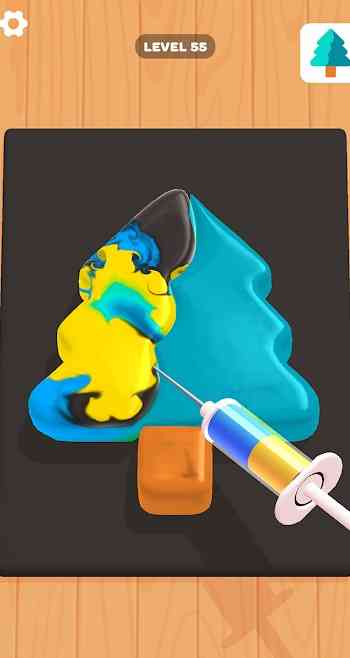 For each level, you must try to color different jellies that are shaped uniquely. They are divided into different parts that make up a whole in this game. Aside from that, you'll have different dye colors you can use and it's up to you to complete the look! This is a game that lets you tap into your creative state to help you relax.
Color Different Things – Do you feel stressed after a long day at work or after failing a test? Don't be sad and play a relaxing game called Jelly Dye now. Here, you'll face different levels each with various jellies that have unique shapes. There are ones that look like clouds, plants, shoes, a planet, a tree, an eggplant and many more. Each of these things are divided into different parts so that you can color them differently.
Various Dyes available – Watch as these things are injected with different colors! The process is satisfying as if you're doing it in real life in this game. Here, you'll see the product as you color the different parts one by one. The finish product will look like the real thing! Enjoy a relaxing game where you don't have to concentrate as much and you're free to take your time.
Realistic physics and graphics – What makes this game so enjoyable is the realistic physics of the jellies. Here, the way the jellies bounce and move around as you inject dye into them is so realistic. Then, you'll also appreciate the realistic way that the dye will spread once you inject them into the jellies. It's a simple game that will make anyone as relaxed as they can be.
Easy and a relaxing game – Are you down today? Did you just have a fight with someone? Are you nervous for some reason? Whatever it is you're feeling, try this game now and feel relaxed!
Jelly Dye APK – Latest version
Do you want to play a relaxing game filled with jellies and dyes today? Enjoy Jelly Dye and color your way out of victory.