Idle Siege APK 2.0.1
Download Idle Siege APK latest version and conquer a desolate island to become a tycoon. You must form formidable troops and acquire weapons to win the war!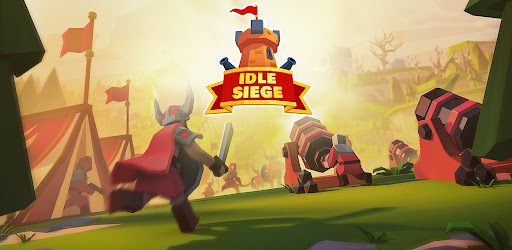 An In-Depth Description of Idle Siege APK
Idle Siege is a simulation game offered by Gameloft SE. You will be required to form an army that will help you conquer an idle island and gather all its treasures. You will also become a tycoon and start developing the island.
Additionally, this game allows you to train your commanders, ensuring that you have the best troops for the war. You must bring down fortresses, defense towers, and castles that stand your way.
If you've been looking for a war simulation game with realistic sounds, you should download Idle Siege for Android. It is only 219M and works well with all Android 7.0 and above devices.
An Immersive Gameplay
Idle Siege is your ultimate war simulation game. You can unlock a wide range of weapons and train your troops, allowing you to have the best army for the war.
The game is set on an island with multiple castles and defense towers. To win the war, you should form an unbreakable army and demolish these structures to pave your way.
Additionally, you can take down enemies, collect weapons, and upgrade them for a better war experience. You can also unlock new commanders to help you defeat your foes.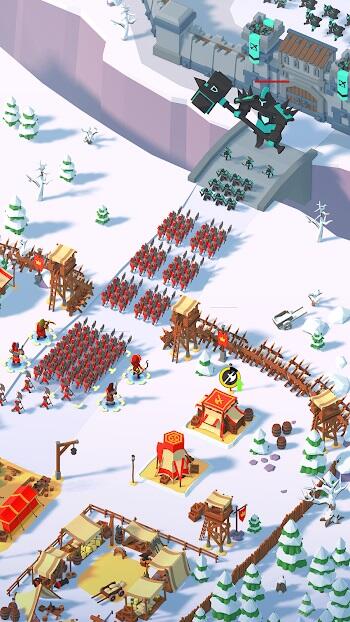 Every time you complete a mission, you will receive gold and other treasures. You can then use them to improve your weapons and establish a formidable army.
You can also use in-app purchases to unlock exceptional features. The currencies are sold in packs ranging from $0.99 to $99.99, depending on your needs and requirements.
A Highly Strategic Game
This game requires you to use your brain and strategies. You must plan your war tactics and develop a sturdy army to overcome all traps and obstacles.
The more you play, the wiser and stronger your defense will be. You must upgrade each element on your island to ensure that it is ready for war.
You can also improve the units' attributes and deploy them on missions. They will automatically engage in battle with their foes and provide you with gold as a reward.
A Graphic-Rich Game with 3D Graphics
This game features a 3D environment with stunning graphics and animations. As such, you can feel immersed in this imaginary world and enjoy battling your foes like never before.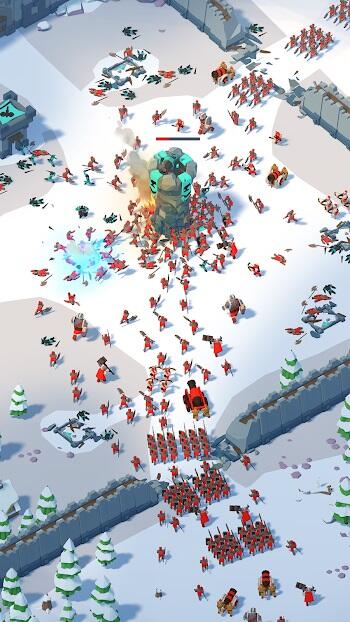 Every step you take will be accompanied by sound effects, making you feel like you're an actual commander with your army behind you, getting ready for war.
Train Your Army Regularly
This game requires you to keep training your troops even when you're not playing. You can train them using various strategies and approaches to ensure they are ready before engaging in battle with the enemy.
Even better, this game doesn't contain any blood or gore scenes. As such, it is suitable for all ages, allowing you to download it without fear of negative side effects.
You must assign tasks to your commanders to ensure that they are ready for battle. You can send them on different missions to gather resources, allowing you to become a tycoon and expand your business empire.
Unique Features of the Game
Numerous Heroes, Knights, Warriors, and Kings. The game offers different heroes, each with unique skills and abilities. You will also gain access to an archer, knight, gunner, and even a magician! Each of the characters has a distinct role and will contribute to your war missions.
Dynamic Gameplay. The more you kill, the stronger your enemy becomes. To counter this, you must develop creative strategies and train your troops before engaging in battle with these bosses. They hold great power and will bring you high levels of rewards if defeated successfully.
Customize Your Gameplay. The game allows you to set different strategies and customize your gaming experience. Whether you want to focus on attacking the enemy or increasing resources, Idle Siege will allow you to do anything.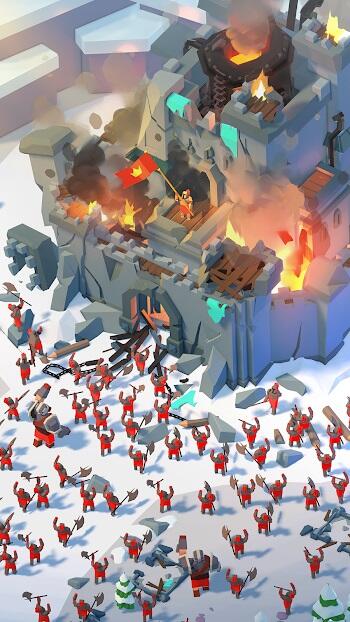 Use Different Army Types. The game comes with different army types, such as archers, cannons, barbarians, and magicians. You can combine them to create the ultimate war machine that will defeat your foes with unmatched ease.
Various Missions. The game features numerous missions for you to complete. Each mission offers a different challenge, helping you develop your skills in war strategy.
Build Your City. You can build your city, upgrading it to make yourself stronger. This will enable you to win any war and overcome traps and obstacles easily.
Use Various Weapons. You can also use various weapons, including guns, cannons, archers, bows, swords, axes, and hammers. You can unlock new weapons as you progress through the game and upgrade your armory.
Idle Siege War Simulator APK
The Idle Siege: War Simulator Game APK is the modified version of the original app. It provides unlimited everything and other outstanding features, including: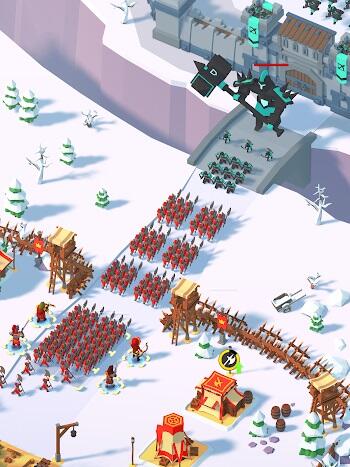 All Bugs Fixed. The app offers a smooth gaming experience. You will no longer encounter errors or crashes during gameplay, allowing you to play uninterrupted for hours on end.
Conclusion
Are you looking for an adventure game that requires a strategy to win? Idle Siege War Simulator APK is a perfect choice, offering numerous enjoyable features. It is available for free, and you do not need to pay anything to enjoy it!
The game challenges you to build your empire, train your army, and defeat enemies in various war missions. You must also upgrade your skills and weapons if you want to become the ultimate war hero!