Hurricane Outbreak APK 2.1.5
Download the Hurricane Outbreak APK  - latest version - for Android to experience causing death and destruction by developing hurricanes - of course, without the actual consequences!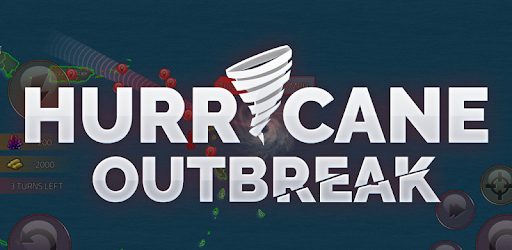 Love taking control and playing god? You might want to try your hands on a hurricane. Better yet, be the hurricane. Yes, build up your wind speed and decide which countries or provinces to affect and how much damage you want to inflict.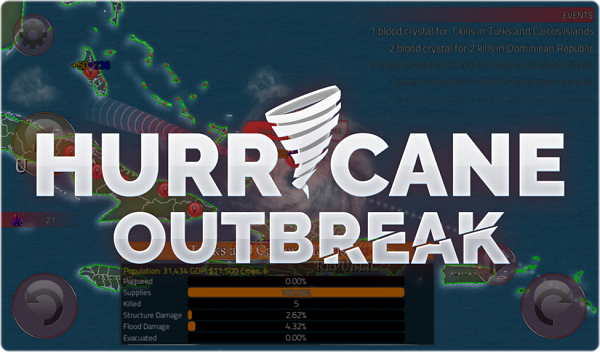 Just another strategy and simulation game? Not quite. Usually, this type of game only lets you affect the skills and abilities of the epidemic or outbreak. However, with Hurricane Outbreak, not only will you increase the strength of the hurricane but you can control the direction as well. Do you have what it takes to create the most dangerous Hurricane?
Simple Graphics
The graphics of this game are not as complex and advanced compared to others but it's not an issue in this case. It doesn't, in any way, affect gameplay either. In fact, it helps it to be even more realistic. You know how weather forecasts present a 2D bird's eye view of the area? That's exactly what you can expect to see in Hurricane Outbreak.
Realistic Gameplay
Every level starts you off in the middle of the ocean just like how hurricanes are in real life. During that phase, you have the opportunity to build up your wind speed by coasting through the water or by draining vapor clouds. The greater your wind speed is, the longer you can stay on land and deal more damage. Isn't that just how hurricanes are?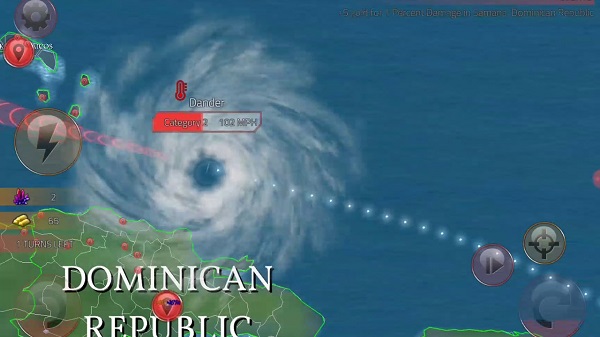 In each scenario, you will be given different quest requirements that only get challenging after every level. Think you can handle hurricanes? Try getting yours to reach category 5, cause major floods, damage more than 3,000 structures, and manage to make landfall in more than 5 countries. Apart from giving you entertainment and helping you pass time, this game is indeed educational as you learn the technical aspects of a hurricane so you can be more aware and prepared for the real ones.
Full Control
Normally, games like this only give you access to the main attributes of the outbreak you're trying to create. In Hurricane Outbreak, you get to upgrade your hurricane's capacity, ability, and strength. Think your hurricane can cause floods, deaths, and structural damages?
Upgrade your hurricane's Capacity to increase its strength faster when you coast through water and making it resilient on land so you can deal more damage. Purchasing the upgrades on Strength gives your hurricane a boost in causing more flood, death, and structural damages.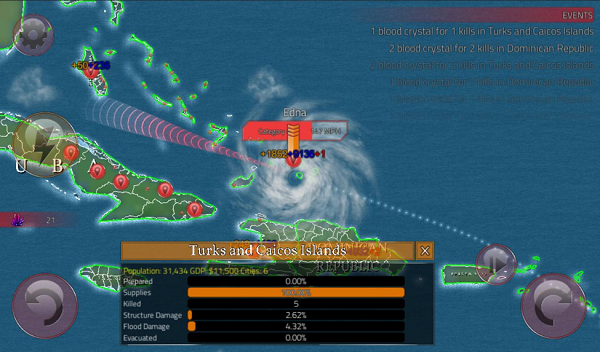 To make it even more dangerous, upgrade the Abilities of your hurricane as well. This prevents the locals from restoring the damage you've made. You wouldn't want others to get in the way of your progress, right? Same goes when you're a hurricane!
This game allows you to control most of the aspects of a hurricane. Even better, you also decide which path you're going to take and which countries you're going to damage. Confident that your strength, capacity, and abilities are enough to complete the quest? In other games, they still factor in luck. With Hurricane Outbreak, it's pure strategy and skill.
Different Scenarios
If you're under the impression that you'll get bored with this game after a few rounds, Hurricane Outbreak would like to challenge you. The tasks in each level gets increasingly difficult as you advance through the quests. It takes patience and a well strategized plan before you can complete a level - let alone do it successfully in one try.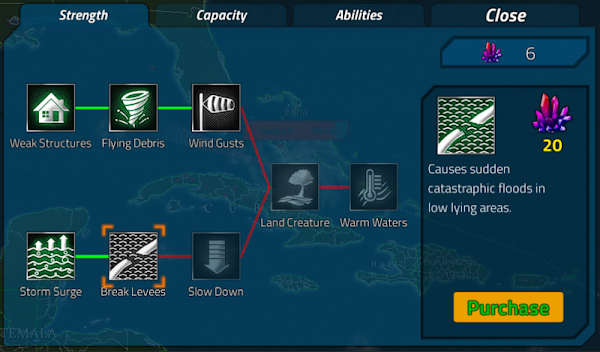 When you first start this game, you will go through the Realistic scenario. Each set of levels is categorized in the required hurricane strength. The higher the strength, the harder and longer it is for you to build it up and maintain. As soon as you finish the 5 categorical levels of hurricane, don't make the mistake of thinking you've finished the game - you've just finished a set of quests.
After you've finished the Realistic scenario, the game only gets better as you unlock the Freeplay version. You'll slowly realize that the previous scenario was just mere practice. The mechanics of the Freeplay scenarios are pretty loose but you're now up against other users, also known as 'stormers'. Can your hurricane really wreak havoc as much as you thought you could? There's only one way to find out - top the leaderboards!
Tips for Playing Hurricane Outbreak
Go Through Tutorial - This game allows you to jump right in and play which is both a good thing and a bad. If you can easily pick up game mechanics and know how hurricanes work, not having to go through tutorials is a great time saver! However, if you're new to the game and confused as to why your hurricane keeps dying, you might want to go to the homescreen and read the tutorial on the top left of the screen.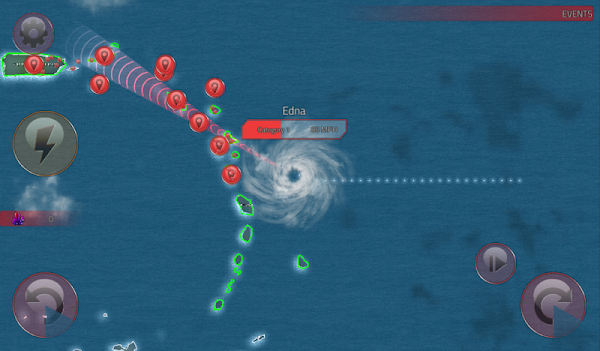 Be Patient - When you're trying to build up your hurricane, especially if you need it to get to level 5, you need to be more patient and coast through the water longer. At the same time, don't wait for it to be too strong before hitting the land. That will only make it longer for you to complete the quest. Try passing by small provinces to deal damages and cause floods then get back to the water to build wind speed. Repeat the cycle until you've reached the required hurricane level.
Hurricane Outbreak APK
Quite honestly, having to redo levels as you try to tweak your strategy can be frustrating. At the same time, there's also no way for you to get more Hurricane Points until you complete a new quest - or do in-app purchases. This makes the game a little slow too. Especially if you don't like paying to play.
Don't worry, the developer is actually listening to the suggestions of users and is constantly making updates. Make sure to keep your Hurricane Outbreak APK updated to its latest version to enjoy the latest fixes and features.