Happy Mall Story APK 2.3.1
Download Happy Mall Story APK – Latest version – Free for Android if you want to create and design your own shopping mall! Can you get plenty of customers?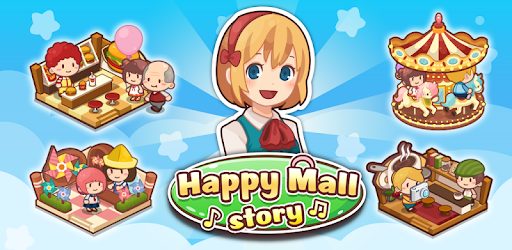 Simulation games have been popping up left and right recently. They are becoming more and more popular as more people recognize them. It's because they focus on a single topic and make it as fun as possible. Even the seemingly most mundane things can become fun in simulation games! Take malls for example. If you love malls, you'll love this game!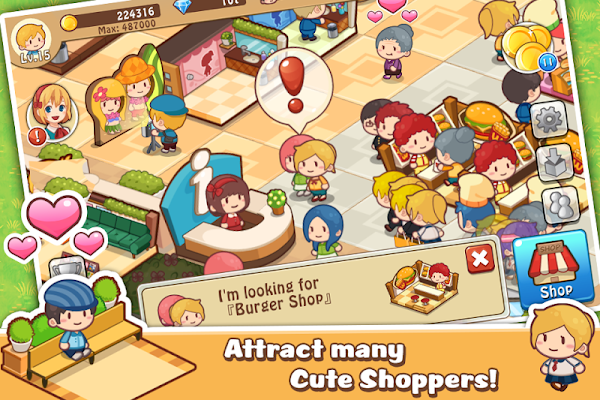 Happy Mall Story is a simulation game that allows you to create your own malls! Malls have always been a symbol of prosperity for cities and if you've always wanted to build one, this games for you! Design, build and fill up your mall with shops, special attractions and other things! Try to rake in as many shoppers as possible so that you can have more money! Read on to learn more.
What is Happy Mall Story?
There's a high chance that you've been to malls at least once. Malls are everywhere these days and it doesn't seem like they would be going anywhere anytime soon! But what exactly makes malls so much fun? Is it the buildings? The shops or just the sheer presence of it? Regardless of your answer, if you love malls, this game is perfect for you!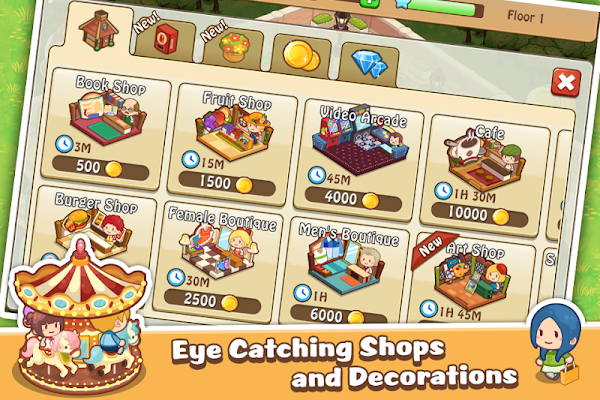 Happy Mall Story is a popular mall simulation game that's been downloaded 10 million times now in Google Play Store. In this game, you'll be creating and designing your very own mall! Fill it up with shops, create new floors and entice many shoppers to your mall for profits! Expand your mall as you have more money to generate even more profits. There are plenty of things to do in this game! Read on to know more.
Features of Happy Mall Story
Happy Mall Story is a simulation game that allows you to build, design and run your own mall! Fill it with different shops to generate more profit! Here are its features:
Design your mall – The beauty of having your own mall is having the freedom to design it however you want! In Happy Mall Story, you can design your own mall and fill it with shops, attractions and other amenities to your liking. Want to have an enchanting mall for kids to play in, you can do so! Want to have an all-in-one mall where all the shops will be in? You can also do that! Whatever you wish, you can do in Happy Mall Story. Your mall, your call!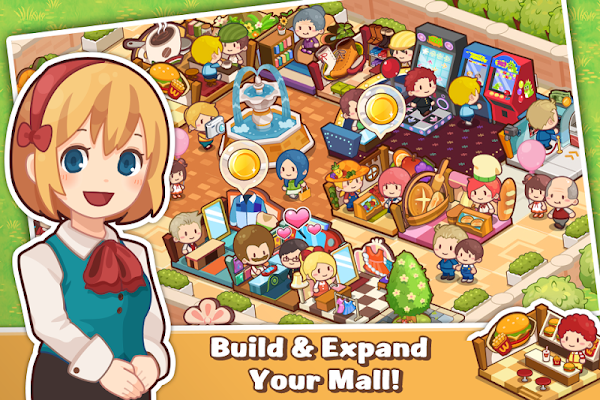 Shops – What would malls be without the shops? These are your primary sources of income. As more and more customers buy from the shops, you will gain more profits! Try to add a vast variety of shops such as book stores, video arcades, fruit shops, cafes, boutiques, art shops and more! By expanding and adding more unique shops, you'll increase your chances of attracting more shoppers.
Cute graphics – Happy Mall Story aims to give players a very cute gameplay. This is why the graphics are as cute as ever! The characters are all bite-sized and they give off very cute animations. It's as if having your own miniature city! In this game, you will see many things that your customers will say. Then, there are different designs that will allow you to enjoy the game!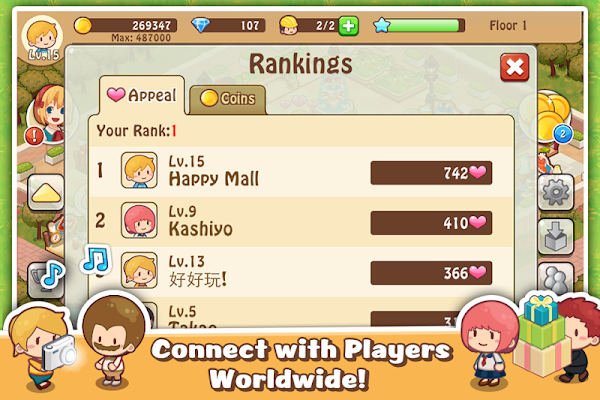 Easy controls – In Happy Mall Story, the controls are easy enough for anyone to learn You just need to tap the respective buttons. If you want to build a shop, simply buy from the shop! Then, you can manage the shop by panning the screen.
Offline gameplay – Lastly, your mall still runs even when you don't have internet connection. This will allow you to get idle profits!
Happy Mall Story APK
Happy Mall Story is an epic simulation game that allows you to design, create and run your own malls! Download the unlimited money now to unlock everything!