Weed Firm 2 APK 3.2.10
Download the Weed Firm 2: Back to College APK - latest version - to experience growing and selling pot in the underground without actually getting in trouble for it.
If you're into business simulations, you might want to practice your skill with this game! More so if you've ever dreamt of growing your own weed empire. Whether it's legal in your state or not, no one's going to hound you here. Live your dreams and become the dopest weed dealer in your area!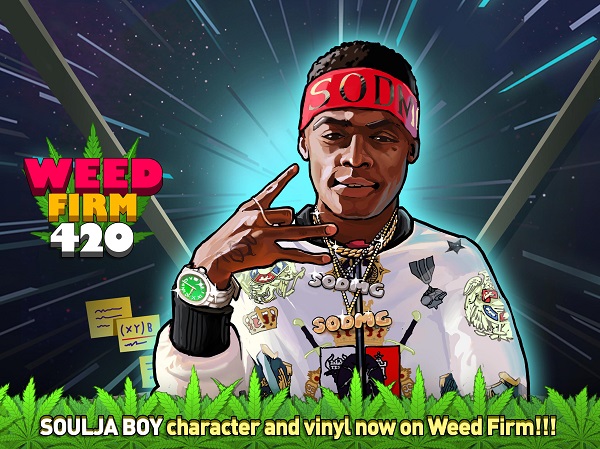 What makes this different from other similar simulation games is the fact that there's always something to do. Plus, you know how some games limit your actions because you've used up your energy? That's not going to happen here. Ready to pass time? Read on!
Interesting Characters
In this game, you'll meet different characters from different walks of life. You sell them the pots you've grown to earn cash and gain their respect. You can even roll a joint with them in order to get more 'high' and to increase their respect meter even more!
Apart from customers, you'll also deal with gangsters who will try to get your money, and cops who will arrest you if you don't pay up! With the latest version, experience selling some of your stash to Souljaboy too. Then as you get higher, you will start dealing with aliens and sell them magic mushrooms.
Different Weeds
Think you know enough cannabis? Not until you've played this game. We all know Bush Weed is not enough. Plus, handling only one type of weed is boring! This game exposes you to the different weeds available. This will surely keep you entertained as well as curious whenever you unlock a new strain of cannabis!
Have you ever rolled an OG Kush? You will in Weed Firm 2: Back to College! Just like in real life, when you've started with what you think are basic joints, you will start craving to get your hands on those legendary weed strains! Imagine being able to sell them too!
Advance Through Levels
This game is pretty simple and straightforward. You plant weeds, water them, then sell them. You might think it gets repetitive after a while but actually, you'll never feel anything close to boredom when you start playing this game. It only gets addicting as if you're really smoking those joints!
In order to level up, you need to accomplish a set of given tasks written on the blackboard. When you level up, you get to meet more characters, plant more strains of cannabis, and even have the courage to plant outside of your first shop! Will you ever be ready to meet aliens and grow magic mushrooms?
Upgrade Your Shop
In Weed Firm 2: Back to College, you literally start from zero! Your shop is located in an old gym with damaged floors and faded walls. A way to show your customers that you're serious in hustling weeds is to show them improvements once in a while, right?
As soon as they see those upgrades, the more they trust you to have better supplies, and you can expect them to know more frequently. Plus, whenever you put up new wallpapers, sofas, or any other items in your shop, it has an effect on the frequency of your visitors or the quality of your pots!
Tips for Playing Weed Firm 2: Back to College
Store water and seeds - It is natural for players to grow the cannabis as soon as you plant buy them. That keeps you going for sure but when the gangsters come at you, you might be left with nothing and you're going to be stuck. To avoid this, keep a stash of seeds and bottles of water so you will have a fallback when those gangsters try to ruin your business.
Purchase Safe - Whenever you deal with customers, you have the option to piss them off, sell stash, smoke joint, and buy from them. When you get to level 5, the mechanic will try to sell you a safe. When you get the opportunity, don't let it pass. When gangsters knock, hide your cash and weeds inside before answering the door. This will help you big time, trust us!
Always Harvest - Before answering the door, make sure your pots are empty! You can avoid needing to piss off your visitors and you can have enough stock to smoke joint with most of them too. Plus, the most important reason: you get to hide them from the cops! No evidence, you get away.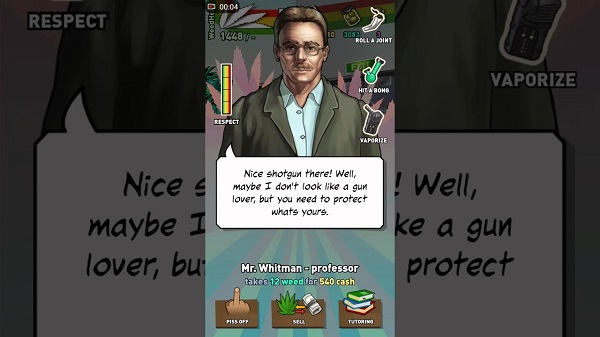 Interact with Customer - When you answer to a visitor, you have the option of smoking joint or bong with them. Apart from the immediate effect of increasing Respect, when you're trying to purchase expensive items from them, they'll be high enough to give you almost 50% off. For some items, that's a steal!
Complete Tasks - With this game, it's easy to get lost on the goal of increasing your money and weeds. However, while that is part of the game, in order to keep things interesting, you need to make sure to meet the tasks required for each level.
Fast Forward Trick - If you can't wait for your weeds to grow but you don't want to spend for fertilizers too, you can do this trick: after planting and maxing out the water meter, go to your phone's settings and change your time a few minutes early just in time for your cannabis to fully grow. Then get back on the app to harvest the weeds!
Weed Firm 2: Back to College APK
Honestly, most players would rather not waste their stock by smoking joints with their visitors. Although it gets you high so you can plant and water more weeds, you'd rather sell for cold cash! Plus, watching ads is a dealbreaker too.
Here's a deal: download the unlimited money now so you can have access to unlimited money, high, and weed. It can never get better than that!