Fun Hospital APK 2.23.6
Download Fun Hospital APK – Latest version – Free for Android if you want to run your own hospital to make money! Treat more patients now and run the biggest hospital!
Simulation games have always been really popular during the past decade. In these games, we usually build things such as theaters, cities and even hospitals! We build them and then try to run them successfully to expand our operations and earn more money. That's the same in the real world. If you're fond of hospitals and running businesses, then you'll love this game!
Fun Hospital is a simulation game developed by OrangesGame Technology Limited. It has over 1 million downloads in Google Play Store now. In this game, you can freely build your own hospital and make it your own! This means you can decorate it however you want and choose the facilities that suit your theme. You'll also need a dedicated medical staff to help you treat patients and run your business. Read on below to know more!
What is Fun Hospital?
Hospitals have always been a place where most kids and even adults stay away from. It's because there are tons of sick patients in hospitals and it contains tons of experiences. However, at a business standpoint, they are very profitable especially if you run a big hospital. If you've ever wish to run your very own fun hospital, this game is for you!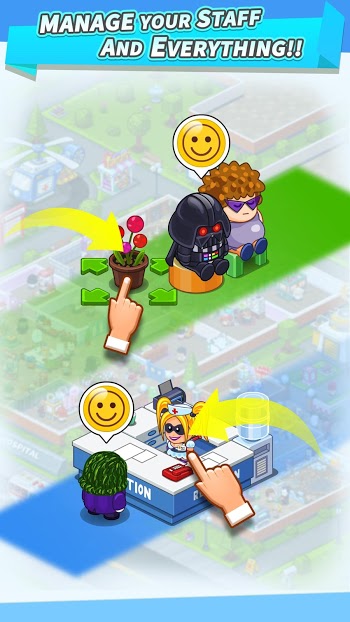 Fun Hospital is a simulation game that lets you create and run your own hospital empire. In this game, you'll have the opportunity to build your own hospital, arrange it, and decorate it to however you want. You can cater to tons of patients that aren't just humans but other species as well. Can you build your dream hospital? Read on below to learn more.
Features of Fun Hospital
Fun Hospital is an awesome simulation game that lets you create your very own hospital! In this game, you're in charge of making sure everything is in order. Here are the game's features:
Build your own hospital – The most fun but the most challenging aspect of this game is building your own hospital. In Fun Hospital, you're free to choose the design, arrangement, and the decorations of your hospital. You need to have tons of money to accommodate your wishes and build more facilities in your hospital. Treat more patients to earn more money! In this game, there are tons of departments you can create such as the pharmacy, operating room and many more.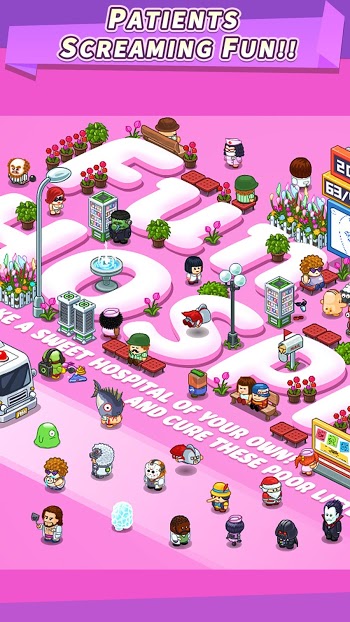 Create your medical team – Of course a hospital wouldn't be complete without the medical team! In here, you'll need tons of nurses, doctors, pharmacists and medical personnel to help the patients! Of course, these cost money but as hire more staff, you can accommodate more patients! Train, equip and upgrade them to improve their performance. This will allow you to earn more money as a tycoon! Can you expand and make the biggest hospital ever?
Different patients and diseases – Fun Hospital isn't just a hospital for normal people. In this game, you'll also encounter different patients such as zombies, ghosts, aliens and more! Each of them has specific sicknesses that you need to cure. This makes this game so much fun as there are tons of unique patients you'll encounter as you make your way to financial freedom. The best part is, you'll also recognize tons of popular characters as patients in Fun Hospital such as Dr. Strange!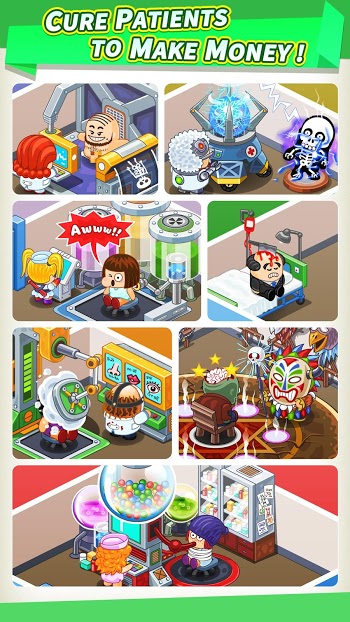 Unions – In Fun Hospital, you can create or join a union. You'll need to help the union complete tasks to increase your ranking in the Medical Tournament. The top hospital unions get more money every week!
Cute graphics - Fun Hospital is truly a fun place to be thanks to the cute graphics of the game. In here, there's no trace of the hospital that we know in real world. Everything is designed to make running a hospital an enjoyable experience!
Download Fun Hospital APK for Free – Latest version
Fun Hospital is a fun and interesting hospital game for everyone! Download now to enjoy all features!