Drive Ahead APK 3.24
Download Drive Ahead APK – Latest version – for Android and create monster trucks to test your car fighting skills against others!
Usually when we think of cars, we associate it with racing. After all, that's how most car games are designed, right? But once in a while, some developers try to think of something new and deviate from the rest. The result? Some epically violent games!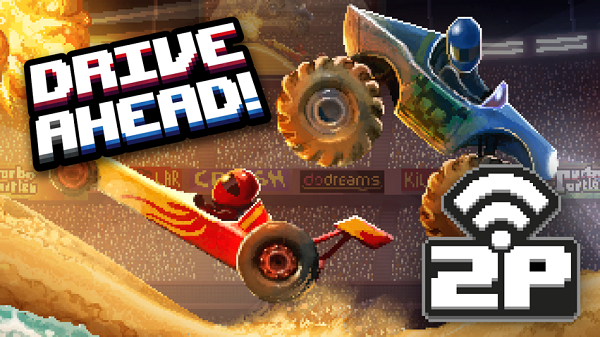 Drive Ahead! is a monster car fighting game that tests your fighting skills using cars! In this game, the goal isn't to cross the finish line. Rather, crush your opponent using any means necessary! Do you dare to enter this world?
Car Fighting Madness
Do normal racing games bore you? Are they too soft for you? Are you looking for games that are centered around cars but also has some fighting in it? Look no more! We present to you – Drive Ahead!
In this game, disregard everything you know about cars. There are no storyline and no quests – only mayhem! In this game, you fight with another brave warrior in a car in a match of gladiators. Thousands of crazy spectators watch as you two give it your all and wreak havoc to each other.
This is a game that we've all thought of when we were kids. And now, it's a reality, sort of. Well, in this game, the first player to get crushed loses! That's how easy it is.
Two Modes
In order to give the game a bit of a variety, they have 2 modes for you to choose from. The AI mode and the PvP Arena mode. For the AI mode, you need to fight against a difficult computer opponent. Even though they are not players in real life, they are just as tough – if not tougher! As you beat one AI, the next ones will be harder. Watch out for your back and try to predict their movements!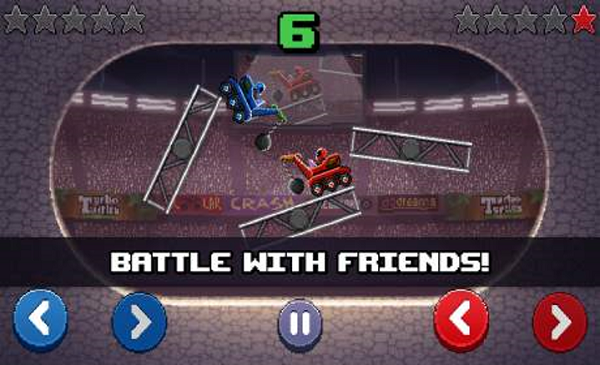 But if you want to duke it out with real players worldwide, then the PvP Arena mode is for you. You'll be fighting against a random online player in this mode. Or you can invite your friends to connect via wifi or Bluetooth to see who's the best! Test your car fighting skills and put your will to the ultimate test. Can you keep your winning streak against the best in the world?
Features of Drive Ahead
Aside from this unique way of playing with cars, the game offers a ton more features you shouldn't miss! We've broken it down for you here. Here are the top features of Drive Ahead:
Easy controls – The control is as easy as touching the right and left side of the screen to go to your desired direction. Swipe upwards to make the car jump as you please. To win in this game, you need to drive your car towards the opponent. You get 1 point for every successful one. You win the match when you reach 5 stars.
2 Modes – In this game, there are 2 modes to choose from. The AI mode and the PVP mode. In the AI mode, you play against computer-generated cars. But they are equally as tough as player opponents in PVP. Can you handle the heat and come out on top?
Lots of cars to unlock – At the start of the game, you're given a box to unlock a random vehicle. After being victorious in some matches, you'll be rewarded some money that you can use to unlock new cars. You can choose from a variety of cars from trucks, racing cars and even a banana car. It's your choice! Just make sure to choose wisely.
Fun Graphics – More and more games nowadays seem to adopt the 8-bit pixel graphic style for modern games. In Drive Ahead! it's a wise choice to go this route as there are some aspects of this game that wouldn't sit well when the graphics are ultra-realistic. But even if the graphics are in pixels, it's still looks great with a bit of a modern touch! It doesn't affect the gameplay at all, in fact it magnifies it!
Tips for playing Drive Ahead
It might be tempting to download this game and just play it recklessly. While that's an option, it doesn't hurt to know some tips here and there! So, with that said, here are some tips:
Reverse your car when in danger – When you see that your car is in danger of flipping over, try to go in reverse! This may save you from getting knocked out. Just make sure to don't overdo this as you might end up going too far back!
Complete the missions – Aside from the game, there are missions for you to complete so you'll receive bonus rewards. Try to complete the mission which is usually winning a certain amount of game using a particular vehicle. Try to do them as much as possible because they can yield you great rewards!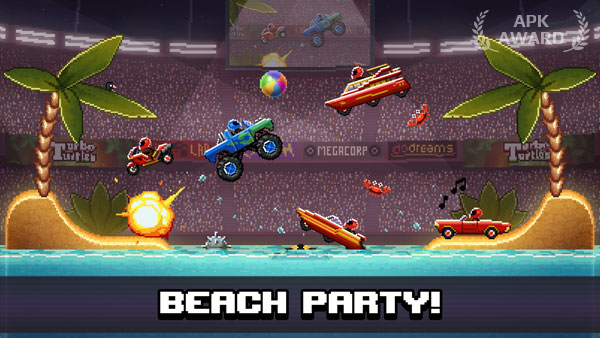 Get the big cars – In this game, the bigger vehicle has a more obvious advantage! You can quickly crush your opponent with a bigger car. Try to select the Minibus or the Garbage Truck as they're heavier and provide a higher ground clearance. This will allow you to easily mow your opponents especially if they have a significantly smaller car!
Plat the slot machine – In this game, there are slot machines available to increase your rewards. You can unlock vehicles and levels by playing this. In the first couple of spins, you won't have to bet anything higher than the minimum amount which allows you to always win.
Pick the ramp – You can let the game randomly select the level for you but to increase your chances of winning you shouldn't do this. Instead, pick the level called "Ramp". This is because this level is a flat island with just one tiny bump at the center. This way, you can race ahead in the middle and beat your opponent.
Drive Ahead APK
Tired of having to play for hours just for new levels and cars? Then download the now to get unlimited coins!