CSR Racing 2 APK 4.7.1
Download CSR Racing 2 APK Free shopping to experience the thrill of shifting gears and making it to the finish line, without risking your life!
If you're into vintage cars and unleashing their fullest potential, this is the game for you. More so if you crave the adrenaline of drag racing! CSR Racing 2 would get you to the edge of your seat as you try to get your car at full speed!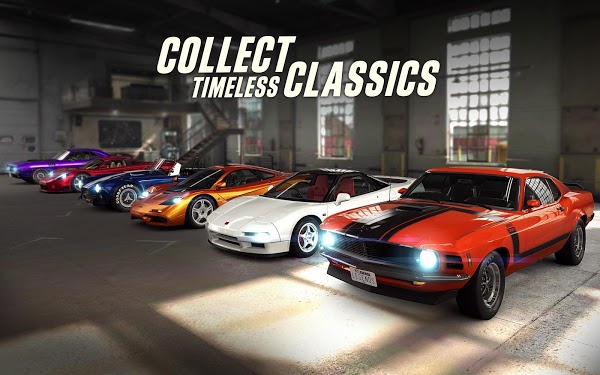 What makes this drag racing game better than the rest? Well, this game is not just about racing. Tilting screens and managing the curves? Nope. You can't play those in public. This is a simpler, pure head-to-head action. Only the finest tuned-up cars and the master stick shifter wins! Getting worked up? Read on!
Classic Car Restoration
This game features legendary cars from the 1960s. Ever dreamt of owning a McLaren P1? How about the Aston Martin DB5? In CSR 2 Racing, you don't just get to own them but you can now experience revving them up to their max too!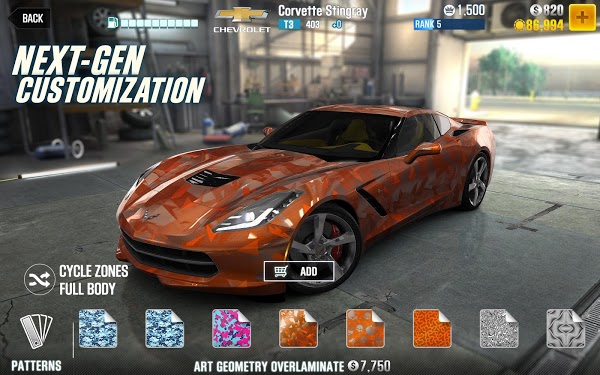 Another thing. Unlike the usual car games, when you unlock a car, the image remains the same no matter how much you upgrade it. When we said you're going to restore those classics, we meant you'll see them all rusty. Yes, you read that right. You'll race rusty classic cars. Slowly spend time restoring them until they become shiny and sophisticated!
Photorealistic Graphics
One of the highlights of CSR 2 Racing is its astounding highly detailed level of graphics. For the ultimate car enthusiasts, this game will give more than enough justice to your favorite cars! Loving the curves of a Bugatti Chiron? You got it! There's no detail small enough for CSR 2 Racing and honestly, other games need to keep up with this! It's 2020!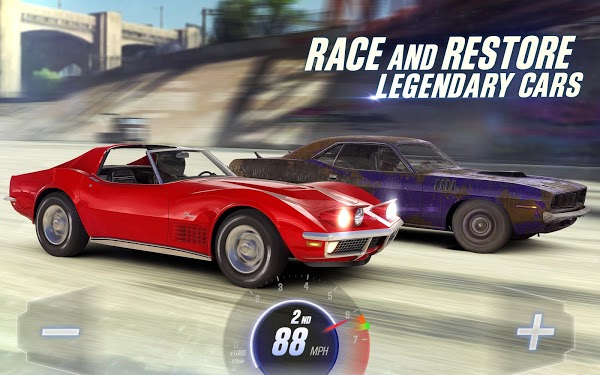 Get almost the same feeling of owning a Ferrari FXX K in real life. Not just that, you can customize it, tune it, and upgrade it as much as you want! Trust us, this is the closest you can get. This game is hyper-realistic, you'd wish to get inside the game and drive it - or touch it at the very least!
Different Game Modes
The CSR 2 Racing will never bore you! It has multiple game modes that you can play through and each level would make you want to get that latest upgrade for your car! Not just that, you will really keep on playing because, with CSR 2 Racing, perfect timing is everything. The difference between winning and losing can just be about your perfect start and shifts, minus the tuning. Each car is different so you'd end up spending hours trying to master the perfect start and shift timing.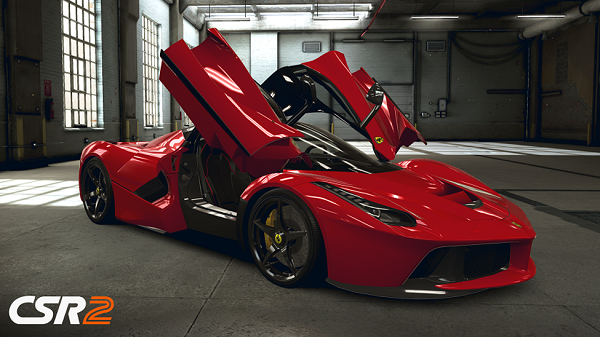 This game has the Ladder Mode and all those other modes to keep you playing. Usually, most games will only let you play against computers. Not this game! CSR 2 allows you to do Live Races where you can battle other players in real-time. Plus, you don't have to play alone. You can join or create a crew and be the most prestigious!
Full Customization
What's a car racing game that won't let you upgrade your cars, right? It misses the point. CSR 2 Racing knows the importance of upgrades so they decided to take it to the highest level. This is not the type of game where you just click on the upgrades and know they're there because you're winning. That's boring and way too ordinary for CSR 2 Racing.
This game allows you to upgrade all areas of the car and actually lets you see which part you're changing. It gives you a blueprint so you can have a better judgment if that part is worth upgrading first. Apart from that, you get to tune-up the tire pressure, nitro, and final drive so you can get the most out of your cars!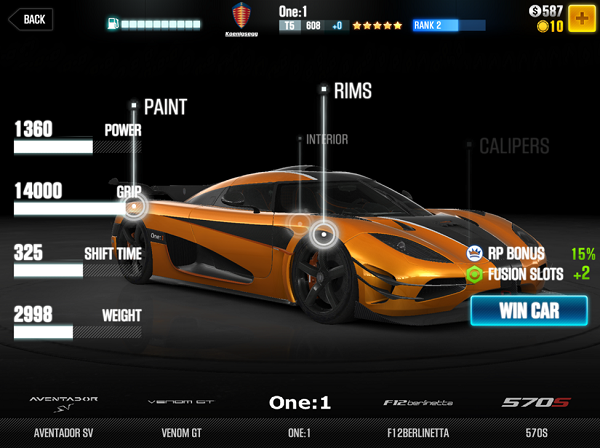 Last but definitely not least, this game allows you to customize the car fully up to the very last detail. Usually, car appearance is the least priority of other car racing games. Not with CSR 2 Racing! They allow you to customize down to the calipers and the interior of your car! It can never get better than this!
Top Tips for CSR Racing 2
Perfect Start - this is one of the crucial parts of the game and one of the early determinants of your success. Before the countdown starts, it's best practice to rev your car until the speedometer reaches maximum position. As soon as the countdown reaches '2', release the accelerator so it hits the optimal rev at the same time the race starts.
Boost Sparingly - Treat boosts as your salvation and use it only when you're actually losing. When you get a perfect start and you keep hitting the optimal shift timing, the more you shouldn't use the boost. However, the perfect start and timing is not everything. Sometimes, it has something to do with your car's tuning. Whichever the case, if your opponent is getting ahead of you, that's the only time you should hit boost.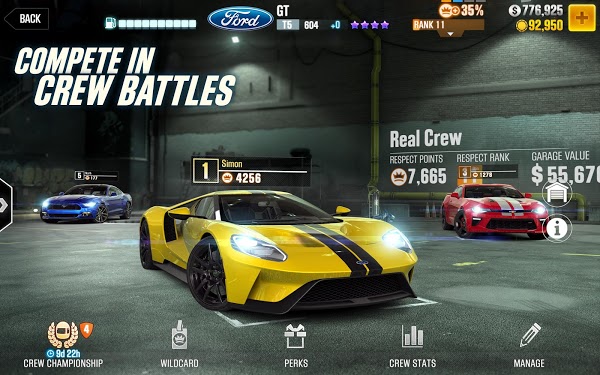 Switch Up Nitrous Oxide - Different types of races calls for a different balance in your NO. If you're up for a half-mile race, you'd want to decrease the power of your nitro and increase its duration. However, if your car has low acceleration, go for a shorter but powerful NO duration.
Keep Tweaking - Before entering a race, you'll see the race's duration. Tune-up your car so you can increase your chances of winning. If you lost, don't be quick to exit the screen. Look at where your opponent beat you. Lastly, if you just can't keep up, observe how your tire spins during a race then tweak the pressure to get its optimal performance.
CSR Racing 2 APK - Unlimited money
Going through all the levels and beating bosses won't cut it especially if you want to join the most prestigious crew in your area. You need to get enough Cash and Reps but honestly, that takes a lot of time. To get ahead faster, just download the CSR Racing 2 mobile apk unlimited gold now!
Similar racing games: Asphalt nitro 2