Cooking Fever APK 19.0.0
Download Cooking Fever APK – latest version – for Android to put your cooking and servicing skills to the test! Are you ready to cater to the rush?
Cooking seems to be a hobby for a lot of people. It seems to calm them down when they are anxious. But for some, it was their childhood dream – becoming a chef of a 5-star restaurant. Do you still have that dream?
A Real Deal Chef
Don't give up on that dream yet! You can practice your cooking skills for the meantime in Cooking Fever APK for Android! Your cooking and your management skills will be put to the ultimate test as you try to manage your own restaurant. Think you have the culinary skills needed?
In this game, you get to realize your dreams of becoming a world-class chef. Cook dishes that will wow your customers and keep coming back for more. You'll also have the ability to choose your restaurant location such as a fast food or an Asian restaurant. Your culinary skills will truly be put to the test as you cook for customers and experience thrilling new dishes to whip out.
Similar game: Cooking Frenzy: Madness Crazy Chef Cooking Games APK
Also, you'll need to brush up on your cooking tools knowledge as you'll encounter every kitchen tool there is such as toasters, coffee makers, popcorn machines and many more. Of course, each level will become difficult as more customers will lose patience and will need complicated orders. It's up to you to level up your game to keep with the ever-growing demands. Will you have what it takes?
Manage Your Own Place
In Cooking Fever, you'll also get to experience not just being a cook but also running a restaurant. You may soon realize that running your own place isn't as easy as cooking a hard-boiled egg. You also need to think about store decorations, the menu, furniture and fixtures to attract customers. Think of how you can entice your customers to spread the word that your food is delicious!
But be ready for an influx of customers because the rush hour is a nightmare to deal with. Just like in real restaurants worldwide, people are irritated when their orders are pushed to the side and when you make mistakes. Be very careful with your cooking such that you exceed their standards. Also, you can give guests gifts like butter cookies to associate your restaurant with good experiences. The better you serve your customers, the more restaurants you'll be able to have.
Features of Cooking Fever
To truly appreciate the greatness of this app, we'll list down all the features that this game has to offer. Even if you're not a fan of cooking, we promise that you'll be curious about this whole thing. Who knows, you might even be inspired to cook after playing the game!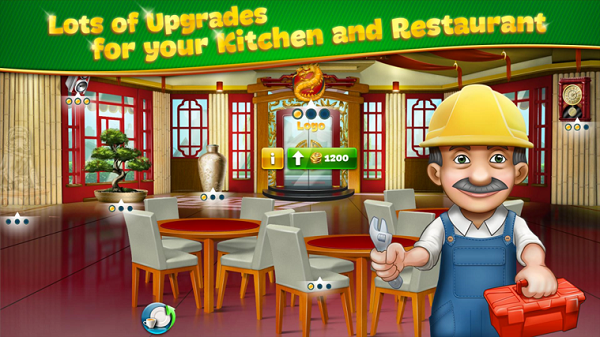 Variety of food delicacies – One of the best aspects of owning a restaurant is serving a variety of different dishes to customers! In Cooking Fever, you have access to more than 1300 dishes from 350 ingredients! The only limit is your passion to cook more diverse food for guests.
Rewards – We know that cooking isn't easy, that's why the game rewards you with gold and experience for every successful meal served! Compete missions and earn levels to progress in the game! The more efficient and skillful you are, the more experience you'll earn that you can use to unlock all sorts of things in this game.
1400 levels – Yes, you've read that right! This game offers 1,400 levels for you to conquer! Not only that but you can certainly replay the previously completed levels to collect more coins! Talk about a never-ending cooking experience. You'll most likely be addicted to complete all the levels.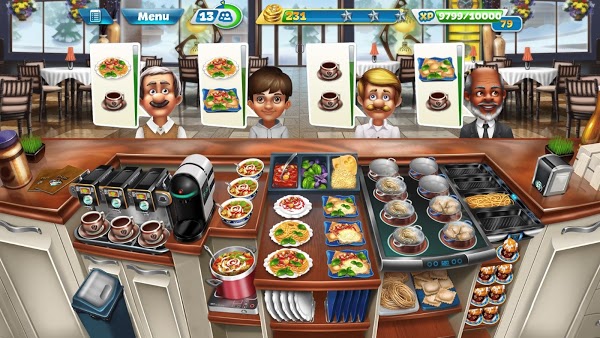 Unique locations – Aside from the food, what customers look for in a restaurant is the ambience. This can only be achieved with great-looking locations! In this game, you can choose many theme places as your restaurants such as Salad Bar, Bakery, Italian Restaurant and more. You'll get to know how each type of restaurant is managed. It's all a good learning experience.
Upgrade items – As you get more customers, you also need to upgrade your equipment to better serve them. You can use the gold you earn to upgrade your kitchen appliances to make everything faster. You can upgrade an item for up to 3 times.
Tips to Become the Best Chef Ever
Of course, not everyone is born with the talent to cook and manage a restaurant. Don't worry, that doesn't mean you shouldn't try. That's why we've gathered these helpful tips for aspiring cooks:
Collect gems – Gems are the ultimate currency in this game. You can use them to buy sorts of things but they are rare to come. In order to get more, log-in to the game daily to receive rewards. Better yet, log-in consecutively as in the 7th day, you can receive 2 gems daily. You can also bet in the casino once you reach Level 7 XP. When your bet wins, you can win gems!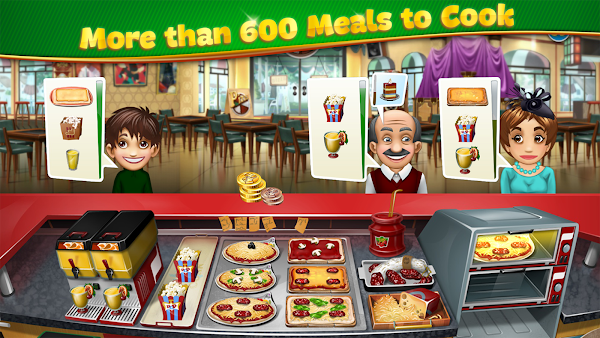 Customers are always right – In this industry, the customers are king. They become impatient when their order takes too long even if they know that the line is long. What you can do to prevent them from storming off is to put the previous customer's money on the counter until food is ready. In other words, serve 1 customer at a time to avoid over-commitment.
Upgrades – Item and restaurant upgrades are important to make your process faster and more efficient. The more customers you can serve in a short amount of time, the more money you earn and consecutively – XP.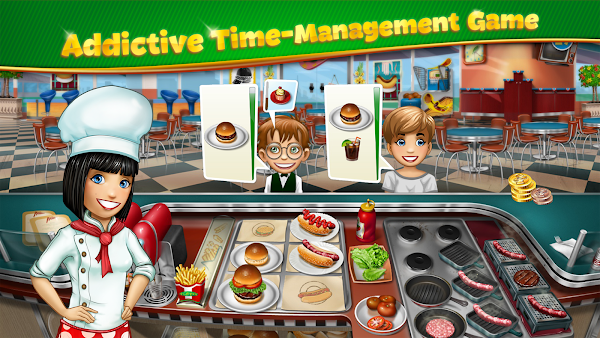 Earn extra coins – Coins are more common than gems in this game. But if you need more, you can always replay your previously completed levels. Keep in mind that the higher the level in the restaurant, the greater number of coins you'll be able to collect once you pass that level.
Cooking Fever APK
If you don't want to work your way to the top with hard work, try downloading the become the best chef instantly!