Angry Birds Journey APK 3.3.0
If you enjoy playing puzzle games, you should download Angry Birds Journey APK latest version. Your assignment will be to solve puzzles, shoot birds and rescue puppies.
Description of Angry Birds Journey Game
Angry Birds Journey is a thought-provoking puzzle game offered by Rovio Entertainment Corporation. It has more than a hundred levels, each with unique challenges.
Additionally, the dynamism of this game ensures that you don't get bored. It has diverse skins and extraordinary rewards, ensuring that you enjoy every minute you spend on the game.
The app is 143M and requires approximately Android 7.0 and above to operate optimally. It is super optimized to work well on mobile phones, and you will not have lags when enjoying the gameplay.
How to Play Angry Birds Journey APK
This game allows you to use a slingshot to shoot birds, damage enemies, and rescue friends. Additionally, it offers a plethora of hidden levels that you can unlock while playing the game.
Angry Birds Journey is a free puzzle game, but there are in-app purchases you can make if you want to advance faster ($0.99 – $99.99 per item). Every level requires different strategies and it's not easy to master.
When you join the game, your primary target will be to undertake an adventurous escapade while trying to retrieve the Eggs of Wonders. The journey will be characterized by an assortment of adventures, puzzles, and obstacles.
For example, you will be required to knock down towers, destroy forts, and use objects to your advantage. In addition, you have to be observant so you can destroy moving platforms and solve riddles in a given time. You may also be required to rescue puppies, connect fireflies to their soul mates, and break rockets.
On the other hand, there are extremely tricky obstacles to conquer, including, stones, gigantic walls, and thorns. You can cut or break them with accurate shots.
The game also has boosters that will help you achieve your mission quickly. For instance, you can use bombs to blast out rocks blocking your path.
As time goes on, you will explore different worlds such as Ice Island, Deserts, and Mysterious Forest. Each location has extraordinary graphics and challenges to keep you entertained for hours.
Hundreds of Dynamic Levels
This game has more than one hundred unique levels that require different strategies. The dynamics of this game ensure that you don't get bored even when playing for hours.
Additionally, the level design is eye-catching because it features beautiful sceneries in every location. There are several images of the different worlds with the level number indicated on them.
On some levels, you will be required to collect specific items such as coins and stars. There are bonuses that, when collected, increase your score. You can also earn or buy boosters from shop-like scenes or with coins.
Exotic Locations and Impressive 3D Graphics
This game is a fantastic journey filled with daring quests and exciting adventures. Your ultimate assignment will be to travel to different locations while rescuing the eggs of Wonders.
Additionally, the graphics of this game are superbly designed with vibrant colors and beautiful sceneries. The character design is excellent and is an amazing 3D technology.
Animation and Sound Effects
Angry Birds Journey has fascinating sound effects for different events which you will enjoy. For example, when you lose the game, your character will fall into the water.
Additionally, there are explosive sound effects whenever you destroy things with a slingshot. The animations are smooth and do not lag even on slow internet connections or old devices.
Simple User Interface (UI)
The game has an easy-to-use interface that enables you to enjoy the various levels without interruptions. The on-screen buttons are conveniently placed so players can easily access them.
There is also a clear tutorial containing images on how the game works and the best strategies for maximum results.
Regularly Updated Leadership Scoreboard
The game has a leaderboard where you can compare your score with the scores of friends and other players. This scoreboard makes it easy for a player to know their ranking in a given time.
For instance, if you want to beat the best score set by someone else, you have to play more often until they update the scoreboard.
Angry Birds Journey APK
The modded version of the game offers better results and is fun to play. For instance, you can play without the annoying advertisements and enjoy infinite lives. Here are its other outstanding features: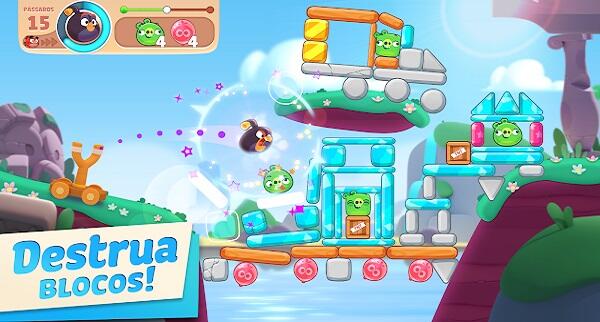 To get the Angry Birds Journey APK download, follow these steps:
Enable your device's security settings to install APK files from unknown sources.
Download the Angry Birds Journey APK file from a reliable source.
Install the APK on your Android phone, and open it to begin playing.
Conclusion
Angry Birds Journey is an exciting game filled with lots of adventures in different locations. The regular release of new levels, fun characters, and stunning graphics make the game more interesting.
You can continue playing this game endlessly without getting bored because there are always new things happening in it. Additionally, you don't have to worry about anything because the gameplay is easy and engaging.