XArena Game Zone Gen 2 APK 1.0.4
Do you play a lot of mobile games? If so, you can install XArena Game Zone Gen 2 APK so you can have a place to launch your games, boost them and more.
| | |
| --- | --- |
| Name | XArena Game Zone Gen 2 |
| Updated | |
| Compatible with | Android 5+ |
| Last version | 1.0.4 |
| Size | 18 MB |
| Category | Tools |
| Developer | Altruis |
| Price | Free |
Download XArena Game Zone Gen 2 APK – Game Hub
Mobile games used to be so simple since phones back then couldn't handle advanced games. But now, the games have become more graphics heavy with games like PUBG, Fortnite, and more.
So, the problem arises when phones can't run these advanced games anymore. The solution is to download XArena Game Zone Gen 2 which is an app that boosts your phone to play games.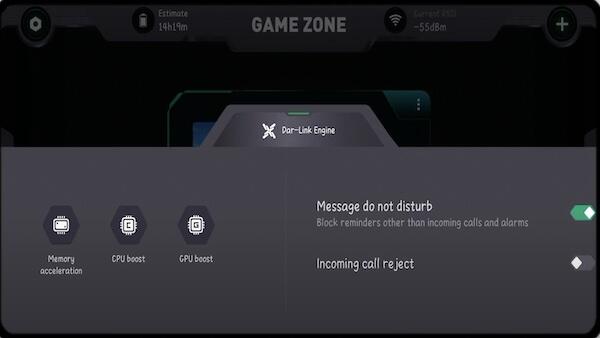 Essentially, this is a game hub that can provide you with all the info you need while gaming. In here, you can see and launch all the games in your phone. Then, you can see your battery percentage, network connection, ability to add games, CPU boost, GPU boost, memory accelerator, and more.
While you're playing a game, you can access many buttons on the side. If you want to improve your gaming experience, read on to know more.
How to Use XArena Game Zone Gen 2
XArena Game Zone Gen 2 works a bit different from others as it's an app to launch games. Once you open the app, you'll be greeted by a futuristic looking display with a green theme.
Then, you'll see all the available games in your phone in each card. You can play a game by tapping the "Start Game" button in the bottom. You can also browse through your available games by swiping left or right.
On the top left corner, you'll see the settings button. Then, on the top, there's the estimated battery remaining, network quality and the add button on the top right. Once you play the game, you'll be greeted by a host of buttons below. These are the Memory Accelerator, CPU Boost, GPU Boost and Network Accelerator.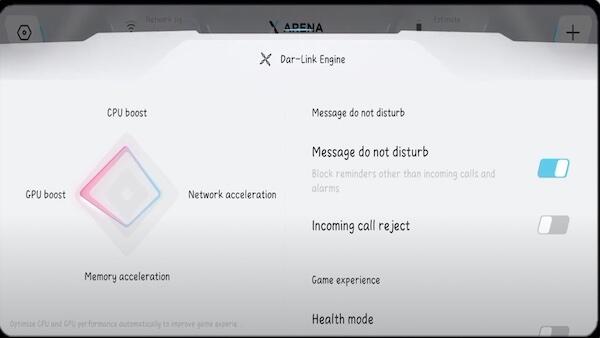 One the side is the gaming assistant panel where you can access buttons like apps, screenshot, screen record, memory cleanup, do not disturb, settings and call reject.
Benefits of XArena Game Zone Gen 2
After knowing how to use the app, it's time to know the benefits. This app is the improved version of the last one. Here are the benefits:
New theme –

The app boasts a new theme that's more improved with white and green colors. In the homepage, you'll see the white futuristic display that meshes well with the accents. Once you play a game, the assistant buttons are in green.

Assistant panel –

The main feature of the app is the assistant panel on the bottom and the side. On the bottom, you'll find shortcuts to Memory Accelerator, GPU, CPU and Network. On the side, there are apps, settings and more.

Settings –

In the settings, you'll have a graph that showcases your phone's affinity to the different boost functions. There are also quick toggles like Message do not disturb, Incoming call reject, Health mode, Optimize game graphics, and more.
Boost your gaming -

XArena Game Zone Gen 2 excels in making your gaming experience optimized. The way this works is that it improves your network connection, CPU, GPU and kills all the background apps. This ensures that you get the smoothest gaming experience without compromising on the graphics.
Floating apps –

While you're playing a game, you can open another app which will turn into a floating app. You can drag and resize the floating app wherever you want on the screen. This app supports Chrome, WhatsApp, and many others.
Incredible Layout and Functionality
In terms of design, this app can compare well with default game hubs of phones. To toggle the buttons while gaming, you just need to swipe left and up.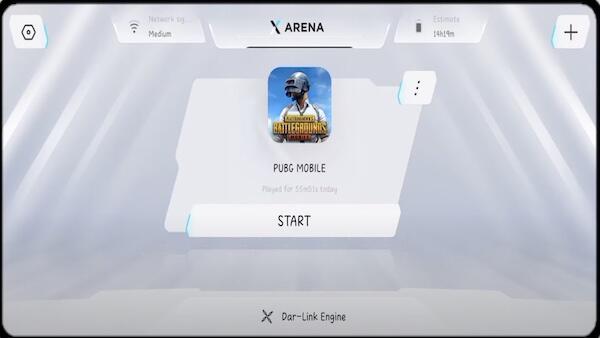 Although the app automatically recognizes all your games, you can also manually add them. The plus button on the top right lets you do this.
Download XArena Game Zone Gen 2 APK – latest version
If you love playing mobile games, install XArena Game Zone Gen 2 so you can access many functionalities and smoothen your gaming experience.