We Are Illuminati APK 4.7.1
Download We Are Illuminati APK – latest version – for Android to take over the world in a ruthless conspiracy and control the minds of the masses.
Join the secret elite and manipulate the minds of billions of people on this idle clicker simulation game. Download We Are Illuminati APK to bend the people's actions to your will, brainwash pop stars, put chemicals in the water, appease lizard people, and much more.
Who doesn't want to be involved in the top-secret lizard people plot to control everything, make wars for profit, cull the world population, and sacrifice virgins to weird pagan gods? Of course this is what we all want more than anything else.
New World Order idle clicker
In We Are Illuminati APK, you get to call the shots on what devilish tactics you'll employ to manipulate the masses, spread your global agenda, and ultimately seek dominance and control in all things. You can use your oil money to bribe world leaders, brainwash celebrities, create plagues, start wars, put alligators in the sewers, and a whole lot more. Get creative with world domination.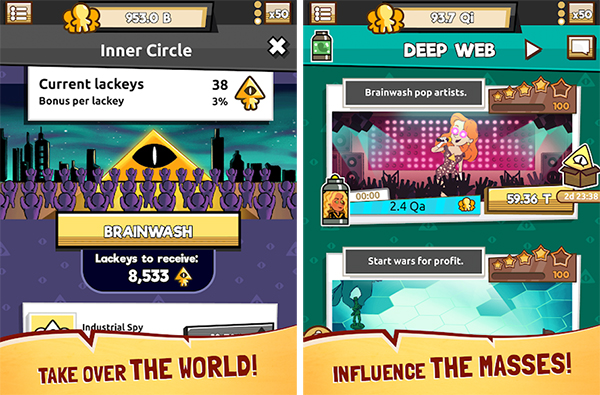 Your power will increase even while you're not playing the game, as your actions slowly unfold when the game is offline. Being an idle clicker game, We Are Illuminati APK doesn't require you to constantly be playing it. Sit back, relax, and let your corrupted elite friends do the dirty work while you sip on a $3,000 glass of 35 year old whiskey. Taste your hard work paying off – and ignore the complaints of the sheepish masses who don't have the birthright to be in control of their own destinies.
Tips for playing We Are Illuminati APK
Taking over the world is a pretty cumbersome task. In order to succeed, you'll need some tips to get it right first time – otherwise you'll end up wasting a load of time on drug wars are jihad that just won't pay off. Amateur.
Hire some managers early on: Managers collect resources for you idly so that you don't have to literally tap on every resource that you want to harvest. By hiring some managers early on in the game, you'll save yourself a ton of time and effort – just be careful that you don't buy ones for segments that you haven't unlocked yet, as this would be a waste of your money.
Hit milestones ASAP: There are plenty of upgrades in the game, and they're all useful in their own way. The milestone upgrades which take place every 25 levels will half the amount of time that it takes to harvest resources. Obviously, this is very useful.
Watch ads, seriously: Most games on mobile give you a bonus for watching ads – this game takes it to the next level. You'll double your earnings for four hours if you watch an ad video. The second ad gives you an even bigger bonus…
Prestige for more money: If you prestige far into the game, then you'll be rewarded with lackeys. These will increase your wealth by 3% for every one that you own. They can also be spent on upgrades in the game. Using lackeys will get you far in We Are Illuminati, so make sure that you get hold of some. Prestiging is, of course, the way to do this – but remember, you'll lose all your progress by prestiging.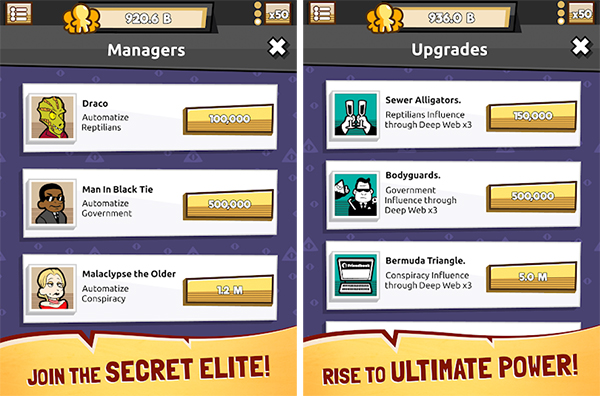 We Are Illuminati APK
Want to jump into the action and dominate the world? Download the We Are Illuminati APK idle simulation game for Android now and begin your journey of power. The world needs leadership and you're the one with the wealth and influence to shape it in your own ideal. Change the course of history and lead the masses to their destiny – under your wing.