Ultimate Bowmasters APK 1.0.17
Downloads Ultimate Bowmasters APK and have fun playing this action game where causing mayhem and chaos is the goal. Use different weapons to battle opponents.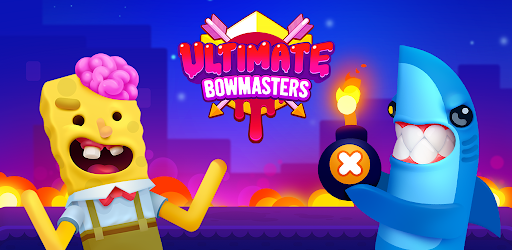 An In-depth Description of Ultimate Bowmasters APK.
If you have enjoyed playing Bowmasters before, you're in for a new world of fun when you play Ultimate Bowmasters APK latest version. The Bowmasters series continues in this new version which has all new game modes, newly updated characters, upgraded effects, and several different ways to cause more chaos.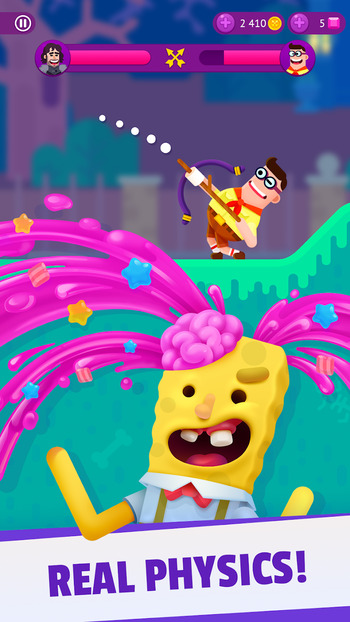 The Bowmasters franchise has always been an exciting game for people who want to have fun destroying and the thrill of gory fatalities and brutalities. With its exciting gameplay and good physics and effects, this game has become one of the most popular games in the world as it has hundreds of thousands of players and more people downloading it.
This game is a fast-paced arcade game that has become one of the best shooting games out there. With the game's physics, it is almost impossible to play it properly without calculating your angles and directions. It can be said that the game has easy operations but complex gameplay.
The Ultimate Bowmasters APK Free Download can be made without having to bother about purchasing or paying a subscription fee. The developers are constantly updating the game to add new features and fix some bugs, but it was released on the 31st of August, 2022, and Playgendary limited offered it.
When you look at the bloody gameplay and strong forms of violence with the use of dangerous weapons, it should come as no surprise that the game is rated 16+. It is not a game that children should play as it can negatively affect them.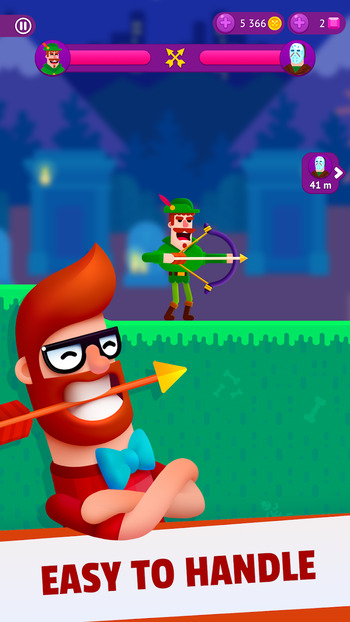 The game is easy to operate. As you pick your weapon, you drag the screen back to determine the power of which your weapon will be fired and the angle at which your fire will go. Players have to constantly adjust their tips and directions so they'll adequately target their opponent.
When you first play, you'll find it hard and miss a couple of times, but as you keep playing, you will get better and better.
To enjoy a better gaming experience with better features and improvements. Keep upgrading to the recent Ultimate Bowmasters APK 2022 versions, as the makers are constantly upgrading it and trying to get the best version before the year runs out.
Ultimate Bowmasters APK game features
This game has intriguing gameplay and so much fun that will keep players addicted and always wanting to play the game. There are many cool things you can have fun doing, but the main objective of this game is to use dangerous weapons to damage your opponents to the point that their health bars have completely been exhausted and perform a fatality blow on them.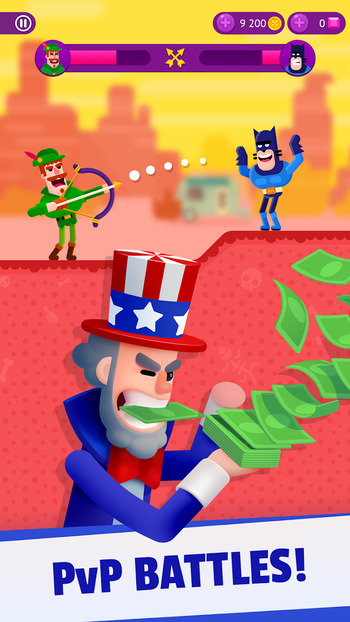 In the Ultimate Bowmasters APK for android, new features will keep players engaged. New gameplay, new characters, weapons, some cool features, and gorgeous new and improved graphics. Continue reading the article to find out more about the gameplay.
There are several new game modes that players can look out for. Apart from the usual exhibition matches vs. your opponent, you can enjoy a new game mode that allows you to shoot down birds and fruits and a new mode that will let you defeat enemies and get paid for doing so.
Ultimate Bowmasters APK has improved gameplay, with new physics and effects that let players see the actual expressions and feelings of these characters when they receive pain and damage.
Players can also enjoy using new characters with new skins, so they won't get bored using the same old characters. New weapons are also available to cause mayhem and chaos. With rewards earned after winning a battle, you can purchase all these and more items.
The Ultimate Bowmasters APK Download comes with cool features such as access to unlimited money that you can use to purchase different items and weapons and also an overall improvement on the game and also unlocking all the characters for free.
One exciting thing about this game is also the visual and audio systems. The drawings and designs of the game are very appealing to the eyes of players as there are proper illustrations of the heroes, weapons, and landscapes. The sound effects are also very cool as different noises come when being attacked and receiving damage. It also has good background music when you're navigating through the game.
Features to look out for on Ultimate Bowmasters APK:
There are different game features that you can look out for when you play this game. Some of them include: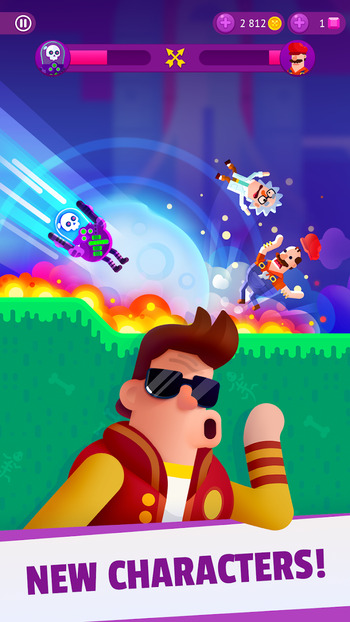 There are over 60 new characters to choose from in this game. Players will never get bored when there are all new exciting characters that you can decide to cause mayhem. These characters are popular from interesting television shows and games, such as Morty from Rick & Morty and Sub-zero from the exciting mortal combat game.
There is a new game mode called Super blood mode, and in this mode, there is more and more damage and chaos. While playing this, more damage is taken, and every attack appears gorier. Note that children should not be playing this game.
Upgraded physics and effects:
This game has a new and improved physics system that allows players to experience damage like never before. Playing Ultimate Bow Masters APK gives users a unique experience to the usual Bow Masters gameplay.
New game modes have been added to this game which will give players a whole different experience. Apart from the usual battle between two players on a bloody terrain, you can enjoy playing duck hunting modes and a game mode where you knock apples off your head. There is also an online game mode that allows you to play against other players in fierce matches.
Graphics and audio system:
One exciting thing to look out for is the visual and audio systems in the game. The drawings of the characters and weapons are vivid and, in a cartoon like design. The landscapes are also stunning with the use of cool colours. The game also has a perfect sound system.
Conclusion
Ultimate Bowmasters APK is an exciting game for people who want to damage and cause chaos. With its fun gameplay and different characters, players will never get bored of this game.